The Ultimate Guide to Reducing Power Systems Carbon Footprint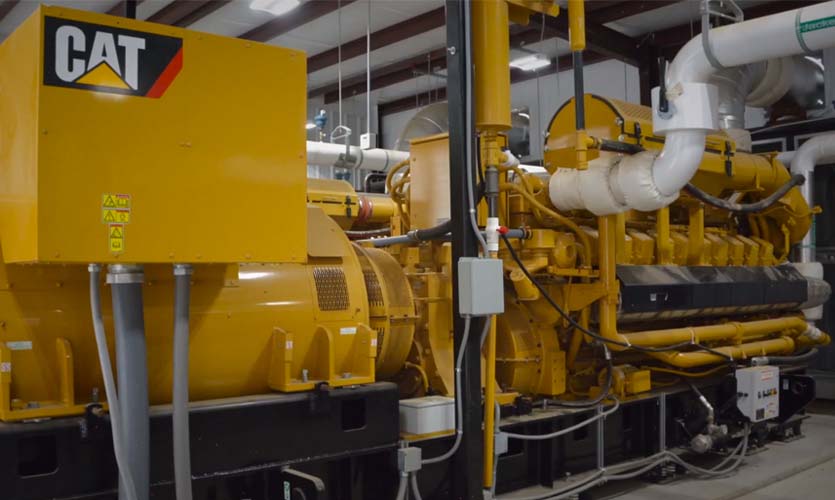 May 23, 2023
Jump To Sections:
Many companies in the oil and gas and energy industries are working hard to mitigate their environmental impact by reducing their carbon footprints. These efforts make environmental, social and governance (ESG) frameworks especially important within their industry to help improve environmental awareness and encourage sustainable operational and design choices.
Learning about industrial sustainability and the importance of reducing your emissions can help protect the environment, conserve your resources and improve your relationship with customers.
The Importance of Sustainability in Power Generation
Traditionally, power generation has been fueled by fossil fuels — non-renewable resources contributing to CO2 emissions. Finding ways to make power generation more sustainable can help reduce or eliminate these carbon emissions.
Drilling companies that improve their sustainability practices can enjoy several benefits, including advantages for themselves, their industry, clients and other sectors:
Improving public health: Improving public health is one reason to consider more sustainable power generation. Exhaust emissions may pose health concerns to some, especially people prone to respiratory issues or those who regularly work around fossil fuels. Sustainable technology, practices and energy can help improve public and environmental health. Sustainable drilling practices can also help reduce concerns about the impact on the local environment and wildlife.
Appeals to consumers: Many consumers have become more eco-conscious, meaning they want to buy from and work with companies that practice sustainability. Using sustainable practices and resources for power generation can help your business thrive as consumer opinion shifts toward ecological awareness.
Energy security: Sustainable power generation helps improve energy security. Good stewardship of natural resources and finding alternative energy solutions can help companies and nations secure longer-lasting resources. You can improve your business's security by investing in renewable energy methods and reducing emissions where you can.
How to Implement a Sustainable Power Systems Strategy
Reducing emissions is essential for many companies in a variety of industries. A sustainable power systems strategy can help with carbon emission reduction, bringing you closer to sustainability.
1. Consider Emissions Upgrades for Power Systems and the Electrification of Equipment
One way to make your power systems more sustainable is by upgrading to innovative power generation engines and technology. Caterpillar offers engines and other solutions with all the power, reliability and performance you expect but with lower emissions to help you reach your sustainability goals. Upgrade your power generation system with any of the following solutions:
G3600 A4 engine: This engine produces NOx emissions as low as 0.3 g/bhp-hr.
G3516 TA engine: This engine boasts high fuel efficiency and emissions as low as 0.15 g/bhp-hr when used alongside Caterpillar's ADEM A4 control system, air/fuel ratio control and a three-way catalyst.
Electric motors: If you're working under strict regulations and need to eliminate on-site emissions, our electric motors produce zero emissions while providing reliable performance.
Upgrade/Retrofit kits: If your older engines still perform but don't meet emissions standards, consider upgrading them with our retrofit kits, which can reduce NOx levels to 0.5 g/bhp-hr.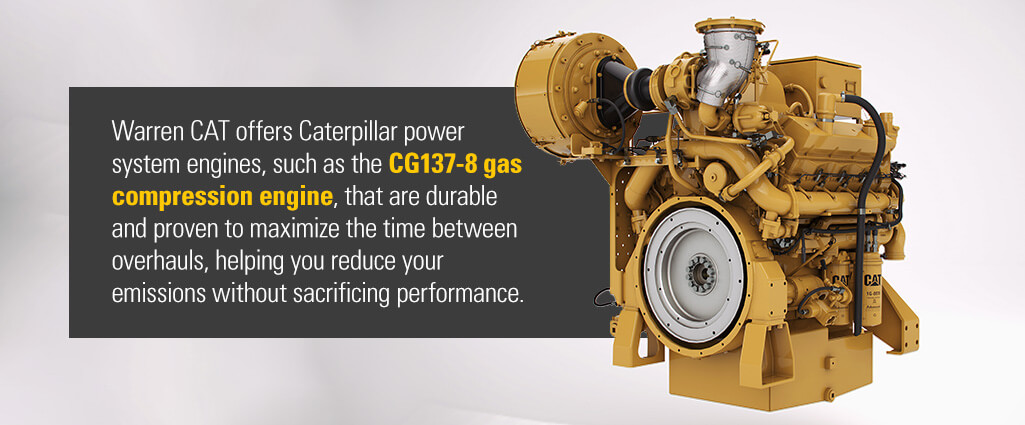 Warren CAT offers Caterpillar power system engines, such as the CG137-8 gas compression engine, that are durable and proven to maximize the time between overhauls, helping you reduce your emissions without sacrificing performance.
Additionally, you can reduce your emissions by electrifying your equipment, which involves replacing fossil fuel-powered equipment with battery-powered equipment. Electrification is quickly becoming more popular as the industries that utilize power systems seek to reduce their environmental impact, making electric power generation one of the most efficient ways to facilitate carbon reduction.
One of the main benefits of this process is that it helps sustainable companies cut down on their overall emissions. As the demand for fossil fuels increases despite a dwindling supply, switching to electricity and renewable energy can help companies meet ESG goals and save on costs.
2. Reduce Energy Production Emissions and Waste
Fugitive emissions are unanticipated gas or vapor leaks that occur due to equipment malfunction, defective joints or seals, or intentional venting and flaring.
Regardless of the cause, fugitive emissions during energy production add up and contribute to a company's overall carbon footprint. The production segment of the oil and natural gas industry was responsible for an estimated 60% of the industry's methane emissions in a recent study.
Companies in the drilling industry can take the following measures to reduce fugitive emissions:
Improve leak detection and repair systems.
Use vapor recovery units to mitigate methane leaks.
Use high-quality sealing products on pumps, compressors and valve stems.
3. Utilize Dynamic Gas Blending (DGB) and Dual-Fuel Technology
Dynamic Gas Blending is a dual-fuel system that can help lower emissions while giving you the benefits of natural gas and diesel power systems. These systems allow engines to burn natural gas, diesel or a combination of the two, which allows for more versatility and flexibility. Engines are more capable of handling complex or diverse operating environments and maximizing fuel efficiency, which will help reduce overall emissions and save on fuel costs.
When you have equipment that is essential to your processes that you can't electrify, consider turning to Dynamic Gas Blending to help reduce your emissions and improve your sustainability. DGB software automatically modifies and regulates engine controls, creating an ideal blend of diesel and natural gas based on your application's power requirements and operating conditions.
On top of sustainability, Dynamic Gas Blending has multiple benefits, including:
Savings generated from improved fuel efficiency
Assistance with equipment maintenance through enhanced diagnostic capabilities
Enhanced safety features to keep your equipment and workers safe
Optimized performance, as you don't have to choose between different fuel types
Simplified controls to make it easy for equipment operators to use and supervise their machinery.
Warren CAT utilizes DGB technology to help companies get the best of both worlds regarding emissions reduction and engine performance. For example, the Cat 3512E DGB model utilizes Tier 4 engine technology and has won the 2020 Clean Air Excellence Award, showcasing the engine's ability to reduce carbon emissions while providing outstanding performance.
DGB technology is an excellent way to help increase sustainability and achieve ESG targets within your business.
4. Consider Smart Engine Management Systems
Smart engine management systems (EMSs) were created for drilling rigs, monitoring demand and engine load and matching the energy supply to the demand. This sustainable technology reduces how often you need to run your engines by optimizing engine demand, preventing you from keeping your engines running continuously without good reason.
One of the main benefits of a smart EMS is that it reduces operating costs by minimizing maintenance and fuel use. A smart EMS can help reduce the required fuel for your drilling operations, reducing the carbon emissions your business produces. Other notable benefits include:
Easy installation
Proven technology
User-friendly interface
Lower fuel & maintenance costs
Quick payback
5. Transition to Hydrogen Fuel
On top of renewable energy resources like solar and wind, hydrogen is being considered as a potential fossil fuel replacement to help various industries reach their CO2 emission reduction goals. Some sectors have already begun using hydrogen fuel where possible, which has decreased global energy sector emissions by 30%. Hydrogen fuel is an environmentally friendly power source compared to non-renewable fuel resources. Using hydrogen energy can significantly decrease your global emissions impact, helping you move closer to achieving sustainable operations.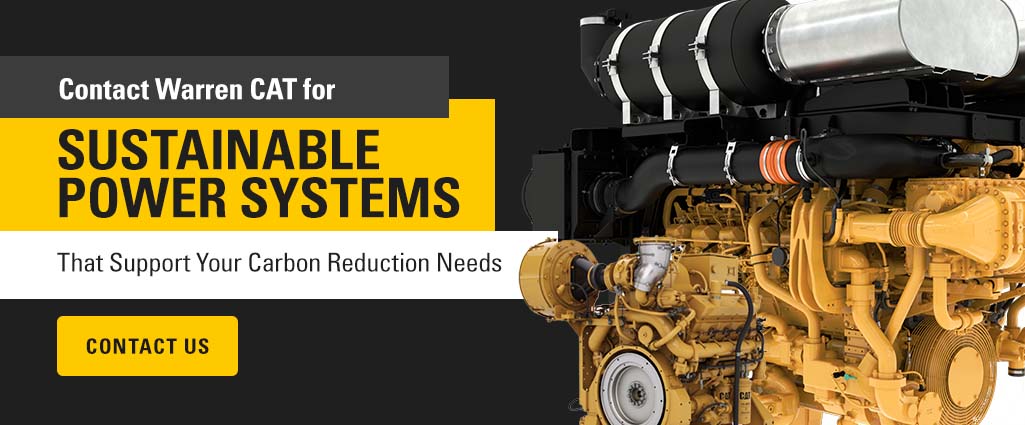 Contact Warren CAT for Sustainable Power Systems That Support Your ESG Needs
Caterpillar is one of the leading sustainable companies in the world, and Warren CAT is dedicated to doing what it takes to help our customers achieve their sustainability and emission reduction goals. We know the importance of ESG and offer environmentally friendly power systems, equipment and solutions to support your ESG initiatives. We understand that every business must take a different path to reach a carbon-neutral future, so we're committed to helping you make progress in a way that makes sense for your company.
Warren CAT is the authorized Caterpillar dealership for West Texas and Oklahoma, meaning you can rely on our equipment to provide industry-leading durability and innovative technology. We have a wide selection of equipment, including new, used and rental options. Contact us today to learn more about how our sustainable power systems can help support your environmental and carbon reduction goals.