Instead of feeling unprepared for planned system maintenance, build a custom Cat Planned Maintenance (PM) Kit with Warren CAT. Complete with all the right parts for your specific machine and power system maintenance interval, Cat PM Kits save you time and eliminate guesswork. These kits are a convenient way to keep your fleet in optimal condition to maximize operational efficiency and reduce downtime.
Plus, regular maintenance with genuine Cat parts helps your components last longer and keeps your equipment running at peak performance. This will result in maximizing productivity and opportunities to make money.
Customize Your Cat PM Kit
What comes in a Cat PM kit depends on your specific machine, generator set or power system and maintenance interval. You'll always find Cat filters and sometimes Cat fluids. Other items may include:
Genuine Cat seals
Gaskets
Belts
Spark plugs
S·O·SSM sampling bottles.
The best part is all components in your Cat PM Kit are backed by the standard 12-month Caterpillar parts warranty.
When you build a kit on Parts.Cat.com, it will automatically populate with all the parts required. If you need everything on the list, click "Add All to Cart." Otherwise, if you already have specific items on hand or want to grab an extra, you can add or remove items to your kit using the "+" and "–" buttons. You can also call or stop by the dealership and have us put together a kit for you. Ultimately, what goes in your kit is up to you.
Why Create a Custom Cat PM Kit?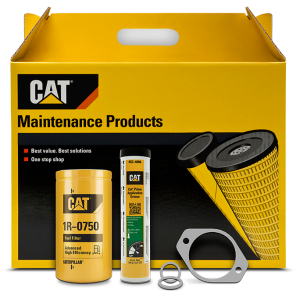 You can buy PM parts one by one, but it takes time and planning to come up with a list and you risk forgetting something important. When you purchase a Cat PM Kit on Parts.Cat.com, the work's done for you. All the parts required for your equipment's specific maintenance interval are boxed up in one package. All you'll need to do is pick it up at the dealership or have us ship it to you. As a result, you'll save time ordering parts and have everything you need when you need it.
Additional reasons to create a custom Cat PM kit include:
1.5x – 3x Longer Oil Drain Intervals
Cat PM Kits may include Cat fluids like oil, coolant and grease. Tests show Cat fluids can extend oil drain intervals 1.5X to 3X versus the competition. * That means you could reduce the number of oil changes you perform from three down to one — a big time–and money-saver.
Up to 80% Lower Injector Cost/Hour
Every Cat PM Kit features Cat filters designed to deliver better equipment protection and performance. Competitive testing shows that Cat filters can lead to up to 45% longer fuel injector life, translating into up to 80% lower injector cost per hour.*
Better System Performance
Cat PM Kits may include Cat fluids such as oil, coolant and grease. They're designed to rigorous standards as part of the overall Cat system. Fluids, filters and components complement each other to help you maintain efficiency, maximize life and extend intervals on repairs.
Use Data to Manage Maintenance Intervals
We make it easy for you to track planned maintenance intervals with two free options — Parts.Cat.Com and the Cat App — that give you instant access to machine hours, location, health and more right from your laptop or phone. Visit Parts.Cat.Com to learn more and sign up.
Choose the Level of Support That's Right for You
Cat PM Kits offer a quick, convenient way to perform your own planned maintenance. But if you're looking for additional, custom support, we also offer Planned Maintenance Self-Service Options and Cat Customer Value Agreements that help you manage and prepare for planned maintenance.
For example, our Planned Maintenance Self-Service Options include all the PM parts you need, plus service instructions and support from our technical experts.
Alternatively, Cat Customer Value Agreements (CVAs) include at a minimum:
Flexible financing options
Genuine Cat parts delivered with instructions when PM is due
Annual inspections
Fluid health monitoring
Access to machine and engine insights via the Cat App and Parts.Cat.com
The Core Benefits of Cat Planned Maintenance Kits
When you create a custom Cat PM Kit, you'll enjoy the following benefits:
Time savings: Collecting the components you need to service and maintain your equipment takes time. Cat PM Kits take the guesswork out of the equation.
Convenience: Everything you need for your machine, generator set or power system comes prepackaged in your Cat PM Kit. Plus, all kit parts are covered by a standard 12-month Caterpillar parts warranty.
System performance: Preventative maintenance is crucial for extending your machine's life span. Cat PM Kits encourage planned maintenance by making it as easy as possible. Cat parts also feature proprietary elements that optimize your Cat equipment's performance.
Build a Cat Planned Maintenance Kit Online

Get exactly what you need from your Cat PM Kit through Warren CAT. Build your kit online or put one together in-store with the help of our factory-trained technicians.
To put your kit together online, go to Parts.Cat.Com and take the following steps:
Enter your machine's serial or model number.
Choose your maintenance level.
Customize your kit based on the parts you need by adding or deselecting components.
Contact Warren CAT Today to Learn More
Prepare for planned maintenance with Warren CAT. Contact us online or call 866-292-7736 to learn more about creating your custom Cat PM Kit.
*The information contained herein are test results obtained under specific conditions and maintenance practices. Caterpillar implies nothing further, and no one should infer that using the Cat products described herein will result in the same or similar benefits as defined in this document.
_________________________________________________________
Read Our Helpful Articles