11 Tips to Reduce Heavy Equipment Maintenance Costs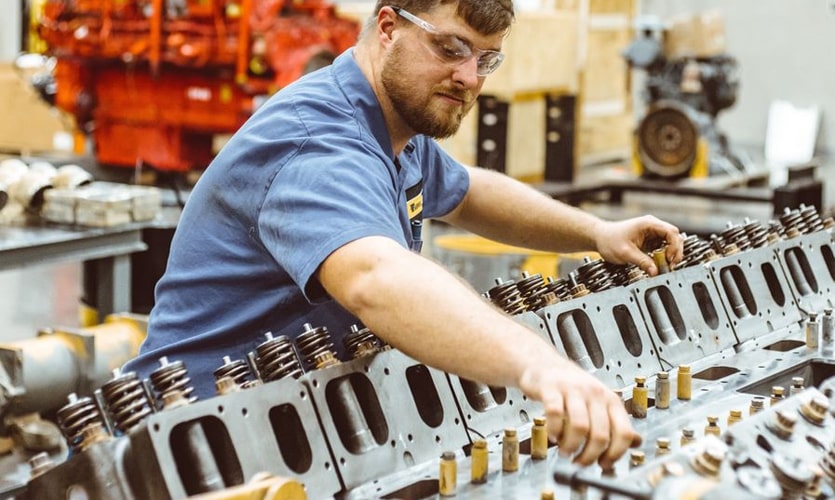 March 29, 2023
Jump To Sections:
Heavy equipment is a business investment that needs to be maximized for businesses to stay profitable and productive. Properly maintaining your equipment is vital to protecting your asset's value and keeping tight financial control over your operating costs.
Generally, equipment owners should expect to budget 2-6% of their total replacement asset value (RAV) as their routine maintenance fund. This formula called %RAV is flexible depending on the equipment type and the operating conditions involved in your work. The harsher the conditions and more specialized the equipment, the higher the %RAV should be.
To avoid overspending on unnecessary maintenance costs, equipment owners should appropriately budget for ongoing service and repairs and take active steps to control and reduce maintenance costs. Our guide to equipment maintenance covers some of the top ways equipment owners can control maintenance costs, including investing in preventative maintenance programs (also called "preventive" maintenance programs).
Top Tips for Reducing Maintenance Costs
Equipment owners are constantly managing their business expenses, trying to lower operating costs and maximize profits. While certain business expenses are fixed, others are variable and controllable with the right practices.
Heavy equipment maintenance costs are variable expenses that can make or break equipment ownership, depending on how you handle maintenance. Taking a proactive approach with preventative equipment maintenance can help keep costs steady and reduce unexpected repairs.
Follow the below tips to reduce maintenance costs to help manage equipment operating expenses:
1. Conduct Daily Inspections
Routine inspections are the most essential way to detect and prevent maintenance and repair issues in equipment. Daily inspections can help you save on sudden repair costs and unproductive downtime that delays projects.
It's important for equipment operators to get into the habit of conducting daily inspections by following maintenance checklists. Pre-operation inspections ensure equipment is safe enough to operate, while post-operation inspections identify any new issues that may arise while the machine is at work.
Daily equipment inspections should include checking the following:
Fluid levels, including fuel and oil
Signs of damage, leaks or cracks
Brakes and emergency stopping system
Steering system
Tire, tread or track condition, including tire air pressure
Mirrors, windshield and glass
Lights and horn
Seatbelts and safety devices
The above list is not exhaustive, and you should always consult your Operation and Maintenance Manual (OMM) for detailed inspection checklists relevant to your machine.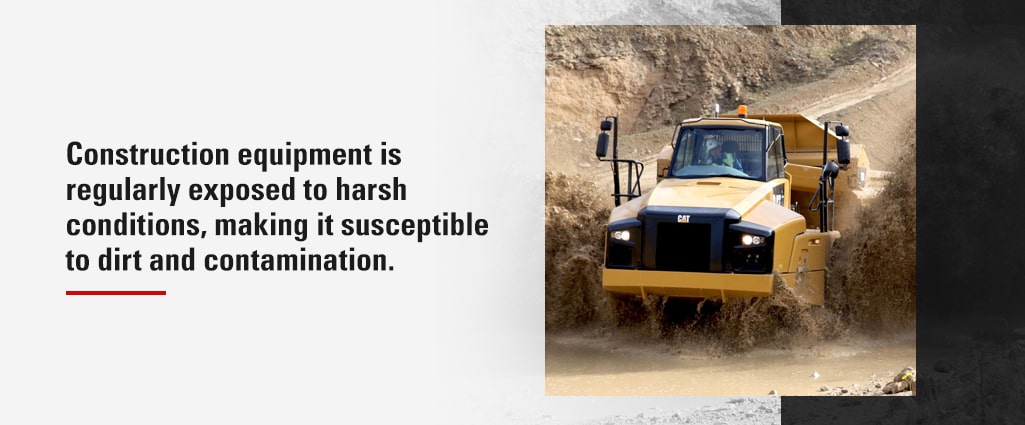 2. Keep Equipment Clean
One of the simplest ways to maintain your equipment and prevent expensive repairs is to keep up with routine cleanings. Clean equipment operates more efficiently, lasts longer, retains its value longer and undergoes fewer repairs.
Some keys to keeping equipment clean include:
Wiping away built-up film from controls and panels
Removing caked-on mud and grime from tracks, drive gears and tires
Correctly storing your equipment and following winterizing best practices
Cleaning or replacing filters, grilles and vents
Checking seals around electrical components
Heavy construction equipment is regularly exposed to harsh conditions, making it susceptible to dirt and contamination. A machine's multiple components and intricate systems can begin to degrade if they're not kept clean. Additionally, repetitive exposure to the elements, including wind, rain and snow, can damage equipment components and the machine's structure, causing rust and paint chips that are expensive to fix.
3. Use Genuine OEM Parts
When your equipment needs parts replacements, it's important to choose high-quality engine components certified by the manufacturer. Original Equipment Manufacturer (OEM) parts guarantee high-quality performance and dependability, extending the service life of your machine.
Some of the critical components to source from the manufacturer as genuine parts include:
Pumps
Fuel injectors
Starters and alternators
Ignition systems
Gears, drives and pulleys
Hydraulic components
Using genuine parts ensures that you maintain warranty coverage and that high-wear components remain functional and reliable for as many operating hours as possible.
As an alternative to installing new OEM parts, such as Cat® genuine parts, you can also source certified remanufactured parts. Cat remanufactured parts adhere to strict quality control guidelines, providing you with an affordable parts replacement option to help reduce your maintenance costs.
4. Choose the Right Fluids
Managing heavy equipment fluids is a vital practice of proper preventive maintenance. Using the right engine oil, hydraulic fluid and coolant can help extend a machine's service life, protect the equipment's performance and reduce the risk of premature wear and unexpected repairs.
Always check your OMM to know which type of fluids to use and review other pertinent information, such as:
Filter type
Fluid capacities
Fluid change intervals
In addition to choosing the right fluids and changing them at the proper intervals, you should also properly store fluids to prevent contamination and regularly check stored fluids for signs of sediment.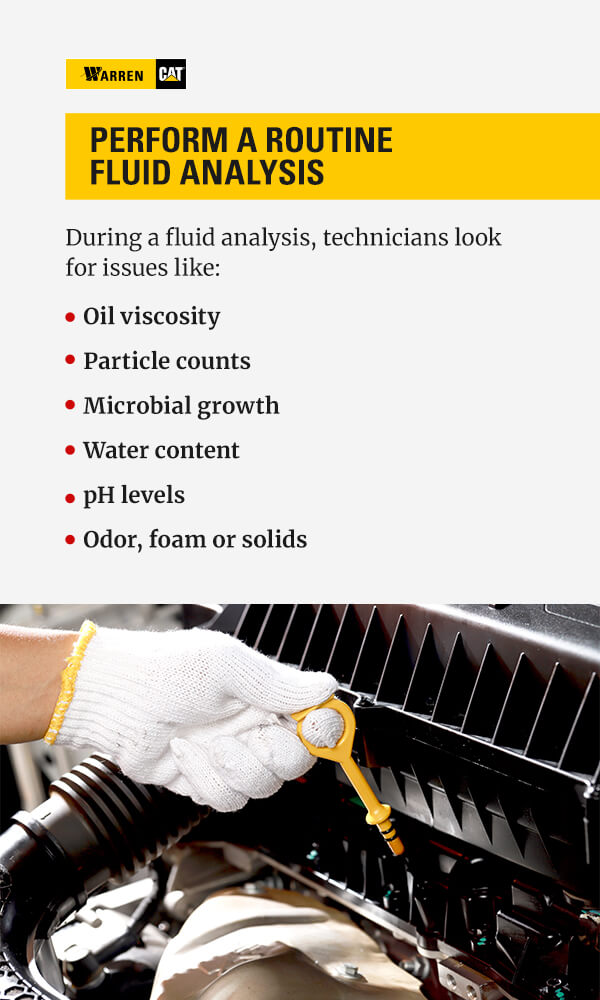 5. Perform a Routine Fluid Analysis
Beyond using the right fluids required for equipment performance, it's also critical to routinely analyze fluids to detect potential problems. Fluid analysis allows you to gain insights from oil, coolant and fuel samples collected during service intervals.
During a fluid analysis, technicians look for issues like:
Oil viscosity
Particle counts
Microbial growth
Water content
pH levels
Odor, foam or solids
The above is not an exhaustive list of testing items. Technicians follow a detailed analysis plan, checking each type of fluid for specific health indicators that pertain to the particular type of fluid. Technicians then provide equipment owners with a comprehensive report of their equipment's fluid health so they can have advanced insights into equipment condition and any unseen issues.
By routinely analyzing your equipment's fluids, you can learn the common types of issues your working conditions cause, letting you take cautionary and preventative steps to maintain equipment and reduce the costs of future repairs.
Cat's S·O·S? Fluid Analysis service uses advanced analytical technology to gain an accurate picture of fluid health and provide clear instructions moving forward to protect your equipment.
6. Maintain Detailed Maintenance Records
For equipment owners looking for better control over machine operating and maintenance costs, adopting solid record-keeping habits is critical.
Proper maintenance record-keeping helps owners:
Plan for future maintenance and repair issues.
Prevent costly downtime.
Prove the value of the machine's resale value.
Protect the asset under potential warranty claims.
Support businesses facing workers' compensation claims.
Equipment maintenance records keep track of pertinent details including:
Equipment type, location and operator
When maintenance was performed
What type of maintenance action was taken
Who serviced the machine and where
Maintenance outcomes
Total maintenance costs
By keeping track of this critical information, owners can analyze their maintenance data to predict future issues, more accurately budget for maintenance and repair needs and prevent serious breakdowns.
7. Invest in Operator Training
In many cases, what makes the difference between a long-lasting machine that retains its value and one that doesn't is how the equipment has been operated throughout its lifecycle. Equipment operator training is a critical investment that protects your asset's value, prevents unnecessary repairs and reduces the risk of accidents.
It's important that operators are properly educated on the machine's specifications, including the types of issues to look for and how to inspect components. A well-trained operator will know what to look for before and after operating the equipment, providing valuable insight into the machine's health status.
Equipment owners should also view operator training as an ongoing process. Over time, skills can wane, and operators can become complacent. Keeping safe operating practices at the forefront can help ensure operators always prioritize safety and that inspections to protect the machine from breakdowns are regularly completed. It is important to ensure operators always have easy access to an accurate operator's manual.
8. Operate Equipment Properly
Knowing how to properly operate equipment reduces unnecessary wear and tear on the machine. Improperly operating a machine, such as using equipment that's not right for the job or overloading a machine that is too small, adds undue strain on the equipment components, increases the risk of incidents and can lead to breakdowns or systems failures.
Additionally, following proper safety protocols can also help reduce the risk of incidents that cause damage to the machine and surrounding structures. Some safety topics all operators should be familiar with include:
Identifying surrounding hazards, such as overhead powerlines, slopes and nearby vehicles or buildings
Becoming familiar with equipment safety features and how to safely maneuver the machine
Knowing how to properly load and lift materials, including types of materials and weight capacities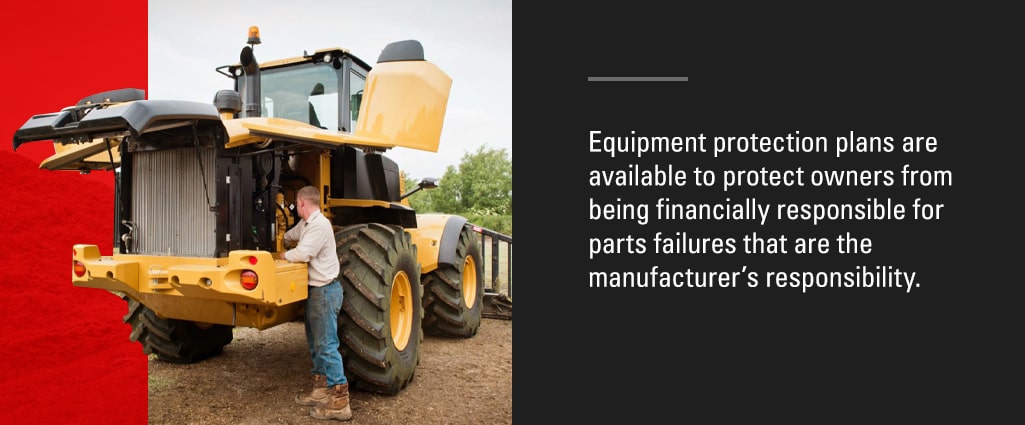 9. Understand Equipment Warranty
When budgeting for maintenance costs, keep your warranty policy at hand. Equipment protection plans are available to protect owners from being financially responsible for parts failures that are the manufacturer's responsibility.
To keep the machine's warranty active, owners must make reasonable efforts to maintain their equipment following the prescribed maintenance intervals outlined in the OMM. Be sure to thoroughly read and understand your warranty and know what's covered and what isn't so you can plan your maintenance program accordingly.
Additionally, investing in an extended warranty policy on some parts, particularly engine components, can help reduce maintenance costs in the long run.
10. Leverage Telematics Technology
Take your equipment maintenance management to the next level with telematics. Using a system of onboard sensors, equipment telematics collects valuable data on machine usage and health that can be analyzed for superior insights.
Telematics can help with equipment maintenance in the following ways:
Automate maintenance schedules based on data collected from equipment sensors.
Link operator behavior and idling habits to wear and tear concerns.
Receive instant notifications on diagnostic codes indicating a time-sensitive issue.
Cat VisionLink® is the answer to equipment telematics, providing Cat equipment owners with insight into equipment efficiency, productivity and maintenance needs. Using a smart technology system, VisionLink presents owners with a streamlined way to:
Routinely check equipment health.
Save time and money on maintenance.
Stay compliant with safe operating standards.
Learn more about VisionLink by contacting your representatives at Warren CAT.
11. Adhere to a Preventative Maintenance Program
The top way to save money on equipment maintenance costs is to develop and adhere to a preventative maintenance (PM) plan. By creating an ongoing maintenance schedule, you increase the likelihood of your equipment receiving optimal service required to extend component life and maximize equipment productivity and performance.
Using the manufacturer's recommended service intervals, you can develop an ongoing maintenance calendar based on maintenance item categories. Know which types of maintenance actions to take on a daily, weekly, monthly, quarterly and annual basis, as well as which types of services to conduct after a set number of operating hours.
Thanks to services like Cat Customer Value Agreements, equipment owners can create customized plans that fit their budget and ensure they're always on top of their equipment maintenance needs.
Benefits of Cat Customer Value Agreements
Whether you manage a single piece of equipment or an entire fleet, busy equipment owners want the most efficient, cost-effective way to manage their equipment maintenance needs. Following an intelligent, data-driven maintenance plan helps you reduce maintenance costs  and unnecessary downtime by focusing on just-in-time servicing needs informed by smart technology.
Cat Customer Value Agreements (CVAs) make equipment ownership hassle-free. Preventive maintenance plans are an integral part of the CVA, helping equipment owners maximize their investment, prolong the life of their assets and gain better financial control over their operating costs.
Some of the top benefits of CVAs include:
Flexible and customizable coverage: The Cat CVA program is designed to be entirely flexible for equipment owners, providing a range of coverage options. With flexible financing, there's a CVA solution for every scenario.
Convenient equipment management: Equipment management is easy and convenient with a Cat CVA. Receive your genuine Cat parts delivered on time according to a predictive maintenance schedule. CVA equipment management services provide quick parts replacement turnaround and take care of the legal and safe disposal of old parts, including fluids and filters.
Improved financial control: With simple monthly payments, equipment owners can maintain better financial control over operating costs. Knowing your monthly expenses ahead of time makes it easier to plan your business' cash flow compared to financing an unexpected, inconvenient and costly breakdown.
Long-term partnerships: With a Cat CVA, you'll always have the peace of mind that a reliable team of experienced technicians is standing behind you and your investment. The long-term partnership offered by the Cat CVA helps you focus on your business and leave the maintenance and service to the experts.
With a CVA, equipment owners can choose from value-added services like:
Oil and fluid changes and analysis
Ongoing machine inspections
Smart technology monitoring of equipment health parameters
Predictive maintenance and repair
Equipment owners can choose from multiple CVA plans, selecting the one with the right coverage for their needs. Businesses with in-house technicians may choose limited plans, while equipment owners who outsource maintenance may prefer a more comprehensive CVA option.
Work with your dealer or contact a representative at Warren CAT today to learn more about the right CVA plan for your business.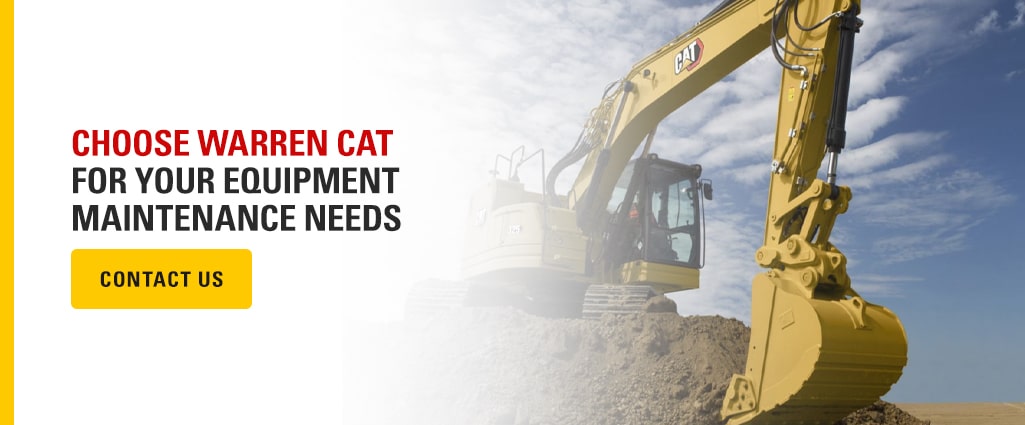 Choose Warren CAT for Your Equipment Maintenance Needs
When you want expert advice on equipment maintenance, trust Warren CAT as your source for reliable, quality equipment service and repair. Whether you need standard preventive maintenance, machine repairs, equipment rebuilds or help installing genuine Cat parts, Warren CAT is your equipment maintenance solution in Oklahoma and West Texas.
Enquire about our customizable Cat Customer Value Agreements, mobile field service, emergency maintenance solutions and other options to help keep your equipment performing at peak condition. Call Warren CAT today at 866-292-7736, contact us online, or stop by one of our many Warren CAT locations offering complete sales, parts and service.