Cat® Machine Service In OK & TX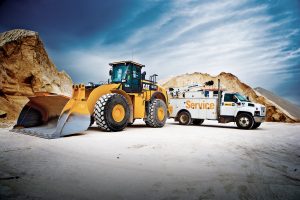 Routine service and preventative maintenance are essential to avoiding equipment failures at critical moments. While proactive inspections and repairs are essential at any age, they become even more important as machines age.
Warren CAT offers service, maintenance and repairs for all Cat equipment. With convenient locations throughout Oklahoma, West Texas and the Texas Panhandle, you can count on us for certified machine and component rebuilds, hydraulic repairs, undercarriage service, welding, fabrication and more. Our extensive parts inventory ensures a quick turnaround for most repairs.
Contact us online now for machine service or call 866-292-7736.
Benefits of Routine Machine Service
Routine service and maintenance are the easiest, most efficient and most cost-effective ways to keep your machine working at its peak performance while avoiding unanticipated downtime and lowering operating costs. If your machine is only working at 80%, that's a 20% loss in productivity over the course of the week — the equivalent of a four-day job taking five days to complete.
Keep your essential equipment operating at peak efficiency to protect the timelines of all your projects. Warren CAT equipment services reduce wear and identify minor repairs that may cause significant efficiency and machine performance changes. Some of the machines that benefit from routine maintenance services include:
Your Partner For Service, Repairs and More
At Warren CAT, we work with you to provide total fleet solutions that always keep you productive and profitable. Using sophisticated diagnostic tools and the expertise of our technicians, we identify problems before they become an issue, so you can plan for repairs accordingly. We also offer on-site emergency support with our team of field technicians and a fleet of field service trucks.
We have been an authorized Cat dealer for more than 35 years. This extensive service record gives us the expertise to handle various machine services. Our technicians and other team members strive to provide a positive experience for every client. Working with Warren CAT can provide you with benefits like:
An extensive service area for easy access wherever you are
Full-service solutions to address all machine repairs and maintenance
A focus on promoting trust for all the customers we serve
A reputation for durability and dependability befitting a Cat dealer
Access to an extensive supply of genuine Cat parts
Our Range of Services
Our technicians at Warren CAT have extensive expertise and a wide range of diagnostic tools to identify your construction equipment repair needs. We identify worn parts or discover why your equipment has stopped working as it should. The Warren CAT team of service experts can help develop custom maintenance and service plans to fit your budget and keep your machine running at its optimal best.
We perform machine services in our shops across Oklahoma and Texas to resolve equipment problems for a variety of industries, from forestry and landscaping to heavy construction and mining. We also offer field service to save you time and money by bringing the repairs to your job site. Here are a few machine services we provide:
Troubleshooting: Our technicians can inspect machines to discover why they break down and offer services to get them running again.
Part replacements: Machine parts often endure wear over time. We can replace belts, motors, hoses or other essential machine components.
Calibration: Our team ensures machine components function as they should. Calibration involves checking for proper measurements and machine control.
Preventative maintenance: Our experts perform regularly scheduled tasks like inspections, filter replacements and fluid changes to keep machines in top condition.
Cleaning: Dirt and debris trapped in a machine often cause poor performance. Our technicians clean and lubricate machine parts for smooth operation.
Get Your Machines Serviced by Cat Professionals
Warren CAT has multiple locations offering everything from skid steer maintenance to bulldozer services in West Texas and Oklahoma. We perform preventive maintenance, field service and repairs to maintain your equipment and to optimize efficiency and minimize your downtime.
Reach out online to tell us about your equipment and service needs. We'll work with your schedule to perform service and keep your operation running.
__________________________________________________________________________________________
Read Our Helpful Articles