Hiring Our Heroes
"To care for the people first and always do the right thing."
Warren CAT is a proud sponsor and employer of military service members transitioning into civilian life. These men and women have given so much for our country, and we are driven to help them find stability and satisfaction in a promising career within the heavy equipment industry. When you consider a career with us, you will see our core values are a natural fit to service members, veterans and military spouses.
Your G.I. Bill Benefits and OSU IT
At the OSU Institute of Technology's Cat® Dealer Prep program, accepted students will have the opportunity to work with their head and their hands on the most advanced and powerful machines built by the world's leading manufacturer of construction equipment, Caterpillar®. As a veteran, your G.I. Bill benefits can be applied at OSU IT toward our ThinkBig Technician Internship Program.
Those who are accepted into this two-year program will spend half their time on campus for technical instruction on current products and equipment learning the latest diagnostic and service procedures. The rest of the time will be spent getting real-world training through a paid internship at onw of our Warren CAT dealerships.
Visit the OSU IT website for more information and to apply.
Warren CAT Training Center
Coming in the summer of 2022, Warren CAT will be opening a new state-of-the-art training facility located in Brownfield, Texas.
Warren CAT Employed Veteran Profiles
Profile: Matt Bolden, Sr. Process Improvement Specialist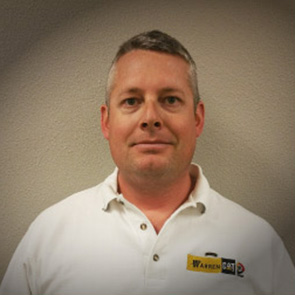 "I'm challenged daily at Warren CAT. The adaptability and concept of teamwork required in the military fit well with the work environment here, and the leadership skills have opened doors for me where the opportunity may not have been presented otherwise."