Hiring Our Heroes
Warren CAT is a proud sponsor of military service members transitioning into civilian life. These men and women have given so much for our country, and we are driven to help them find stability and satisfaction in a promising career within the heavy equipment industry. When you consider a career with us, you will see our core values are a natural fit to service members, veterans and military spouses.
"To care for the people first and always do the right thing."
Career Skills Program
As part of our commitment to employing military veterans, we have developed a regional Career Skills Program (CSP) in conjunction with the Fort Sill Garrison. This CSP consists of 16 weeks of on-the-job training and is available to qualified, active duty soldiers approaching their transition date – and their spouses – from six southwest U.S. Army bases: Fort Sill, Fort Carson, Fort Riley, Fort Hood, Fort Bliss and Fort Leonard Wood.
The CSP is fully funded by Warren CAT with no cost to the soldier or the Veterans Administration. A requirement of the program is the participating soldier will commit to making Oklahoma City their home after successful completion of their training and transition from active duty.
For more information regarding this or any other career opening, please contact us online or call our Recruiter Hot Line at 844-232-6246. Interested Army service members may also contact the Soldiers for Life – Transition Office at Fort Sill, Oklahoma to begin the CSP application process.
Warren CAT Employed Veteran Profiles
Profile: Matt Bolden, Sr. Process Improvement Specialist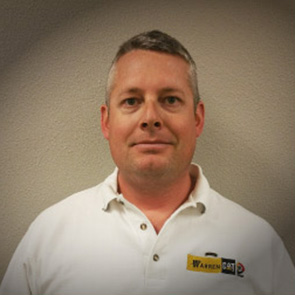 "I'm challenged daily at Warren CAT. The adaptability and concept of teamwork required in the military fit well with the work environment here, and the leadership skills have opened doors for me where the opportunity may not have been presented otherwise."