Industry-Leading Service in the Oil Field
With decades of service to the Texas and Oklahoma oil and gas industry – and backed by Caterpillar's more than 80 years of developing oil and gas power solutions – Warren CAT has acquired the expertise and a broad, comprehensive perspective on the unique needs of oil and gas operators. Caterpillar® engines for oil and gas applications are designed to deliver outstanding durability, maximum dependability and innovative technology, while providing peak performance and greater cost control in the process.
Complete the form below for assistance from a Warren CAT team member in finding the right solutions for you.
Well Service
No segment of the petroleum industry presents quite the same set of challenges, opportunities and essential skills as oil well servicing. Desert heat. Bitter cold. Endless variables that are beyond your control. It's a high-pressure business, full of unique applications and circumstances.
Cat® engines are just as specialized. They provide outstanding reliability across a wide range of available horsepower. They can run on almost any fuel (diesel, crude, natural gas, propane or almost any field gas), and meet the toughest worldwide emissions standards.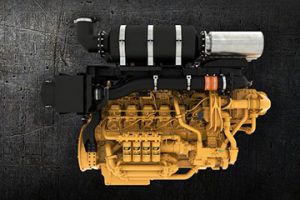 Cat® Dynamic Gas Blending (DGB) engines for well service let you operate on the industry's wide range of fuels, including CNG, LNG, pipeline gas and even field gas as an alternative to flaring. With Cat DGB engines, you could cut your diesel consumption by as much as 85%, while maintaining all the power, reliability and ease of maintenance of our diesel models.
Learn More About Cat DGB   View Products
Land Drilling and Production
Cat engines have been drilling the majority of the world's wells for years. Low operating costs and proven reliability have made these engines the preferred choice in the oilfield. Their robust design and low-speed operation deliver long engine life, and they offer emissions compliance, improved fuel economy, easier service and the lowest owning and operating costs in the business. Whatever your application, we have options to meet it, with the widest range of oilfield power generation products.
Gas Compression
Cat engines for gas compression have logged over two billion operating hours around the world. Built using the proven Cat diesel platform, these gas-fueled units stand up to the most demanding gas and oil transportation applications, delivering 71 to 6100 bkW (95 to 8180 bhp) with virtually no unscheduled downtime.
The innovative ADEM™ A3 electronic control unit (ECU) reduces owning and operating costs with:
Precise control over key parameters for more efficient operation
Expanded monitoring and diagnostic engine protection capabilities
Reduced required maintenance and repair time
Longer overhaul intervals
Emissions compliance solutions are available to meet your site-specific requirements anywhere in the world
Advanced combustion technology enables Cat gas compression engines to burn a variety of fuels.
Field gas
Natural gas
Coal bed methane
Wellhead gas
Propane
Low-energy gas