Why Warren CAT for Electric Power Generation?
With the industry's widest range of diesel, gas, and mobile generator sets, microgrids, automatic transfer switches, switchgear and controls, the Warren CAT team is dedicated to finding the right power systems solution to keep you on time and on budget. Our Core Values are focused on building long-term relationships founded on trust, and we will work with you for the life of your power system – from configuration to installation to continued operation.
Cat® Electric Power and Warren CAT offer feature-rich standardized power system solutions with the GC Line of generators, and we also bring decades of experience and expertise to help you custom-design an electric power generator system to your specifications. Whether you are an electrical contractor, engineering procurement and construction, architect, mechanical engineering firm or electrical engineering firm, Warren CAT has the continuous and standby power solutions your job requires.
Warren CAT and Caterpillar® are trusted providers of reliable emergency standby power generators for healthcare facilities, municipalities and other critical infrastructure. We offer unmatched support for the life of your equipment and the industry's widest range of products like generator sets, microgrids, automatic transfer switches, and switchgear, so that you can design and reliably maintain a continuous power, back-up power or peak-shaving power system that fits your business. With options for diesel, gas and rental generator sets, plus sustainable systems such as co-generation and solar technology, Warren CAT can partner with you on projects of any size across any industry including hospitals and healthcare, education, manufacturing, data centers, landfills, horticulture, power plants, telecom, mining, construction, municipality and wastewater treatment plants, and more.
Size, Configure and Build
Power.cat.com is Cat's online sales platform that allows you to quickly and easily find and research information about Electric Power products that meet your operational requirements. Browse available inventory and build custom bespoke solutions based on your unique applications. Power.cat.com has been designed to make the process of sizing, selecting and ordering the right generator simpler and faster.
Begin sizing your generator set today in 3 simple steps – (1) Select load types for your project, (2) Define your electrical loads, and (3) Calculate your power need. With this information, you can view our matching inventory or request a custom quote. Start sizing and configuring your Cat generator set today by visiting Power.cat.com.
If you would like to know more about this online tool or need additional assistance from a Warren CAT electric power professional, please complete the brief form below for follow up contact.
Standby Generators from 20 kW to 4.5 MW
Cat GC Line Standardized Packaging (40 kW to 1250 ekW)
The new Cat GC Line diesel generator sets share the same quality and performance as our critical application product line but are value engineered to decrease footprint and reduce installation costs, freight costs and the cost of ownership. Cat GC stationary standby diesel gensets range from 40 to 1250 ekW to fit a large variety of applications and are fitted with an IP65 rated auto mains GCCP Controller as standard with a user-friendly Control Panel interface. Our Extended Service Coverage (ESC) options help protect your investment and also relieve your budget from unplanned or unscheduled repairs.
Additional benefits of the Cat GC Line include:
Emissions compliance with most worldwide regulations
Excellent transient response and steady state performance
All products are UL 2200 listed
Long life to overhaul
Available open or with sound-attenuated enclosures
Customizable maintenance plans
Parts availability (92% fill rate and 99% overnight order fulfillment)
Supported by experience technicians at multiple locations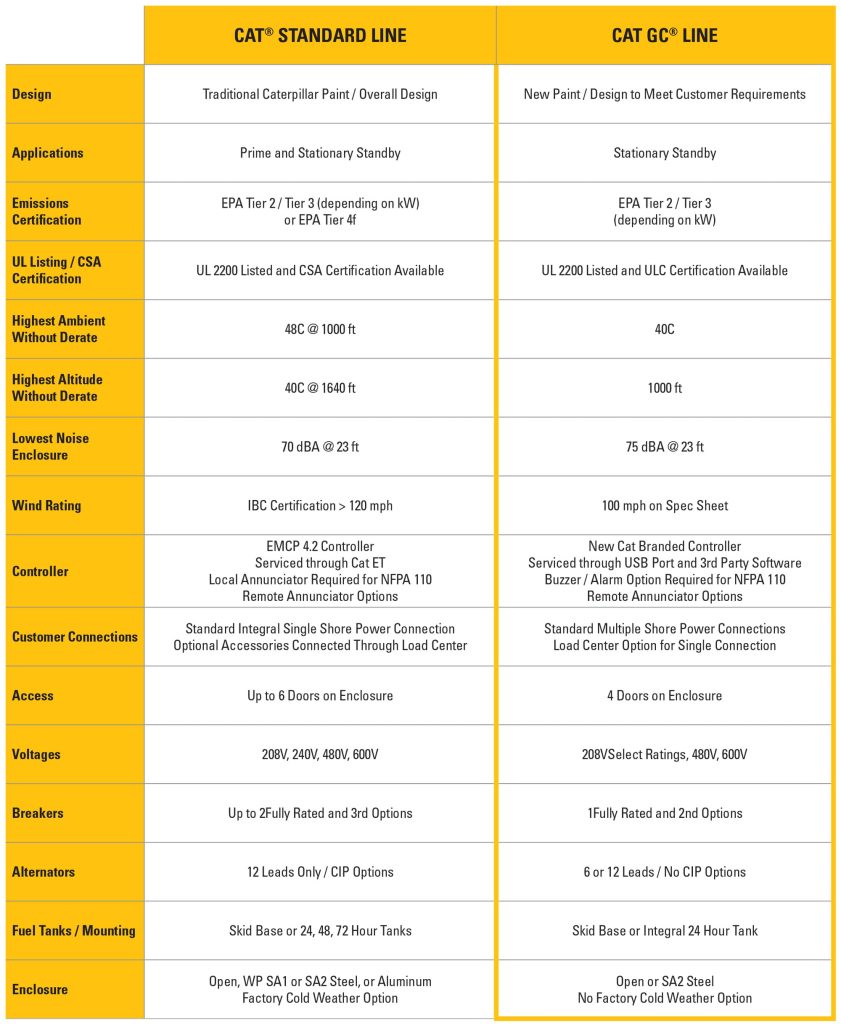 Diesel Generator Sets (20 kW to 4 MW)
From 20 kW to 4 MW of power potential, our diesel-fueled generator sets are built to world-class standards, for high efficiency, low fuel consumption and global emissions compliance. Our commercial and industrial generator sets come in a range of options to match your power needs, making selecting and installing simple. Discover power designed for your demands.
Gas Generator Sets (50 kW to 4.5 MW)
Ranging from 50 kW to 4.5 MW in a single unit, our gas generator sets are easy to select, permit and install. Our industrial and commercial gas generator sets are proven for reliable operation with a wide range of gaseous fuels including natural gas, hydrogen, biogas from landfills and digesters, coal gas, propane and alternative fuels. We build durable, low life-cycle cost power systems that we integrate with controls, exhaust systems, fuel systems, combined cooling/heat/power skids and switchgear.
We are at our best when we design our project in close partnership with our customer, and we are your expert advisers for any size commercial and industrial generator sets in any regulatory environment. When you need power, Caterpillar and Warren CAT are equal to the challenge.
Customized Generator Solutions and Package Design
If a standardized genset solution doesn't fit your needs, we also offer personalized expert consultations for more robust designs that can be customized to your specifications, providing the reliable electric power you need. Warren CAT custom generator package designs include:
Switchgear and Paralleling Controls. Caterpillar switchgear and control panels are suitable for applications ranging from single standby/load management to multi-unit utility paralleling installations. We offer both low and medium voltage standard and custom switchgear solutions with a user-friendly Human Machine Interface. Caterpillar's ISO-9001 facility can provide UL891, UL1558, ULMV, cUL or CSA labeled switchgear to meet your specific needs.
Automatic and Manual Transfer Switches for reliable backup power transfer during power outages to connect the utility feed into your system, monitor the power and signal the generators to switch on and off.
Microgrids & Renewable Energy Systems
Cat Microgrids provide cost-effective power for on- and off-grid communities and commercial or industrial installations. By combining renewable energy from our photovoltaic solar modules and advanced energy storage solutions with traditional generation from utilities or generator sets, we can develop an energy system specifically designed for your needs. The Cat Microgrid combines all sources into a single, controllable entity to optimize the flow of energy so it can be produced at the lowest total costs.
When purchasing is not the best option, our Rental Power team can advise you on specific power requirements, fuel consumption, fuel tolerance and overall operating costs for a variety of needs and applications, from lighting and temperature control for events to continuous power at remote locations or backup power for critical operations. We're there from system design to installation and operational support, providing expertise for customers throughout West Texas and the state of Oklahoma.