Customer Value Agreements — What They Are and Why You Need One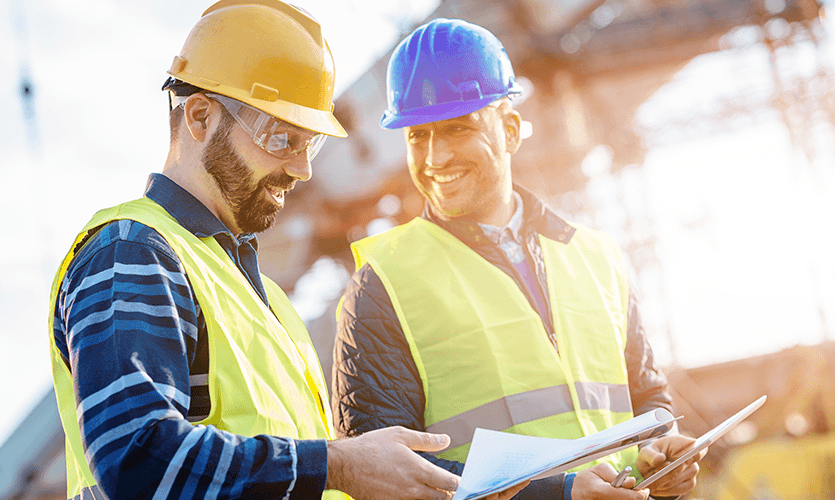 April 15, 2022
A Cat® Customer Value Agreement (CVA) is an easy, efficient way to add even more value to your Warren CAT equipment purchase. A CVA — through preventative maintenance (PM) — will help you prolong the life of your heavy equipment, enhance performance and prevent costly downtime that could cut into your profits.
Learn more about CVAs and the top reasons you should consider adding one to your next equipment purchase or fleet upgrade.
Jump To Sections:
What Is a Warren CAT Customer Value Agreement?
A Customer Value Agreement (CVA) is an official agreement between you and Warren CAT that includes helpful ongoing preventative maintenance services and ownership benefits to give you the most out of your equipment investment. You can choose from services such as:
Total cost performance guarantees
Oil and fluid changes
General machine inspections
Proactive work and equipment repair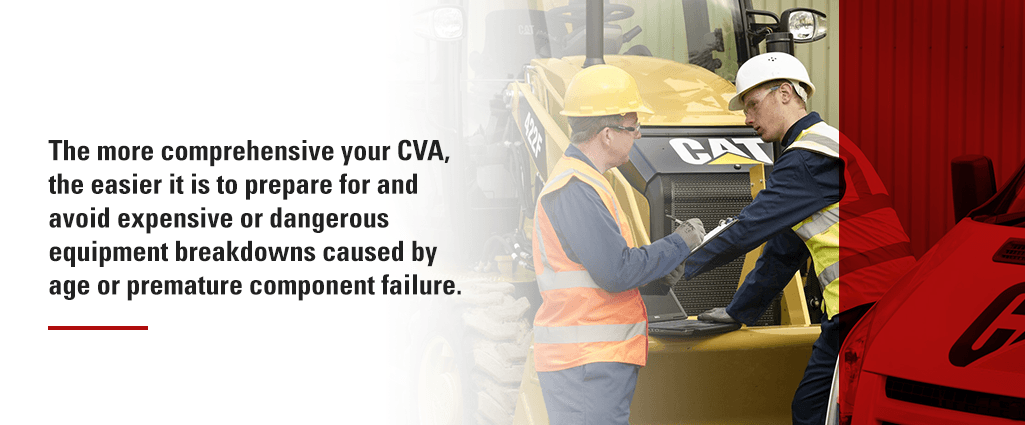 The more comprehensive your CVA, the easier it is to prepare for and avoid expensive or dangerous equipment breakdowns caused by age or premature component failure. It's also a great way to minimize your operating and ownership costs while increasing your productivity with reliable, quality-made equipment.
You can even mold your CVA to fit your specific needs. Some customization options include:
The number of machines you want your CVA to cover
The extent of your Equipment Protection Plan (EPP) coverage for new machines
The length of your CVA terms
The extent of preventative maintenance included
When and where we deliver your genuine Cat parts
How Does a Customer Value Agreement Work?
You can obtain a CVA from Warren CAT for a single piece of machinery or your entire fleet, regardless of its age, model or industry application. You can choose to enroll in a Customer Value Agreement when you purchase new equipment or contact a representative to request a CVA for an existing Cat machine or engine.
A CVA is individualized to fit your fleet's unique needs, so the required steps and included services vary for every agreement. Get the process started by:
Choosing your plan: Work with an expert specialist to create the CVA you need without worrying about pre-set requirements or strict guidelines. Our representative will explain each of your available options and help you work through important considerations, like who your preferred maintenance technician is and how much coverage you want for each piece of equipment.
Exploring your financial options: Contact your preferred financial provider and ask about getting CVA financing approval with your next machine purchase or learn more about your payment options.
Enjoying peace of mind: Once your agreement is in place, you can get back to doing what you do best — using Cat equipment to get the job done well, knowing you're ensuring your fleet's lasting quality.
Is a Customer Value Agreement Worth It?
Simply put, yes — a CVA is almost always a worthwhile investment. CVAs help you stay on top of construction equipment maintenance, with preventative maintenance, oil and filter changes and other services to extend your machine's lifespan. When you take a look at the numbers, it really comes down to longevity and value. When you pair your CVA with things like Cat filters and fluids, you can significantly extend the life of your equipment.
Here are just some of the features Cat CVAs offer and how they make machine ownership easy:
Equipment Protection Plans: EPP coverage protects against any defects or workmanship errors on new machines.
Parts delivered to you: With a Cat CVA, we'll deliver your parts right on schedule, to the location of your choice, so you always have what you need to stay operational.
Simple monthly payments: Already making payments on a Cat machine? Ask a representative about including your CVA in the same monthly payment. A single fixed payment option can help you stay on top of your budget.
To get a better idea, take a close look at your operational expenses and note how much time, money or workforce you dedicate to things like:
Securing and training on-site equipment mechanics
Diagnostic tools and equipment
Safely disposing of environmentally harmful items and fluids
Parts and repair tool inventory
General shop maintenance, including utilities, taxes, upkeep and insurance
Specialty equipment, like service trucks
These factors can have a significant effect on your business's bottom line. A CVA will keep costs low, and service professionals will perform critical inspections, servicing and preventative maintenance quickly to reduce downtime.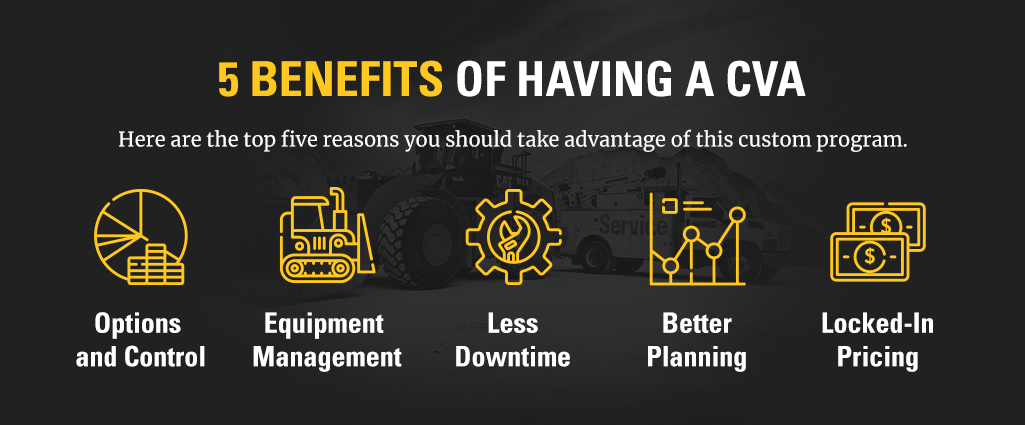 5 Benefits of Having a Cat Customer Value Agreement
Regular construction equipment preventive maintenance, fluid changes and remote monitoring are essential tools for equipment preservation, and a Cat CVA from Warren CAT goes even further than standard services and equipment assistance. Here are the top five reasons you should take advantage of this custom construction equipment maintenance program.
1. Options and Control
A Cat Customer Value Agreement puts the control in your hands, with flexible coverage and customizable options. Customize your CVA to access the type and level of coverage you need to meet the requirements of your machine, fleet and business with scalable plans and flexible options. Manage your budget and expenses with flexible monthly payment options that include pre-paid, paid-in-full, financed, flat rate or monthly payments, depending on your specific circumstances. You may also be eligible to choose charge terms between monthly, quarterly, semi-annually, annually or per hours of production.
2. Equipment Management
Manage your equipment with Cat replacement parts and tools you need, including discounted filters, shipped to your chosen location for convenience and quick turnaround. We will even help you safely dispose of your used oil and filters. Warren CAT technicians can also help you monitor the status of your new and used heavy equipment so you can make necessary changes to boost performance, train staff and maintain your budget.
3. Less Downtime
Experiencing downtime with your heavy equipment can cost you hundreds to thousands of dollars annually if you aren't prepared. Detailed equipment diagnostics can help you identify and locate concerns before they grow into more expensive and demanding repairs. CVA clients can schedule preventative maintenance and inspection services, so you get critical insights and can schedule necessary downtime, minimizing unplanned expenses. Before-failure repairs often cost less than after-failure repairs, saving you even more money long-term.
4. Better Planning
The more you know about your machines, the easier it is to make investment, budgeting and operational decisions for your fleet. Your CVA provides helpful insights that give you the confidence you need to establish budgets, schedule maintenance and avoid surprises. You can also benefit from improved heavy equipment maintenance record-keeping and potentially greater resale value.
5. Locked-In Pricing
Enjoy the convenience and security of locked-in pricing when you agree to a Cat CVA from Warren CAT. After our team helps you customize your CVA plan to fit your equipment and project needs, that price gets locked in and guaranteed for the duration of your CVA terms. Note that Warren CAT only guarantees your locked-in pricing within Warren CAT territory. If you move out of our service territory, we'll work with your local dealer to determine accurate service pricing.
This pricing structure allows project managers and business owners to have more control over operating costs and to continue reaping the rewards of a CVA investment without unexpected pricing or inflation.
Frequently Asked Questions About CVAs
A lot of time, energy and careful consideration go into purchasing and owning heavy equipment, and a CVA is no different. Having a thorough understanding of what a CVA is and how it works is the best way to make an informed decision and create a plan that most benefits you and your business. Here are some of the questions we're most often asked about CVAs.
Can a CVA Be Added to a New or Used Equipment Purchase?
Yes. When you purchase a new machine from your Cat dealer, choose from three CVA options:
The Convenience CVA is ideal for businesses with their own in-house maintenance, as it includes maintenance instructions, EPPs, scheduled service, scheduled parts delivery, viewable repair history, machine insights and more.
The Performance CVA is a one-time planned preventative maintenance that your Cat dealer will handle for you, freeing you up to focus on other areas of operation. It includes the same features found in the Convenience CVA, but with flexible dealer service.
The Confidence CVA includes Premier EPP, comprehensive coverage and additional planned maintenance provided by your dealer. This is the plan for those seeking protection on investment for up to five years of working hours, and it also includes the same perks as the Performance CVA.
When you buy a Cat Certified Used machine, you still get access to the industry-topping CVA perks, including:
Delivered parts
EPP coverage
Optional dealer service
Machine insights
Hassle-free maintenance
Expert dealer support
Single payment options
Can I Add a Customer Value Agreement to a Machine I Already Own?
Already own a Cat machine? We've still got you covered. If you own used equipment, you'll love our Extended Cat CVA. Caterpillar designed the Extended CVA plan with existing equipment owners in mind. This CVA includes parts delivery, optional and flexible dealer service and valuable machine insights that can help you save money and time. You'll also gain significant savings on genuine Cat parts.
What Equipment Is Eligible for a Cat® CVA?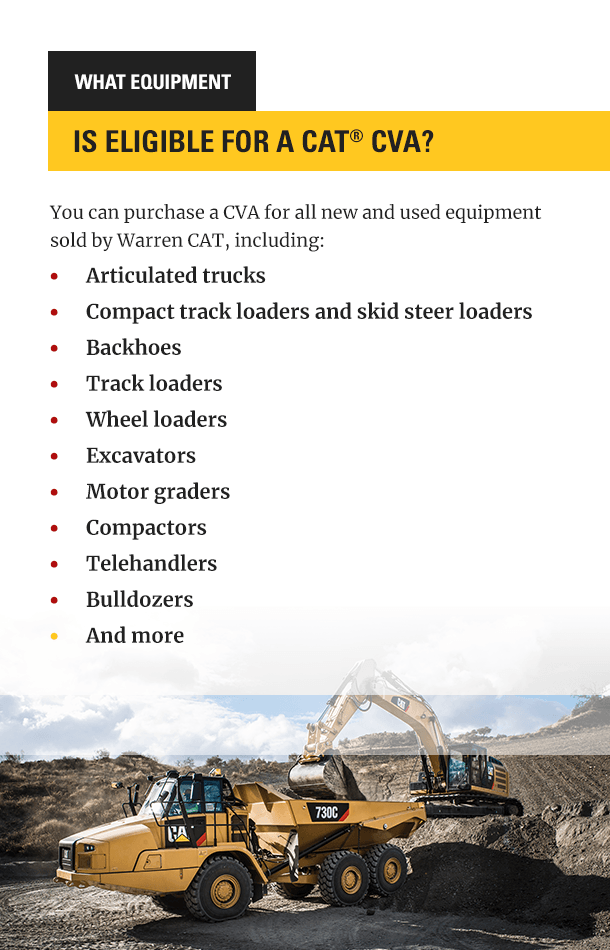 You can purchase a CVA for all new and used Cat equipment sold by Warren CAT, including:
Please note you can only purchase a CVA for Cat equipment, and this list is not exhaustive. Contact a Warren CAT representative to learn more about CVA compatibility or shop our inventory of new and used machines.
What Machine Insights Does a CVA Provide?
Cat CVA agreements give you access to valuable insights about your heavy equipment. By securing all of this information in one place, it's easier to find while you schedule service checks, plan your operational budget and monitor fleet performance.
A VisionLink® subscription is included in your Warren CAT CVA agreement, which provides machine insights including:
Machine hours: Logging your machine hours is an integral part of equipment ownership because it can help you predict when specific parts might need servicing. It's also valuable information in case you choose to sell or trade in your equipment.
Machine location: Tracking your machine's location lets you keep an eye on your valuable equipment at all times, including off-the-clock use or in the event of stolen or misplaced equipment.
Fuel burn: Fuel burn refers to the amount of fuel your machine consumes per each use. This information can help you spot patterns, monitor your fuel budget and identify if a piece of equipment is leaking or using more fuel than usual.
Fault codes: Fault codes will help your on-site maintenance or Cat dealership understand issues as they arise, which cuts back on how much time it takes to diagnose and repair any damages.
Maintenance events: Similar to tracking machine hours, a log of maintenance events is one of the most effective ways to stay informed about your equipment and pass that information along to future dealerships, technicians or buyers.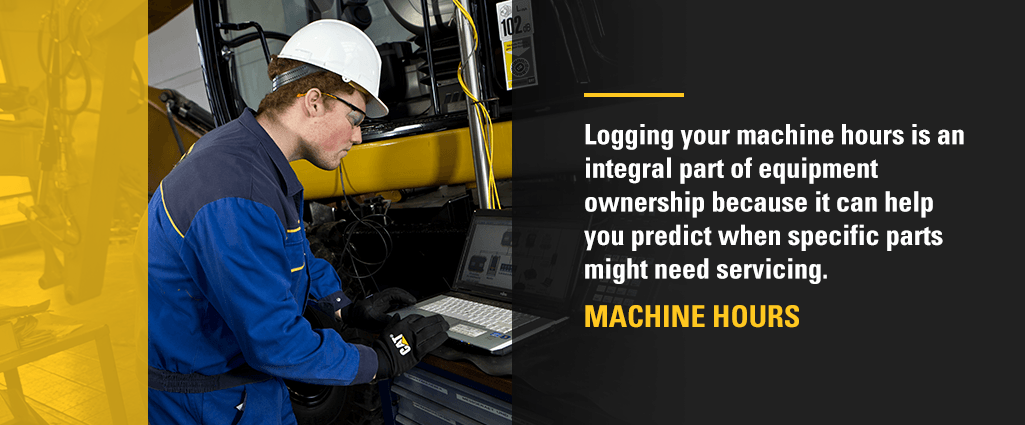 Do CVAs Extend to Other Dealerships?
If you're relocating or expanding your fleet, Cat CVAs are portable across the Cat dealer network with certain exceptions. Because the CVA plan is attached to your equipment's serial number, you can submit a request during your coverage period to transfer your CVA plan to a new owner, if necessary.
Warren CAT can only guarantee locked-in pricing at the Warren CAT dealerships in our territory. For transitions beyond our service territory, we'll contact the local dealer there for more accurate service pricing, whether that's higher or lower. Your CVA agreement will have written language specifying dealer territory limits for your equipment.
How Do I Get a CVA for My Equipment?
If you already own a Cat machine or plan to purchase a new or certified used model, getting a CVA is simple. Get in touch with one of our team members, and we will:
Ask questions about your machines and business to determine which CVA plan is right for you.
Explain the different customizable options available for your equipment.
Take the steps necessary to bundle your CVA with any existing Cat payments for stress-free monthly payments.
Answer any questions you have about your CVA options, including Warren CAT standards and regulations.
Once you have your CVA in place, you will continue to receive ongoing support from our dedicated team. We are always available to answer questions, schedule service appointments and help you get the most out of your investment. If your operations shift or expand, we are also happy to help you adjust or upgrade your CVA if necessary.
If you have to pause your operations, you can cancel your CVA plan without paying a cancellation fee if you meet the following conditions:
You cancel within 30 days of the start of the agreement.
In that 30-day window, you have received no CVA benefit.
In some instances, there may be processing fees or restocking fees. Contact your dealership to learn more.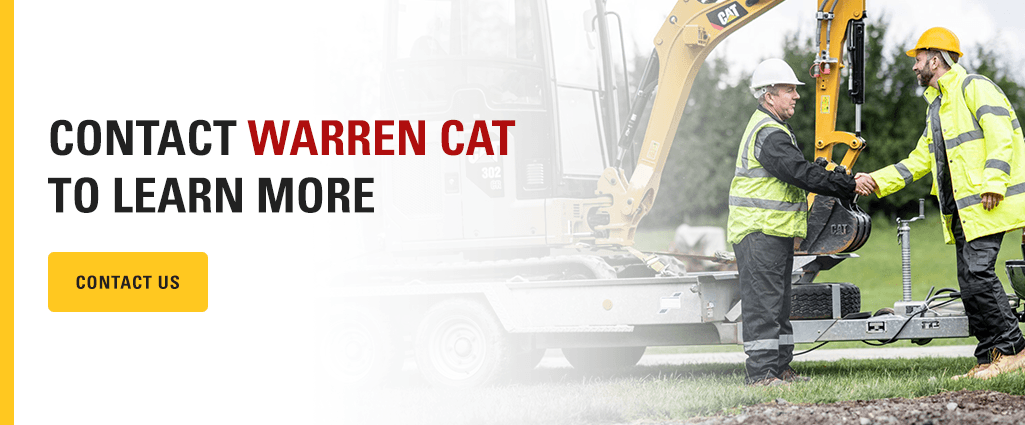 Contact Warren CAT to Learn More
With locations throughout Oklahoma and West Texas, Warren CAT is your local source for quality Cat equipment. As a valued customer, you get access to perks like mobile field service and 24/7 emergency maintenance and repair to keep your fleet up and running. No matter the industry, Warren CAT is here to help you succeed every step of the way with customizable CVAs.
Learn more about Customer Value Agreements and give our team a call at 866-292-7736 or contact us online to speak with a Warren CAT professional about your CVA options. You can also shop our inventory of new and used Cat equipment, available for rent or purchase.