Replace or Rebuild Equipment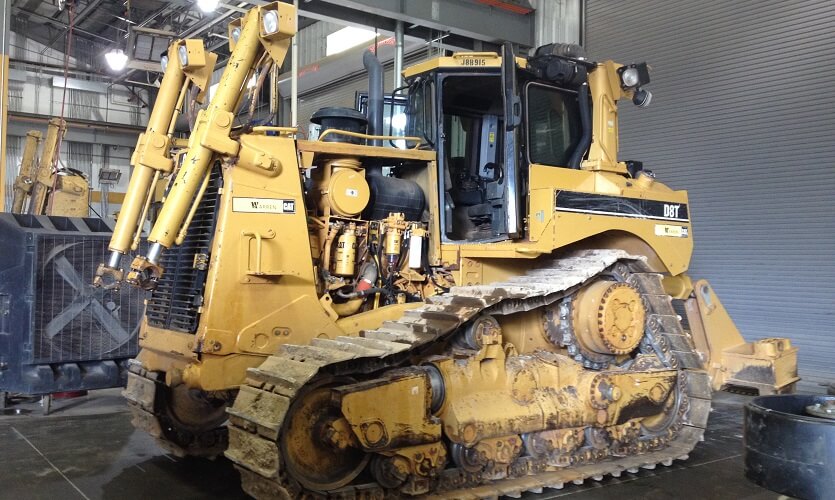 December 21, 2018
Should You Replace, Rebuild or Repair Your Equipment?
When heavy equipment needs repairs, there are several options. Traditional choices include buying new equipment, repairing current equipment, or owners can also buy working used equipment.
Jump To Sections:
However, there are other ways to keep your equipment running. Rebuilding equipment is still a relatively new option, though Caterpillar® rebuild programs are some of the oldest, with this year marking 30 years of rebuilding.
With choices ranging from rebuilt components to a full rebuild of an entire machine, rebuilding equipment offers many choices in a new range of price points.
Deciding between replacing, rebuilding and repairing equipment is not always a simple decision. This guide will provide an overview of each choice. You'll also find questions and calculations to help you determine the best decision for your business.
Replacing With New Equipment
Replacing aging equipment with brand new is one of the first options many owners consider. Some pros and cons to brand new equipment include:
Benefits of purchasing new equipment
Most recent technology
Longest lifespan
Negatives of purchasing new equipment

New equipment usually has lower maintenance bills and more modern technology. Updated interfaces and hydraulics can also help you to complete projects faster.
Buying new equipment is usually more expensive than rebuilding or repairing existing machines, though. However, new equipment often lasts longer and has lower maintenance costs. Whether purchasing new equipment is the best decision for your business comes down to how much you may gain financially by doing it.
Replacing With Used Equipment
Many owners buy used equipment because of the lower costs. You can buy used equipment at auction, on the private market or via consignment. The pros and cons of used equipment include:
Benefits of purchasing used equipment
Relatively recent technology
Lower cost than new
Negatives of purchasing used equipment
Shorter lifespan than new
Quality and maintenance records can vary

Used equipment can sometimes break down sooner, so you may have higher maintenance costs. You may also need to consider rebuilding or replacing this equipment sooner.
You can offset some of these problems, however, by buying used equipment with low hours. Equipment with 3,000 to 5,000 hours of use is ideal for low-hour machines.
Reviewing maintenance records can also cut down on the risk of many repairs. Check to see if the previous owner serviced the equipment regularly and stored it inside. If the owner had oil samples analyzed during oil changes, ask to see the results. Equipment that is well cared for is less likely to need major repairs.
Rebuilding Equipment
Rebuilding equipment can give you a like-new lifespan with a lower price tag. Some pros and cons to rebuilt machines include:
Benefits of rebuilding equipment
Can extend the lifespan to close to that of new equipment
Lower price tag than new equipment
Negatives of rebuilding equipment
Can take the longest time
May not be able to upgrade all technology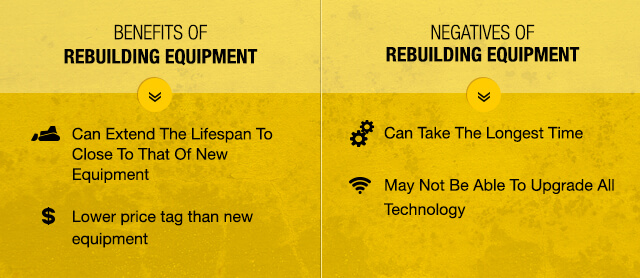 There are several different types of rebuilds available. As well as a Cat® Certified Rebuild, there's the Cat Power Train Program, which rebuilds only the power train components. It's also possible to purchase separate rebuilt parts rather than a whole machine.
Whether it's a single component or an entire machine being rebuilt, the process starts the same way. The equipment is inspected, and then it's disassembled. Once it's disassembled, it's then rebuilt from the ground up and updated with any engineering or software updates.
Caterpillar machines can be rebuilt through two different programs.
Caterpillar® Certified Rebuild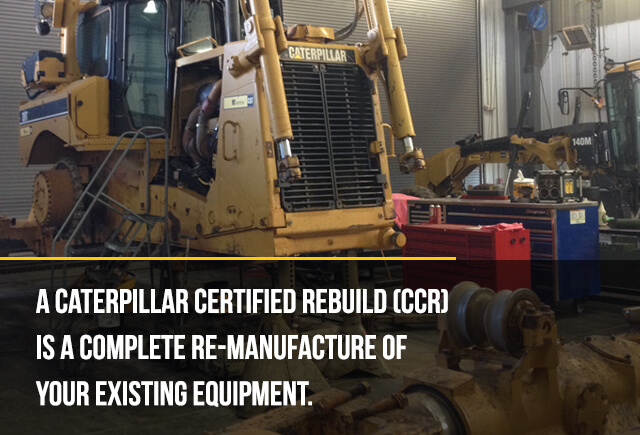 A Caterpillar Certified Rebuild (CCR) is a complete re-manufacture of your existing equipment. The equipment is inspected and disassembled down to the frame. Then it's rebuilt. We replace more than 7,000 parts when we rebuild most equipment. The rebuilt machine also gets any technology and engineering updates available.
Once rebuilt, the machine goes through a full set of tests and inspections. This lets us ensure your rebuilt equipment is comparable to a new machine. Cat Certified Rebuilds are covered by a like-new warranty and receive a new serial number.
In many cases, rebuilt equipment can be better than the original machine. This usually happens because new technology has become available, and the rebuilt components include these brand new features.
Caterpillar Certified Power Train Rebuild (CPT)
The Caterpillar Power Train Rebuild gives your engine a new lease on life. In a power train rebuild, the power train components are disassembled, updated or replaced. Like a full rebuild, the power train rebuild offers extended coverage.
Some of the components included are:
– Engine
– Fuel, oil and water pumps
– Engine control module
– Transmission
– Drive line
Unlike the CCR, the power train rebuild doesn't focus on aesthetics or hydraulics. However, some dealers offer an in-between option, often called CPT plus. This offers a more customizable approach, but the CPT plus also includes the power train rebuild. Owners can also specify additional work such as painting, improvements to the cab or hydraulics upgrades.
Repairing Equipment
Repairing a part is a fast, affordable fix that can get your equipment back on a project quickly. If your equipment has just one or two broken components, repair is an excellent option. This is also a good option if you need the equipment back in service for a current project. Some pros and cons to repairing a machine are:
Benefits of repairs
Can get equipment back in use quicklyMost affordable option
Negatives of repairs
Doesn't extend equipment life
Keep in mind that most repairs will only extend the lifespan of a single part. If the damage isn't found quickly, related components may also be affected. In addition, wear and tear can cause several parts of the same system to fail close together. You'll need to determine whether the cost of additional repairs is worthwhile.
If not, consider repairs a stopgap measure while investigating rebuilding or replacing. Depending on the condition of your equipment, fixing components may delay replacing or rebuilding your equipment for a time. This can sometimes help get to a better time or season before having equipment down, for example after a current project is done.
Gather the Facts Before Deciding to Replace, Rebuild or Repair
Most machine owners decide whether to replace or rebuild equipment based on economics. The cost of repair is usually the biggest factor. But it's not the only one!
The benefits of rebuilding or replacing equipment depend on your situation. You'll need to consider the equipment's lifespan and what future repairs might be needed. Successful fleet owners look at least two to three years ahead.
To figure out whether you should replace or rebuild equipment, ask yourself these questions:
Is your current equipment the best option for your business today?
Business needs can change fast. The equipment that suited your business ten years ago might not be right today. Consider performance expectations, regulations and new technology.
Consider your future needs as well. If you're planning to rebuild equipment, remember you'll be extending its lifespan. Is it likely to be the right equipment for your business in five years? Can you make any necessary technology upgrades? If not, it's time to consider replacing your equipment.
Is new technology required to keep up?
Advancements in technology are one of the biggest reasons to replace older equipment. These advancements include better fuel efficiency or lower emissions. Remote sensing, GPS location and electronic interfaces are other technological improvements that can all make a difference for your business.
New regulations may also require you to update your equipment to keep up. Regulations regarding emission reductions are one example. While old equipment may be rebuilt or repaired to these standards, it can sometimes be more cost-effective to replace these machines with new equipment.
In some industries, new technology can also be a differentiating factor. Tractors with remote sensing to analyze soil nutrients can help farmers get higher yields. New interfaces on dozers allow operators to customize steering and responsiveness to work in a variety of terrains, and GPS and weather sensing can change fleet management and prevent equipment theft.
Will new technology have a significant impact on your fuel use or operating costs?
Fuel is one of the biggest expenses for most heavy equipment operators. So changes in fuel efficiency can have a big impact on your bottom line.
New equipment usually has higher fuel efficiency than older equipment. You can also improve fuel efficiency through rebuilding and optimizing the powertrain of existing equipment.
Hybrid technology can also affect operating costs by lowering fuel use. In some cases, lowering your ongoing operating costs can be worth investing in a new machine. The Cat® 336E Hybrid Excavator is an example of this. It uses about 25 percent less fuel than non-hybrid models. If you're excavating regularly, those fuel savings could be a reason to replace your equipment.
What is the condition of your equipment?
A well-maintained machine is a good candidate for a partial rebuild or for repairs. A beaten up dozer with a history of failures is not.
Look at both the equipment and its maintenance log. Pay special attention to:
Engine compartment
Hydraulic system and seals
Articulation points
Poorly-maintained equipment is likely to need more repairs than usual down the road. If your equipment has a history of mechanical failures, is currently non-operational or has been poorly maintained, rebuilding or replacing is a better option.
What are your future maintenance costs?
Regardless of how well you've maintained your equipment, everyday wear and tear will take its toll. Repairs can keep your equipment operating longer. However, fixing one component won't extend the lifespan of the entire machine.
If your equipment is older and has many hours of use, you're likely to need to repair additional components soon. Consider the cost of parts and labor for the maintenance recommended over the next two to three years. Does the cost exceed the expense of a complete rebuild? What about replacing the equipment?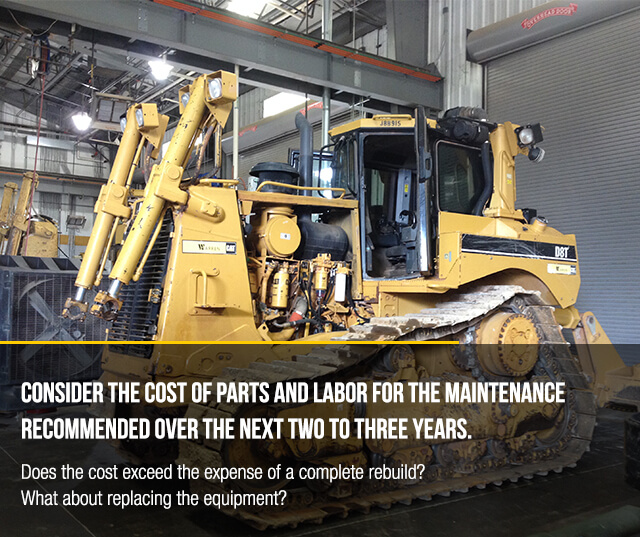 What is the equipment's resale value?
Trading in or selling old equipment can offset the cost of purchasing new equipment. If you're considering upgrading, knowing your current equipment's market value can help you decide.
Determine what the current market looks like for your equipment. Research the sale prices of similar equipment and how long it was on the market. Quick sales usually mean high demand. Consider trading in equipment or consignment sales as well as a private sale.
You can also maximize your trade-in value with a few easy tasks. Gather your maintenance records and repair any cosmetic defects. If the equipment's oil was analyzed during oil changes, include any information you received.
What is your current need for the equipment?
Rebuilding equipment can be a less expensive way to considerably prolong your equipment's lifespan. But rebuilding can also be time consuming. Consider what your current need for the equipment looks like.
Is this equipment used seasonally, or do you have similar equipment that can do the job? Will you need to rent a replacement for a current or upcoming project? Remember to factor in the cost of the rental as you decide what to do with the machine.
How Tier 4 Emissions Standards Affect Your Equipment
Tier 4 Emissions Regulations are currently the strictest regulations for off-highway engines. They're mandated by the EPA, and they set the maximum emissions allowed in diesel engines.
Tier 4 Emissions standards have been phased in over several years. More recent equipment may have either a tier 4 final or tier 4 interim engine. Interim engines have less strict requirements for certain types of emissions.
Tier 4 final engines:
• Equipment with less than 25 hp built since 2008
• Equipment with less than 75 hp built since 2012
• All equipment built after 2014
Tier 4 Interim:
• Equipment with 25 to 48 hp built between 2008 and 2012
• Equipment with more than 75 hp built between 2012 and 2014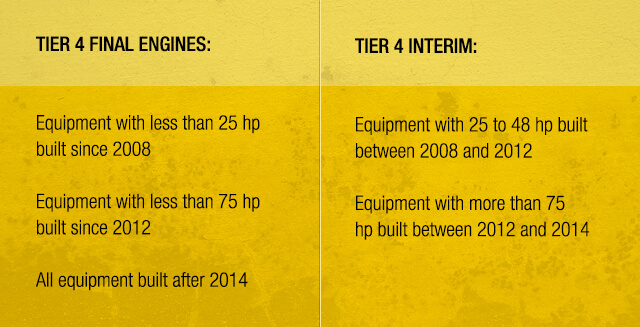 Current Cat trucks include tier 4 engines, which meet these government standards. For Cat equipment, tier 4 engines were rolled out on new equipment between 2008 and 2014. Some equipment purchased after 2011 may have tier 4 interim engines.
You're not required to upgrade equipment without a tier 4 engine. Replacement parts should still be available and will likely not affect maintenance costs. Older, repaired engines are not required to meet the current emissions standards.
However, tier 4 regulations can affect your business in other ways. Some bid specifications now require operators to have diesel emissions reduction measures. You may not be eligible to bid on these projects. Instead, you may need an alternate form of emissions reductions to bid.
Consider your projects when deciding whether to replace your equipment. It may be worth replacing your equipment if you regularly bid on contracting work.
Finally, be aware that tier 4 engines can affect your operating costs. These engines need ultra-low sulfur oil to operate, which can increase your expenses. However, better fuel economy might offset these costs. Caterpillar's tier 4 engines offer up to 5 percent better fuel economy.
Calculating the Cost of Replacing Versus Rebuilding
At this point, the decision to replace or rebuild your equipment may be clear. You may need updated technology. You might also have realized your current equipment no longer fits your needs.
If the answer isn't clear, though, consider the economics of rebuilding versus replacing. If a single component has failed, this calculation is straightforward.
One rule of thumb is to consider the cost of the replacement versus its lifespan. Will the repair cost less than 50 percent of the new part? Will a repair give you at least 75 percent of the lifespan of the new part? If so, it's usually more profitable to repair or rebuild the part.
While you're maintaining your fleet, you should also consider when to replace them. Older machines are likely to need more maintenance, and repairs may become more expensive. When should you consider rebuilding or replacing your equipment?
Consider whether to replace or rebuild equipment two to three years before it becomes necessary. At this point, your equipment has a higher residual value. Maintenance costs are lower. Major repairs and immediate project needs won't be an obstacle.