Veterans, Construction and Heavy Equipment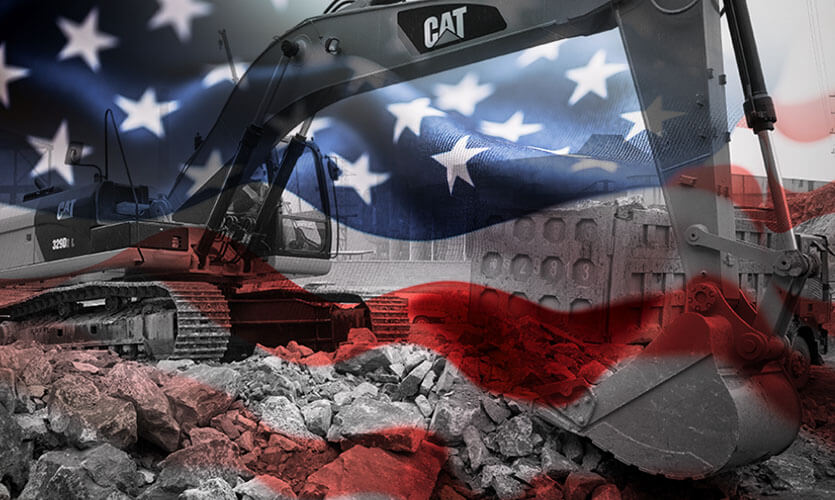 April 4, 2019
Military veterans can often struggle as they transition back into the workforce. Some find it difficult to translate their acquired skill set into a fulfilling job that will help support them and their families, while others see a lack of job opportunities that will turn into careers. This topic is especially important because studies show that the three most common factors helping ease the return of men and women in uniform to civilian life are education, health care and, you guessed it, employment.
Jump To Sections:
Supply of Veterans Meets Industry Demand
According to the U.S. Department of Labor (DOL), work in construction is one of the fastest-growing professions in 2014-2024 with total growth in that period of nearly 13 percent. However, many of the Baby Boomer generation are retired or will be in the coming years, which leaves a tremendous shortage of experienced construction tradespeople.

The DOL estimates, based on a five-year forecast, that in order to keep up with a continued demand of construction projects, the industry will need to employ 240,000 workers annually. This overwhelming number, however, happens to happily match the number of military veterans entering or re-entering the private sector each year. Supply and demand at its finest? Perhaps.
The bottom line is, the stakes are high and the need great, making this the perfect time for new talent to enter and grow into the construction industry.

The Construction Industry Offers a Variety of Jobs
More times than not, the term "construction job" is taken loosely, when in reality it opens into a wide umbrella that includes different professions and specialty niches within the field:
Bricklayers
Cabinet making
Carpentry
Cement work/mixing
Commercial buildings
Diesel technicians
Drywall hanging
Electrician
Engineering
Foundation fixers
General contractor
Drafting and plan design
Heavy equipment operators
Heavy equipment technicians
HVAC technicians
Home building
Industrial engine technicians
Landscaping
Pipe layers
Plumbers
Roofing
Subcontractors of all specialties
Tile work
Transportation/roadways
Window/glass-setters

At the end of the day, all construction and heavy equipment jobs, from operators to electricians to iron workers, have a hand in creating tangible, long-lasting results. They build bridges and roadways, they generate economic development, they pave the way to growth and opportunity. In short, they create communities.
Heavy Equipment Jobs for Veterans
Another important field within the category is heavy equipment, which is heavily used in construction, mining, agriculture, electric power generation, oil and gas, materials handling, rock and gravel operations and others. Skilled, dependable operators, mechanics and technicians are always needed and valued within these industries. This is especially true of ex-military personnel with experience operating and servicing heavy equipment as mechanics or transportation specialists.

Veterans can practically match their interests to a machine or industry and become licensed and/or certified (as required by OSHA) to operate, repair and service any number of machines that serve a variety of industries:

Heavy equipment operators and construction workers easily make between $30,000 and $50,000 a year, while managers with a degree average $89K per year. Of course, there are different factors that bring these numbers up, like specialty field, type of market, usage of materials and tools, skill level, availability, hours, etc. However, it is important to note the compensation rate, especially when compared to entry-level positions in other industries.
Worthwhile, Rewarding and Meaningful Careers
Military veterans want to help, and many of the jobs done with heavy equipment, such as construction, do exactly that. They build community, generate economic development, give people places to live and work, create roads for travel freedom and commerce and many more important aspects of a free society.

The construction industry needs people who take precision and standards seriously, which is a common characteristic among people with a military background. Building projects on time and within budget requires discipline, which is another quality most soldiers have.
Many vets report feeling satisfied with being able to create something functional and useful that will last and serve the common good, which aligns with the mission and values of military service. Most like working with their hands and a clear job to do with a predictable outcome.
Construction Training Programs Abound
Educational and training institutions offer a mind-boggling number of ways to get into and dig more deeply into a construction or heavy equipment career. A veteran might be interested in learning how to frame buildings, weld metal, repair heavy equipment or become an instructor. Universities, community colleges, trade schools and industrial companies offer a wealth of choices worth checking, from four-year degrees to internships and in-house training and certification programs. Veterans can practically match their interests to a machine or industry.

Resources Link Veterans to Jobs in Construction
Many willing participants help service members make the transition from military to civilian life, such as Helmets to Hardhats. It is a national non-profit organization established in 2003, and it strives to connect veterans of the Armed Forces to construction opportunities, especially those returning from active duty. Recent Helmets to Hardhats efforts include making the connection and a plan for employment well before the service members return home.

The organization works with military entities and helps its members figure out how the skills they learned in the service can convert to a potentially meaningful civilian career. It works with trade associations to create partnerships and not only identify employers that welcome veterans but also gather general and industry-specific information about what careers have a high demand.
The U.S. Department of Labor maintains the Veterans' Employment and Training Service (VETS) that offers multiple programs, some specifically for transitioning vets, women, families of veterans and more. The service said in June 2017 that veterans' unemployment was collectively at its lowest point nationwide in 10 years, at 3.4 percent, which points to the success of efforts to link veterans and opportunities.
Caterpillar® and Cat® Dealer Jobs for Veterans
The Caterpillar name is synonymous with high quality, toughness and cutting-edge technology, which are qualities most veterans appreciate. Caterpillar and Cat Dealers have a proud history of hiring and empowering veterans, by participating in programs like Hire Our Heroes. In 2007, Caterpillar created Armed Forces Support Network (CAFSN), as an effort to grow and promote personal and career development opportunities for veterans and their families. Warren CAT, the dealership covering West Texas and Oklahoma, has developed a veteran Career Skills Program to train and transition active-duty soldiers approaching their transition date.

A Warren CAT corporate information-technology support technician who served in the Marine Corps finds that the company's objectives and mission match his own. He also identifies with the level of teamwork and dedication it takes to solve problems and help customers.
A senior process-improvement specialist at Warren CAT echoes the thought on teamwork and even its similarity to team performance in the military. This leads him to believe that the leadership skills he acquired in the service opened doors and strengthened him to tackle challenges in his current career.
A number of technicians working in the field agree that they enjoy the precision and accuracy the job requires, as well as the versatility that comes with the position. Being able to use their hands to fix and create was important to them because it means they are able to stay sharp.

Furthermore, several key Caterpillar executives come from backgrounds in the Army, Navy, Air Force, Marines and Coast Guard:
Vice president and chief procurement officer
Senior project engineer
Machine division manager
Supply chain strategy and process manager
Health care and wellness benefits supervisor
Smart Companies Seek Veterans to Join Their Teams
There are many qualities prominently found in military vets which allow them to be highly sought-after. From their commitment to excellence and high standards to their reputation as reliable, team-oriented tough problem solvers and leaders, military veterans are extremely valuable to employers
Warren CAT is a leader in heavy equipment, supporting construction and other key industries. We have multiple locations throughout Oklahoma and Texas, which gives employees the advantage of exposure to different specialties, servicing and selling a variety of machines within multiple industries.
Both Warren CAT and Caterpillar value the standard of excellence former military personnel often both seek and possess. For that reason, we welcome veterans to join their ranks and challenge them to thrive on the principle of People First.