Heavy Equipment Parts Guide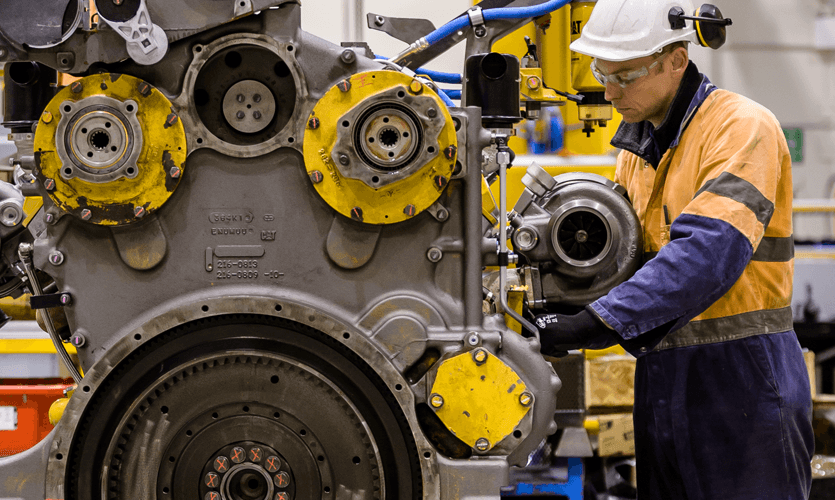 January 22, 2020
Get the most out of your heavy equipment replacement parts and increase the longevity of your Cat® equipment by learning how to balance quality and cost. You trust your Cat machines to get the job done when needed, but you also will have to care for them by using replacement parts that are just as tough as the machinery itself.
Jump To Sections:
Types of Construction Equipment Parts
When it comes to purchasing heavy equipment parts, you have several options, but choosing the cheapest one may not benefit your equipment for the long term. Some types of parts could even cause further damage. Understanding what differentiates new, remanufactured, original equipment manufacturer (OEM), aftermarket and other replacement options is key to finding the right parts for your heavy machinery.
1. New Parts
During the search for replacement parts, you will likely first encounter the choice of new or remanufactured equipment parts. Though similar in appearance, these parts have critical differences. What sets these types of replacement components apart is construction and whether the components have been in a machine before.
OEM Heavy Equipment Parts
For new parts, the choice of OEM or aftermarket equipment parts depends on several factors. When you choose OEM parts, you have engine and machine components that will fit perfectly and work well with your equipment. As exact replacements for the original parts, OEM components take out the guesswork and risk inherent with making repairs with aftermarket parts.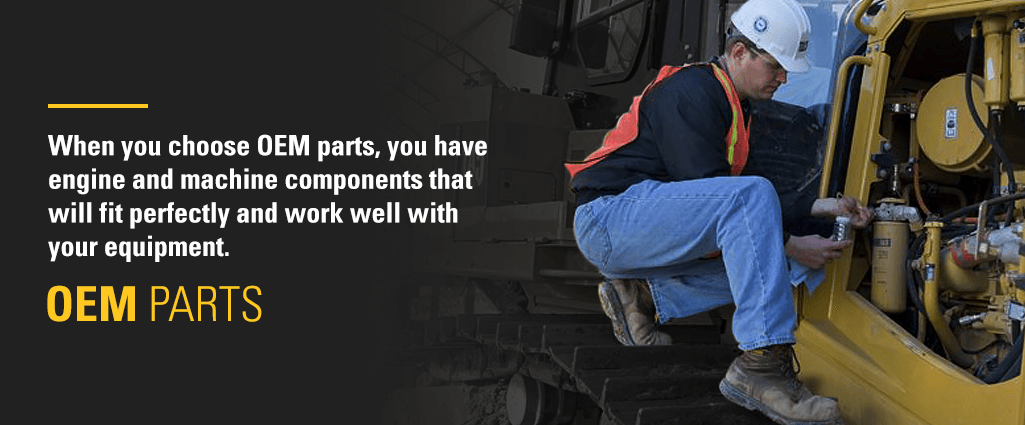 For Cat equipment, OEM means choosing genuine parts made by Caterpillar®. Selecting these components for your heavy machinery ensures you get the quality you know from the brand you trust. While the price for the Caterpillar name can be higher, the quality, durability and longevity make up for the monetary investment.
Aftermarket Heavy Equipment Parts
When it comes to aftermarket parts, you are not necessarily guaranteed that they will work as expected. The aftermarket components come from brands with a passing familiarity with your Cat machine, but these brands may not have the same standards of construction as Caterpillar. Most aftermarket parts are made by brands that did not contribute components to your original machine and installing them could void the warranty on your equipment. Though these parts may look like the original ones, they do not have the same requirements Caterpillar has for its machinery and components.
Aftermarket parts are typically designed to a specific price point. Many people choose these parts solely for how much they cost rather than their quality. There is no standard of excellence or durability goal for aftermarket parts. As is the case with purchasing construction equipment, choosing aftermarket parts is an example of potentially getting what you pay for.
Despite these disadvantages, some choose aftermarket parts for the cost savings. But will saving money now on a cheaper part cost you more frequent part replacements in the future? Is that a risk you're willing to take when your business relies on how well its Cat equipment operates?
2. Used Parts
If you want to save money, you may consider some type of used parts for your Cat machines. As with every used purchase, buyer beware because the used market for heavy equipment components has quality parts as well as potentially dangerous ones.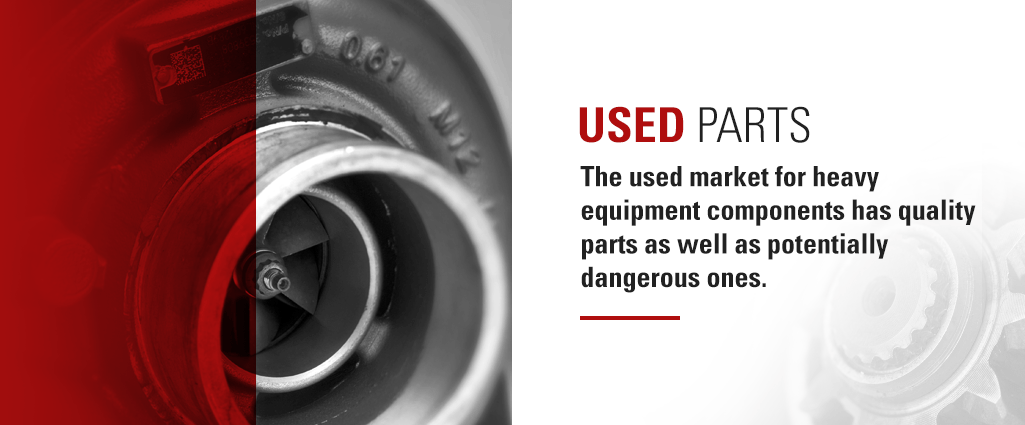 There are two types of used parts: salvaged and remanufactured parts. Remanufactured parts are also known as reman parts. Reman parts have more advantages than salvaged parts.
Salvage Parts
When it comes to used parts, learn their origins. Salvaged parts are not ones you want to install on your Cat machine. Though low in cost, these components present several problems, even if the components came from similar Cat equipment.
Unknown quality: Salvaged parts have no guarantee for their quality. You do not even know if the part will work or for how long it will function in your equipment.
Void warranty: Just like aftermarket parts, installing salvaged components into your Cat equipment could void the warranty. The money you save from paying a lower cost for the part is not worth the loss of the warranty you will have for the machine.
Potentially dangerous: Because the salvaged parts can come from any machine, you do not know if the parts are dangerous to use. Sometimes, all recalled parts do not make it back to the manufacturers. If you get salvaged parts, you risk putting a hazardous component into your heavy equipment.
Safety should be your priority on the jobsite, and using salvaged parts is a dangerous decision that could cost you money or put your workers at risk of injury. Saving a few dollars up front is not worth the risk and the potential cost of using subpar components in your heavy equipment.
When you look at salvage used parts there are inherent risks, as they may not have been properly refurbished and can cause equipment damage and increased safety risks.
If you prefer trusted components without paying the price for new parts, consider remanufactured parts.
Remanufactured Parts
When you exchange old Cat parts to your dealer, those parts get a careful evaluation. The components in good enough condition for refurbishment will undergo the remanufacturing process.
These parts have like-new quality and the trusted engineering of the Caterpillar brand.
How Are Remanufactured Parts Made?
The remanufacturing process requires several arduous steps to ensure the final quality of the parts. Caterpillar has perfected this process to get the most out of used parts and restore them to like-new condition.
Here's how we remanufacture genuine Cat parts:
1. Pulling Parts From Equipment
Getting the part from the machine requires care to prevent damage to the part or equipment.
We also responsibly use as much of a machine as possible when pulling parts, and we completely remove all debris from the components. Our approach means we can retrieve components others might scrap. We use a proprietary, environmentally friendly cleaning method and thorough inspection process to recover parts from the returned cores and restore them to like-new condition. This process includes taking equipment completely apart to retrieve the smallest components and ensuring advanced engineering updates. By making the most of the used equipment, we prove our responsibility to the environment.
2. Remanufacturing Components
When we restore parts, we completely disassemble them. In doing so, we rebuild the part from its smallest components. By breaking each part down, we can ensure the highest quality goes into the most minor details of the remanufactured component.
During the process, we inspect everything thoroughly. Due to normal wear of parts, cracks and other imperfections can appear in the smallest of places. We look for these problems to prevent minor issues from becoming more significant problems later.
Remanufacturing is not the same as rebuilding or recycling. Other companies may clean up old parts and resell them in the same condition. Caterpillar never does that. Remanufactured parts from Warren CAT or other genuine Cat dealer are the same quality you trust from the Caterpillar brand.
3. Controlling Quality
Controlling quality is a crucial part of the remanufacturing process. Like other Cat products, remanufactured parts with the Cat label must adhere to the strict quality guidelines of the brand. We won't sell it unless it proves to be the highest quality after its refurbishment. Caterpillar engineers update any products to the latest specs used. Additionally, the parts undergo the same testing new products must face. If the remanufactured part cannot pass a new part test, we do not sell it.
Remanufacturing the part takes it to a like-new condition. The lower price should be the only difference you notice when you install a remanufactured Cat part on your heavy equipment. You will also benefit from the wide range of choices — 700 different remanufactured Cat parts.
Common Questions About Equipment Parts
Here are some of the more common questions people ask when deciding about parts for heavy equipment.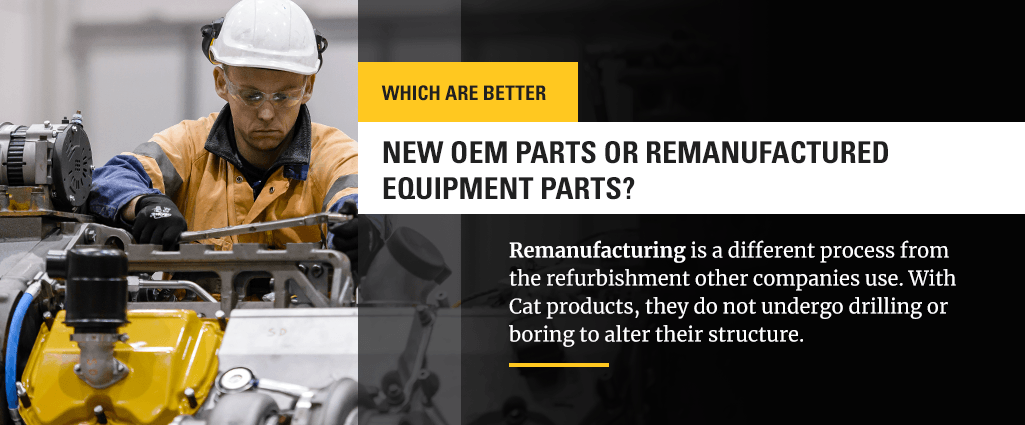 1. Which Are Better — New OEM Parts or Remanufactured Equipment Parts?
As you might expect, new parts have never been used. These components have the same level of use as the original parts on your Cat machine when you first bought it.
Remanufacturing is a different process from the refurbishment other companies use. With Cat products, they do not undergo drilling or boring to alter their structure. Instead, we use a multi-step process to ensure the remanufactured parts perform the same as new parts from us. In fact, we guarantee the performance of our Cat Reman parts through a same-as-new warranty.
If you need components for your Cat machine, choose either new OEM or Caterpillar replacement parts. The advantages of doing so include the following:
You will ensure your equipment's warranty remains active.
You get direct replacements for the existing components.
You will save time and effort during the replacement process by ensuring the parts will fit perfectly.
The disadvantages of choosing new genuine Caterpillar parts is the cost, which may be higher compared to other brands, though you get much longer-lasting components.
As the company does with its equipment, Caterpillar creates tough replacement parts built to a high standard. These parts are made to work as hard as your Cat machines do on the jobsite. While some components require regular replacement due to their nature, you can still feel assured of the performance of all Caterpillar brand parts you use on your heavy equipment.
2. Which Performs Better — OEM or Aftermarket Equipment Parts?
If you decide to purchase new parts, you need to choose between OEM parts or an aftermarket manufacturer. Your choice will make a difference in the longevity of the piece and how well your machinery runs after the part replacement. The decision becomes especially crucial if the warranties for your equipment are critical to your investment.
Aftermarket parts have several disadvantages compared to OEM components:
Voided warranty: Using non-Cat components in Cat equipment will void the warranty, preventing you from future coverage in the event of equipment failure. You have no guarantee with aftermarket parts.
Reduced life: Aftermarket parts have no specified lifespan. Putting them into your Cat machine could shorten its life, and the piece itself may also have a reduced life expectancy compared to OEM parts.
Lack of testing: Unlike genuine Cat parts, aftermarket components are not specifically tested in Cat equipment. Aftermarket parts may not function as intended when used in your Cat heavy equipment.
Avoid aftermarket parts if you want to ensure the longevity, warranty and durability of your Cat equipment. OEM parts are direct replacements for the original components of your heavy machinery, made specifically for your particular machine. Choosing OEM parts offers you several benefits you will not have with components produced by other brands.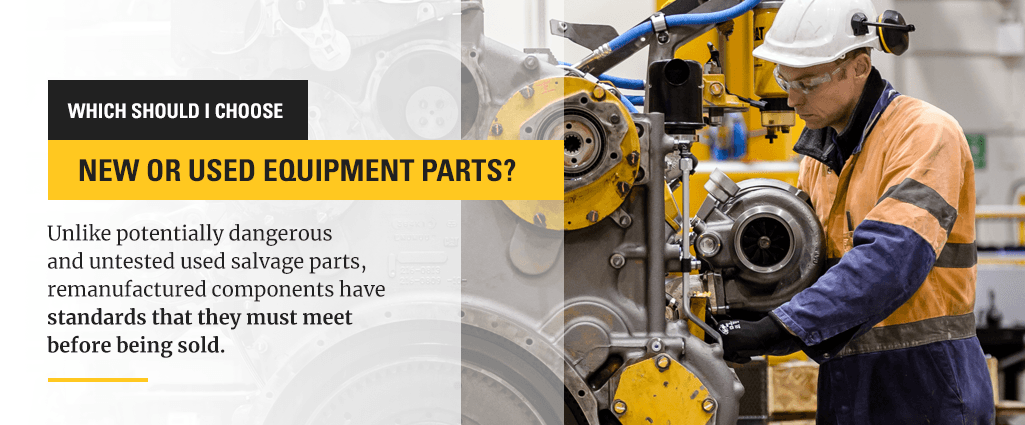 3. Which Should I Choose — New or Used Equipment Parts?
With new OEM parts, you get a warranty that assures performance and fit, but they likely come at a higher cost.
Used parts, such as salvaged parts, are less expensive — but have no quality guarantee unless they are Cat reman parts. Choosing remanufactured parts for your heavy equipment helps the environment by reducing waste from worn-out machinery without giving up the quality you trust from Caterpillar. Unlike potentially dangerous and untested used salvage parts, remanufactured components have standards that they must meet before being sold.
Cat Parts Guide
Cat parts fall into several categories. Some parts you will need to replace regularly, such as filters. Other parts may only need replacing if they break down or reach their full life after years of use. Engine components, hardware, planned maintenance kits and other supplies are some of the parts you will find online at Parts.Cat.com.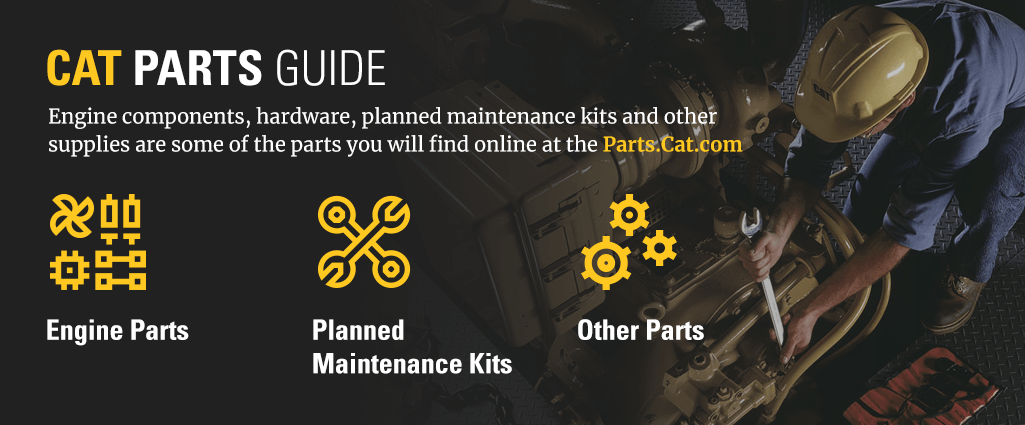 1. Engine Parts
The type of Cat engine you have powering your equipment will determine the parts you need. Diesel and gasoline engines have very different designs and need specialized parts that can differ in their design and function.
Parts inside the engine such as gears, pistons and cylinders need to work exceptionally hard in the rugged conditions they are frequently exposed to. The engines used for Cat equipment are not like car engines. They need to be built to last longer and work harder with the toughest parts and components. Some common elements in an engine include:
Starters: Starters get your motor going. A damaged starter or other ignition components could prevent the machine from starting, resulting in lost time.
Fuel Pumps: Fuel pumps draw fuel from the tank and deliver it to the engine. If you wait too long to change your fuel filter, you could get a clogged pump that cuts your engine's power or prevents it from running.
Fuel Injectors: Fuel injectors deliver fuel into the engine's cylinders, but debris and build-up can clog these, reducing engine output. If you have a clogged fuel filter or needed to replace the fuel pump for debris, check the injectors, too.
Belts: The belts move the gears that connect the various parts of your engine. Everything from the water pump to the fan needs belts. A worn belt can break, potentially causing damage. Check your engine's belts regularly to prevent problems.
2. Planned Maintenance Kits
Planned maintenance kits, or PM kits, include all the components you need for regular services such as changing the oil or the air filter. These kits make it easier to ensure you have all the fluids, filters, o-rings and other parts you need for routine maintenance. Plan on regularly replacing components designed to wear out with typical use.
Air Filters: Air filters prevent dirt from environmental air from contaminating the air used for the internal combustion engine. Air filters can become clogged more quickly depending on the environment they're used in. Using a clogged filter can reduce the air getting to the engine, lowering performance. Always follow recommended maintenance guidelines, but if the filter looks clogged, replace it.
Oil Filters: Like air filters, oil filters protect the engine from contaminants. Change these with each oil change to ensure the engine has the purest oil lubricating its parts.
Fuel Filters: Dirt, water and other contaminants in fuel reduces its ignition abilities and can clog fuel lines and injectors. A clogged fuel filter prevents the pump from drawing the adequate fuel to the engine, cutting power drastically. Change these regularly.
As mentioned, a kit may include the oil filters, air filter and oil you need for an oil change. The parts included in a planned maintenance kit will depend on the equipment you intend to use it for and the type of engine you have.
3. Other Parts
While many parts you need to replace lie under the hood, there are maintenance items throughout your machine. Brakes, batteries, steering components, hydraulics, joints, bearings, hoses and accessories require regular examinations. When you do need to change out these parts, use new Cat parts for the best performance and quality. Especially with safety systems, like the brakes and steering, using the wrong parts could be disastrous.
Importance of Regular Maintenance
Maintaining your fleet keeps your job running while reducing downtime. If the time you put into maintenance, however, includes using subpar components, you could find yourself with more downtime caused by additional repairs to replace faulty parts.
During regular maintenance tasks, such as changing oil or checking tires, look for signs of wear on other equipment parts. Check for cracked hoses, worn brakes, low fluid levels, dirty filters, wires and other warning signs. A quick check can give you the chance to replace worn parts before they fail, averting more significant delays in your work.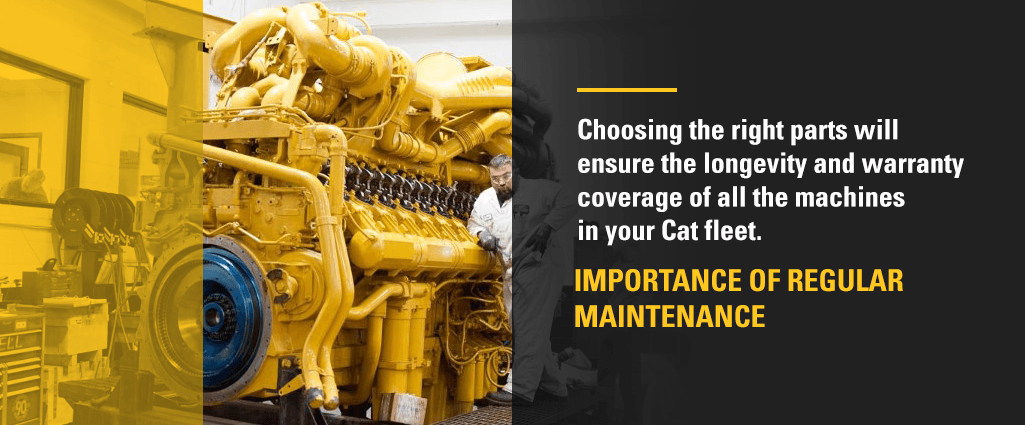 The importance of using quality, warranty-covered parts cannot be stressed enough. When your heavy equipment's operation constitutes a large part of your business, bad parts become a poor investment. Choosing the right parts will ensure the longevity and warranty coverage of all the machines in your Cat fleet.
Replacing Parts for Breakdowns
No matter how well-built the machine is, eventually something will happen to cause one of the systems to fail. The causes range from missing important maintenance tasks to not using the equipment as intended. When you need replacement parts in an emergency, you should not fall into the trap of choosing convenience over quality.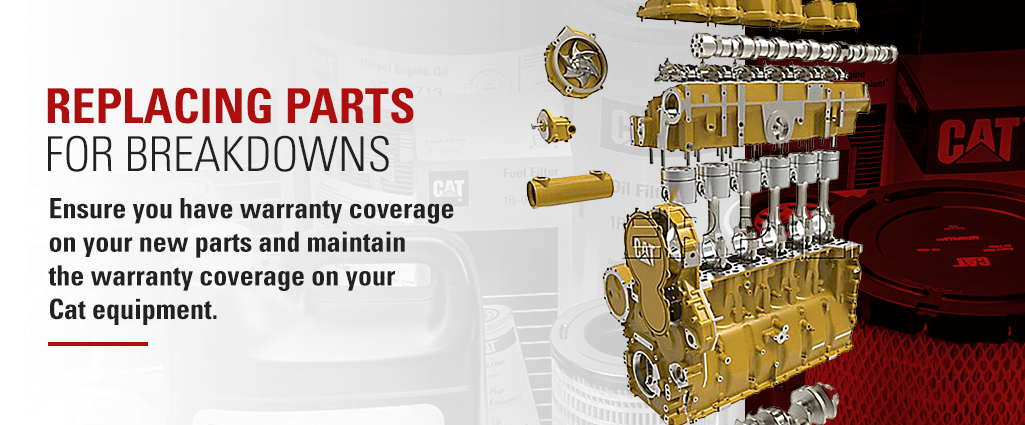 For regular replacement parts like belts, fluids and brake components, consider having a few parts on hand for your most-used machines. Doing so will give you the chance to get back to work the same day. For more complex tasks, it's worth it to order the right parts from your certified Cat dealer to ensure you have warranty coverage on your new parts and maintain the warranty coverage on your Cat equipment. Don't take the risk. Know that you can quickly get your Cat parts from your local dealer online, by phone or in person.
Parts at Warren CAT
To ensure you get the best quality and service, purchase replacement parts from your local Cat dealer. At Warren CAT, we have a large selection of remanufactured parts to save you money. You can also order new parts through our online store at any time of the day or night.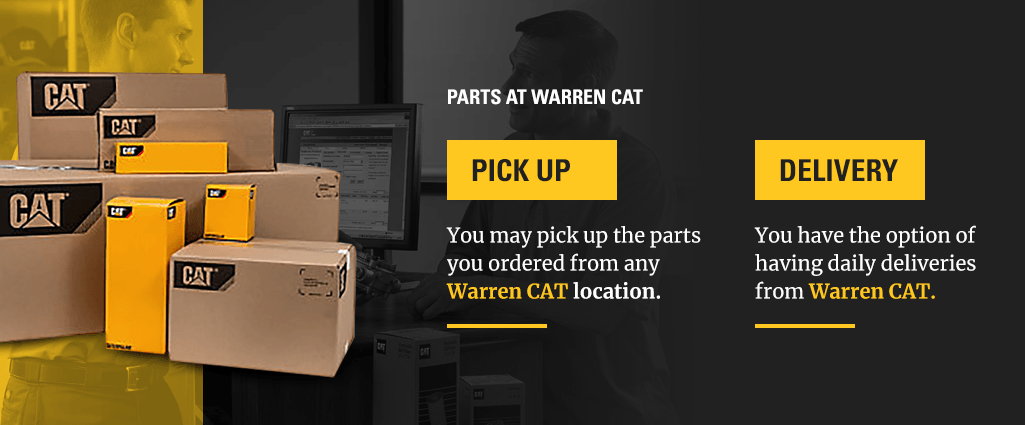 Ordering the parts you need is only half the task of getting the replacement components your business needs to cut downtime. The other half of the process requires you to quickly get the parts to your jobsite. At Warren CAT, our customers have options available for parts delivery and quick pick-up. Choose the one that best suits your business situation and available time.
Pick up: You may pick up the parts you order from any Warren CAT location. We also have over 150 area drop-box locations for convenient pick-up near your jobsite. You will save shipping costs while having the parts delivered to a secure site.
Delivery: If you need the parts as soon as possible and don't have the luxury of sending an employee to pick up the pieces, have us deliver them to your jobsite. For those operating in Oklahoma, the Texas Panhandle and West Texas, you have the option of having daily deliveries from Warren CAT.
Why Choose Warren CAT?
Not just any company can become an authorized Caterpillar dealer. At Warren CAT, we provide our parts professionals, technicians and customer support staff with state-of-the-art training to keep up with the newest technologies developed continuously by Caterpillar. Our experts can help you whether you need to choose the right heavy equipment for your jobsite or need replacement parts for your machinery.
When you want reliable Caterpillar parts, trust an authorized dealer like Warren CAT. We sell the quality parts and equipment you have come to associate with the Caterpillar name. If you have questions about Warren CAT, our services or any of our products, feel free to give us a call at 866-292-7736. To order parts for your Cat machine or engine, check out our online parts store for new and remanufactured replacement components.