Night Time Construction Guide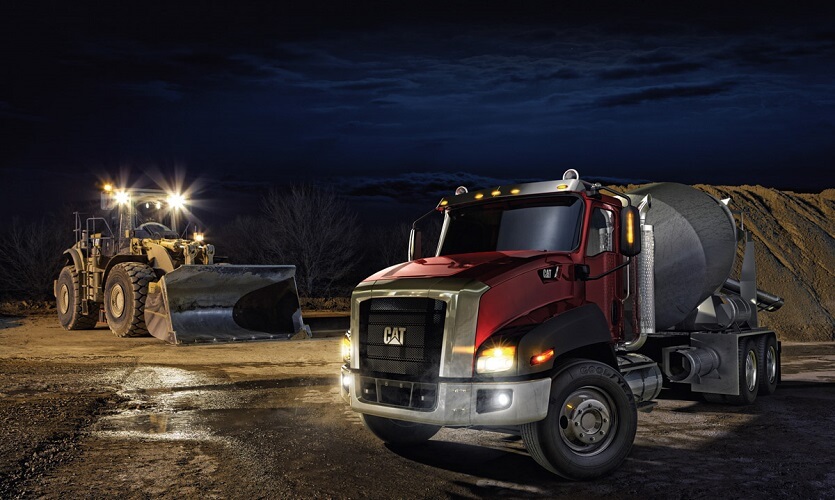 September 10, 2018
Jump To Sections:
Essential Elements of Your Night Time Construction Work Plan
Night time construction is a necessity in the industry for reasons of cooler temperatures and less traffic and congestion. The ability to work more efficiently comes when the heat and daytime activity won't slow down the process. Working at night has several benefits, and there are a number of factors to consider for the safety of your crew, your customers and the general public.
You should always think of safety first, and develop a thorough training program for your crew. Know the best equipment for night work, and have a night time construction work plan that puts it all into perspective. You'll be rewarded with a well-organized construction site that gives you superior results.
The Benefits of Night Time Construction
The obvious benefit of less activity is the most common advantage to planning night time construction, but you will likely enjoy various other advantages related to your construction project.
Traffic-related advantages:
Low impact on traffic and delaying motorists
Reduced risk of traffic accidents
More flexibility in the work zone to safely layout your project with less traffic interference
Workers not exposed to as much automotive emissions
Less fuel burned and less pollution created from idling vehicles waiting to get through the construction zone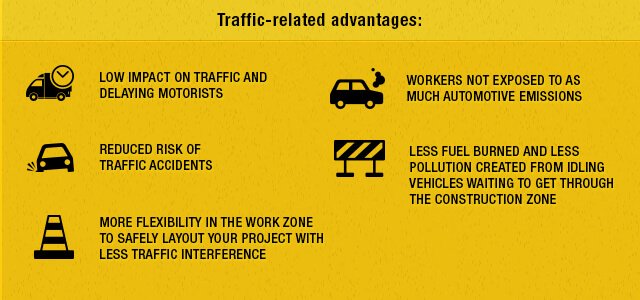 Construction-related advantages:
Cooler temperatures are more favorable for concrete setting
Increase in productivity due to worker comfort in cooler temperatures
More lanes can be closed at night to allow for work activities
Less intrusive to area businesses that would be negatively affected by the construction happening during their business hours
Lower costs to setup and run a night time operation compared to a day time project
Doing construction during the off-peak hours gives you the opportunity to lower your costs and plan for favorable results. You can coordinate your project to overcome the challenges that night time construction holds and avoid or reduce the many risks that have been associated with construction work at night. Develop a plan that addresses all the issues to be on top of your project and reap the benefits of a job well done.
The main nuisances of night time construction are improper lighting, excessive noise and vibration, exposure to dust, and safety matters. Do your best to deal with all these factors before you start the job and you'll be in an ideal position to reduce your costs and enjoy the best results.
Better Lighting for Night Time Construction Safety and Efficiency
Appropriate lighting for your construction site offers a few important benefits to the workers, general public and to the overall quality of the work. Take the time to design a lighting strategy for each construction project that addresses safety concerns and efficiency.
Take the following factors into account to select the best-suited lighting equipment for your construction site:
Moving work zones. When the construction site is mobile, as it is for paving operations, decide whether your lighting plan will include stationary lighting that will cover the whole mobile area or if a mobile lighting system will be sufficient to move along with the work activity.
Stationary work zones. Depending how long the project will take, you may need to set up roadway luminaries mounted on poles, which are best for lengthier projects, or use trailer mounted light towers and balloon lighting set up at fixed locations.
Consider the glare. Determine how the glare from your lighting will effect motorists and your workers, then minimize with appropriate shields and blocks.
Invading light. Light flowing onto private property can be reduced or avoided with proper light positioning and using shields on your lighting equipment.
Rent or buy. Based on your needs, determine whether you want to own your construction lighting or rent from project to project.
Answer These 5 Questions to Create Your Work Zone Illumination Plan
No need to bring in an illumination expert to design your lighting plan. Your engineers, designers and contractors can provide the answers to these five questions and develop the most appropriate lighting strategy for your site.
You can find more detailed information about developing a lighting plan for construction zones at workzonesafety.org.
1. What type of work is being done and what level of lighting is needed to properly complete it?
With a thorough knowledge of the tasks being performed in the work zone, you can refer to Table 1 in the workzonesafety.org Night Lighting Guide for the recommended lighting levels by task.
2. How big is the work zone and how will it be adequately illuminated?
Using your construction plans, determine where and when lighting will be established and sketch out other factors that will influence your lighting decisions, like the location of workers and equipment, your traffic control plan, or on-site obstructions.
3. What lighting system(s) will you use?
From your analysis of the type of work being performed and how your construction site is operating, you can now determine the need for balloon luminaires, light towers, and equipment lighting.
4. Where will your lighting be?
Using Iso-footcandle Charts provided by your lighting vendor, you can see how your light sources will emit light and how well your work zone will be lit. Determine the best location for the lighting, taking into account the ease and accessibility of securing the light source.
5. Does your field check show anything lacking in your lighting plan?
By walking and driving through the work zone with lighting in place, you will be able to determine if areas are adequately lit and ensure that light glare isn't an issue for motorists and workers.
With a complete lighting strategy in place, you can move on to controlling the noise, dust and vibrations that are produced on every construction site.
Keep the Noise to a Minimum
Noise can't be completely avoided on a construction site, but by using the appropriate equipment, being aware of the opportunities to reduce the situations of excessive noise, and using noise barriers and curtains, you can significantly reduce it. Doing so is in the best interest of everyone, and governing authorities also require night time construction sites keep the decibel level below a certain point.
The top noise generators on construction sites, as reported by state Departments of Transportation, are:
Back-up Alarms
Slamming tailgates
Hoe rams
Milling/grinding machines
Crushers

Equipment with diesel engines are also big offenders when it comes to annoying noises. The engine, transmission, cooling fan, air intake and tires are the main noise generators that have been noticeably redesigned in newer Cat® equipment to create less noise while doing construction work at night.
Reduce the Noise Factor
Fortunately, there are a number of ways to reduce noise and still get the job done right. From simple acts of individual workers to designing your site to require less noise and using noise reduction products, you can do construction and keep noise nuisances to a minimum.
Here are a few high-noise culprits and some control measures you may want to include on your next night time construction project:
Backup Alarms
Design the construction traffic to minimize backing up
Have another worker appropriately observe reversing trucks and equipment
Use self-adjusting or manually-adjusting alarms
Heavy Equipment Engine Idling
Train operators to turn off equipment when not moving
Plan the construction zone to keep equipment away from noise-sensitive areas
Use quality equipment designed for noise reduction from our line of Cat equipment
Jackhammers
Surround with a noise tent
Ban use within 200 ft. of noise-sensitive areas during the night
Use an exhaust muffler fitted for the equipment
Slamming Tailgates
Train workers to close tailgates slowly to reduce noise
Create staging areas for truck cleanouts
Install rubber gaskets
Use belly dump trailers or dump trucks without tailgates
For projects that involve urban work, it's necessary to limit the noise of construction work at night. Whether you choose to use modern equipment that has improved noise barriers and reducers built into them or enact the use of external noise barriers to control the travel of sound, you should arrange for noise-reducing measures as part of your overall project plan.
Deal With Dust and Vibrations
Dust generated in the work zone and the vibrations heard and felt from some equipment operation are other issues to confront.
Dust appears to be more of a problem on night work sites because it's more visible from the artificial lighting accentuating the floating particulates. Water trucks on site to dampen the ground is one effective measure to keep dust out of the air. Regular ground-clearing with our variety of Cat hydraulic brooms will help as well. Plan to include a dust control strategy in your work plan that deals with improving the air quality of your site.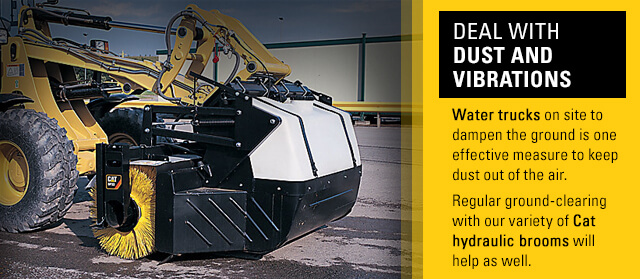 Vibrations spread through the ground can irritate humans and animals, especially when in the low-frequency range of 1 Hz to 100 Hz. You will also need to consider the potential damage to surrounding buildings if they're structurally unsound or fragile. Also consider possible damage to historical buildings and the disruption to laboratory equipment and other sensitive devices that can be negatively affected by even low vibration amplitudes.
Be aware of the effect of vibration caused by construction equipment and include a section in your night time construction work plan to limit vibration generation at night.
Night Time Construction Safety
Creating a safe construction zone is a high priority for everyone involved. Addressing the risks and site hazards is commonly done through a risk management process that should be completed before workers show up on the site.
For night time construction, special circumstances must be addressed specific to the unique qualities of working at night.
Any possible risks should be thoroughly assessed. Look at the issue and determine ways to prevent and/or treat any occurrence of the situation. Then, ongoing monitoring is needed to be aware of the effectiveness of the plan; it should be adjusted as required.
By brainstorming the risks associated with your construction project, you should create a list of potential problems like the one below:
Low visibility
Glare from lighting
Noise levels
Working standards
Alertness of workers and drivers
Higher vehicle speeds
Impaired drivers
Traffic control
Air quality
Staffing challenges
Every construction project is unique, so fresh brainstorming should be done for each of your work zones. Different site conditions, contract details, timelines, workers and equipment involved will change the dynamics of your risk management plan.
Keeping safety matters in mind from the very beginning of your project will help you be prepared to respond to any situation that may arise.
Understand Worker Safety at Night
You maintain a safe work zone for more than legal requirements and the health and happiness of people. You also avoid unnecessary downtime and additional costs associated with accidents and setbacks. Safety training, highly visible outer garments and quality equipment will give your workers the best advantage to keep their work environment safe and productive.
Safety training should begin as soon as workers are hired. Even though these workers may not be your employees, you can still make specific training mandatory for your construction project. Conduct safety talks for workers as part of your planning process before the construction site is operating. These safety meetings also provide you with the opportunity to evaluate the emotional and physical state of the workers.
Here are the five most effective ways to develop and maintain a safe night time construction site:
Create a safety plan before work begins.
Conduct safety orientation and regular training sessions for workers.
Have a safety incentive program and make it well known to workers.
Investigate all accidents and safety oversights.
Offer an alcohol and substance abuse program.

Unique to construction at night is the requirement for all people in the work zone to be equipped with highly-visible clothing that is retro-reflective and visible from a minimum of 300m (1,000ft) away. Wearing the proper safety attire should be included in your worker safety training.
Trust Warren CAT for Your Night Time Work
Regardless of your project, we have the products and service to help you get the job done right. We offer new and used Cat equipment that will offer you the best features for your construction project. Our equipment is manufactured with advanced technology for noise reduction and visibility, making it the perfect night time construction equipment.
If you're interested in testing the durability and dependable technology of our equipment or need some equipment for occasional use, our rental options will serve you well.
We've got you covered for dependable mobile power supply, light towers, a vast selection of low-vibration compactors and rollers, trailers, trucks and any other equipment that works hard to get your job done right.
Plan for Your Success
Adequately examining every element of your night time construction project sets up you for success. Even though you will encounter unique situations on a night shift that won't be an issue on a daytime shift, a well-conceived construction work plan will have you covering all the necessities to fulfill your project obligations safely and efficiently. Enjoy the benefits that come with night construction and plan for solutions that take care of the rest.