35 Tips For Reducing Equipment Costs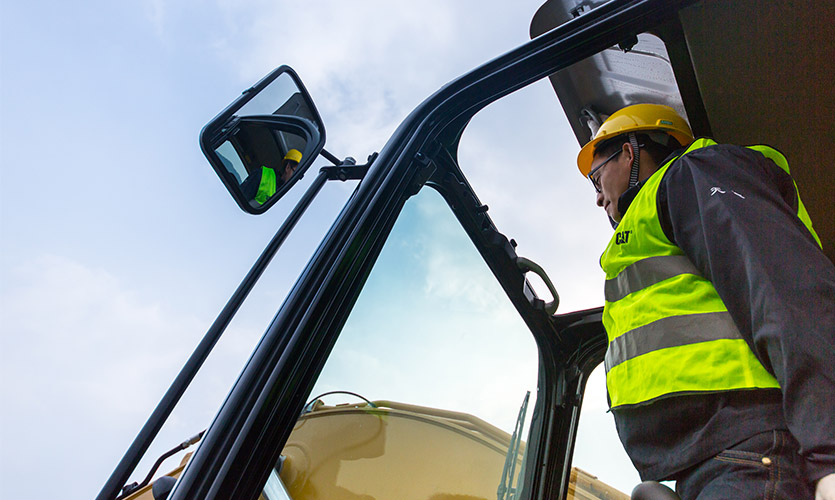 April 24, 2018
Business owners who use heavy machines inevitably end up spending time thinking about ways to reduce equipment costs. Regardless of the tasks at hand, the concern applies to all industries:
Agriculture
Defense
Excavation/grading
Forestry
General construction
Government
Heavy construction
Landscaping
Mining
Oil and gas
Paving
Power generation
Quarrying
Trucking
Utilities
Waste and recycling
The more you know the better, which makes data a big part of figuring out how to reduce equipment costs. Caterpillar® technology yields data to create benefits:
Streamline operations
Maximize productivity
Prolong equipment life
Boost resale value
Prevent unscheduled downtime and missed deadlines
Avoid dangerous accidents
Reduce potential liability
Make revenue predictable
Produce successful results
Keep people and machines productive
Create time for you
Discourage theft

Warren CAT offers many ways to gather facts about your equipment, because data remains a common theme among most of the tips for lowering your equipment operating costs.
Ways to Reduce Equipment Costs
Tip 1: Implement Cat® Equipment Management Services
Choose from three levels of service that use some combination of data, equipment, personnel and expertise to enable you to stay well-informed and run with optimal efficiency.
Examine usage and functions
Receive reports
Define fault codes immediately
Compare run times, both actual and ideal
Observe service hours
Receive professional fleet analysis and recommendations
Analyze equipment condition
Schedule and plan maintenance
Identify training needs
Avoid failure or delays in project timeline
Track performance
Do preventive maintenance
Manage mixed fleets
Maintain safety
Perform inspections
There are basic, medium and maximum levels of support. For basic support, you may receive simple advice or instructions. Medium support may involve Caterpillar managing the big repairs and your company managing the smaller ones. Maximum support is when you leave it all to the professionals.
Manage
Eliminate unplanned downtime
Estimate operating and maintenance costs accurately
Anticipate the life cycle of your machines
Guarantee use of authentic Cat parts
Gain confidence using world-class experts and technology
Tip 2: Prevent Theft With EM Services
The technology includes a satellite navigation system that tracks equipment in real time, making it much more likely you'll find a stolen machine. The International Risk Management Institute says registration of big machines is not mandatory, and it estimates that only 15 percent of heavy equipment stolen is ever recovered.
Many Cat machines come with system-monitoring technology built in. Those that don't, as well as other brands, can be retrofitted with EMS.
Tip 3: Employ ProductLink™ to Gather Data
Product Link is hardware embedded into Cat machines that delivers information about the health and condition of your machines, plus lets you see usage reports and stay connected to a vast dealer network. Working smarter empowers you to improve fleet management and the confidence of your crew, managers and clients.
Tip 4: Use VisionLink® Technology to See Assets in the Field
VisionLink becomes your eyes and brings you information about your equipment's engine, systems, and equipment hours, diagnostic codes, location, and fuel and idle time. The system uses cellular/satellite technology to deliver data straight to your mobile phone or other device, with options for real-time, up-to-the-minute data. Caterpillar deliberately designs the transmitting antennae to be compact. This makes it easier to access when it needs an adjustment.
Tip 5: Dig Into the Service-Information Systems Network
The SIS Web instantly places a world of data at your fingertips from 17,000 Cat publications. You'll be able to find technical specs, instructions for assembly or disassembly, guidelines for maintenance, and more.
Researching equipment takes a lot of time, but SIS simplifies the process of finding your answers. The SIS Web cuts risk and enhances productivity by offering solutions for managing personnel. It can generate a realistic schedule for your service technicians to prevent them from being either overloaded or idle.
Tip 6: Commit to Preventive Maintenance
As you seek ways to reduce equipment operating costs, there is probably no better tool than doing maintenance and service on a regular schedule, before something breaks or goes wrong. Many types of the Cat technology discussed here take guesswork completely out of the formula, using electronic alerts to prompt recommended service.
Tip 7: Let Your Dealer Monitor Fluids
The Cat S·O·S? fluid analysis program involves your dealer checking and analyzing oil, coolant and hydraulic fluids for excessive wear, contamination, low levels and other conditions that may require corrective action to prevent damage or failure.
Tip 8: Inspect the Equipment Daily
Do a walk around and visual inspection of your equipment each day to detect leaks, smoke or unusual situations, plus take note of any substandard performance. You can share any data gathered with your dealer to enhance the monitoring of your equipment and prevent small issues from becoming big problems. Look for general wear and tear of the machine or its bucket and digging teeth, breaks or pits in the windshield, tire condition and even the smallest crack on the frame or where welds exist.
Tip 9: Do Small Maintenance Now to Prevent Big Repairs Later
Let the data and alerts enable you to catch adverse conditions and fix them before they cost you money or time. For example, change out an ill-fitting seal to make sure the machine doesn't run low on a fluid or spring a big leak that leads to a major expense.
Tip 10: Train Operators in Best Practices
Monitor users' day-to-day performance with the machine in order to identify and reinforce good practices as well as pinpoint areas for which additional training may be needed. You'll avoid premature wear and lackluster performance, as well as extend the life of your machine by ensuring that it is used properly and not pushed beyond its capacity.

Tip 11: Gather and Store Copious Records
Collect and keep reports that tell you about your machines' history, component life and operating costs to reveal trends. Those statistics will enable you to better and more accurately examine work flow and expenses plus maintain the machine's resale value.
Tip 12: Monitor Basic Elements
Check the condition regularly of air and oil filters, grease, fittings and other components essential to operation, since these checks help reduce equipment operating costs. The concept is similar to how a clean air filter in a car will help it achieve better gas mileage.
Tip 13: Compare Cost of Onsite Maintenance vs. In-Shop Repairs
Have a qualified professional come to you for preventive maintenance rather than hauling your equipment to the shop after something breaks. Some owners presume house calls are way too expensive, but not when they prevent expensive repairs and the cost of transporting something that weighs several tons.
Tip 14: Use Checklists
Create and implement a maintenance plan and service checklists that site and job managers must initial. This step organizes service items and makes them predictable, keeps operators accountable and gives you proof at selling time that you've kept the machines in good condition.
Tip 15: Don't Skimp on Quality
Let the professionals at Warren CAT provide service and parts so that you can be sure you're getting top-notch quality. Cutting corners with inferior-quality parts or unqualified technicians actually costs more money over the long run when components don't last as long as they should or bad service causes a breakdown. For example, hydraulic oil lubricates and protects moving parts and is an integral part of the power-transfer process, so you want it to be of high Cat quality, just like the machine is.
Tip 16: Maintain Contact With Your Dealer
Form and keep a close, trusting relationship with Warren CAT or your favorite dealer for when you need to borrow equipment while yours is being serviced. You can also do this to field test a machine you're interested in buying or renting.
Tip 17: Establish a Communications Plan
Make sure all the people between you and your machine know exactly what to do and who to call in different situations. This may include equipment failure, job-site accidents or injuries, theft or damage, other unexpected problems or when something just doesn't seem quite right. You save downtime and money when everyone knows precisely what to do and has all the resources they need to report an issue, including process charts as well as names and contact information.
Tip 18: Prepare for the Worst Before It Happens
Take time to make a contingency plan for all the worst-case scenarios you can imagine, then make that plan known to everyone. Thinking through such situations when you're not in a frenzied, crisis mode will yield a much better result than when you're forced to make decisions on the fly.
Fill the normal lulls in production with tasks that need done but rarely warrant top priority, such as running errands and making deliveries; servicing and repairing equipment; delivering, picking up, re-arranging or staging materials at the job site for upcoming production days; completing paperwork such as schedules and forms for pending inspections; and training your workforce.
Tip 20: Keep Your Team Happy and Informed
Solicit feedback from the workforce to gauge what works well and what doesn't, praise and reinforce good performance, and encourage and reward best practices. Show and tell your people how complacency affects productivity and profitability instead of having them inadvertently learn that problems are often rewarded with overtime or praise for fixing a problem fast.

Tip 21: Allow Time for Strategic Thinking
Schedule blocks of time to interpret your data, think of new ideas, research solutions, market your company, develop promotional materials and both study and stay ahead of the competition.
Tip 22: Examine and Optimize Idle Time
Devote resources to know how much time your equipment spends idling. Wasted fuel is wasted money, and unnecessary idling not only wears on your machine's engine and chips away at warranty hours, it can also conflict with some states' emissions laws.
Tip 23: Analyze Usage of the Entire Fleet
Identify and rectify overused or underused equipment to optimize operations across all your job sites. You want to avoid having any machine run more than it should or run only 20 percent of the workday. The objective is to use all machines to their full capacity, or somewhere close to it. Let Warren CAT do this for you or make your own charts, spreadsheets, calendars and other tracking tools in order to watch critical areas of the business.
Tip 24: Don't Wait to Add Features
Calculate the savings you'll realize with data features like ProductLink, VisionLink, EMSolutions and preventive maintenance plans before you say, "Oh, I'll add that at a later date." While you're waiting until you have more time or money, the features could pay for themselves and yield substantial savings through optimized performance, less downtime and best efficiency.
Tip 25: Pay Less for Technology at Time of Purchase
Include data features at the time you buy a machine whenever possible, since it costs less to get them at the time of purchase than to add them on later.
Tip 26: Consider Rebuilt Parts
Look for remanufactured parts as a lower-cost option of comparable quality to new parts. Normally, they both have warranties and feature top quality, and are guaranteed to fit your specific machine perfectly.
Tip 27: Match Machine to Task
Spend time working the math to know you're using the right-sized equipment for the job. Your bottom line suffers when you use an enormous machine for a small job and when you attempt to use a smaller machine best left to the ability of bigger equipment.
Tip 28: Investigate Options for Lease, Rental and Loaners
Compare the costs of renting, leasing or borrowing equipment against that of buying and/or of using equipment that's oversized, undersized or not used regularly. These options save you the headache of selling equipment when it's old, gain you the benefit of having newer equipment every few years, and save you money on transport and storage costs.
Tip 29: Understand Your Equipment Regeneration Needs
Study the limitations of your equipment and respect the fact that it needs to regenerate at regular intervals rather than ignoring it, which could lead to breakdowns, damage and expensive repair.
Tip 30: Pamper Your Undercarriage
Avoid misusing or abusing any equipment, but especially machines with tracks, since that multifaceted component comprises 50 percent of the maintenance and repair cost for equipment that includes them. Caterpillar designs its undercarriages with extra clearance, but adverse conditions will affect critical parts including links, rollers, seals, segments, pins, bushings, idlers and shoes.
Tip 31: Eliminate Waste
Analyze your fleet and use the data to compute the percentage of productive time – and profit – you stand to gain by purging waste like overtime, excessive idling, unnecessary usage, bad operator practices and other things that lose money.
Tip 32: Allow Plenty of Time
Build hours into the regular, everyday schedule for preventive maintenance and regular service. This way you won't incur the extra expenses associated with deliveries or services made in the throes of an emergency or rush situation, as well as after hours or on a holiday weekend.
Tip 33: Live by the Work Order
Implement a system in which nothing happens without a work order, which not only gives you full control over what gets bought but also produces an accurate record of what was purchased, why it was purchased, who ordered it and when. In most situations, you won't recall those details and if you do, they're likely to be fuzzy.
Tip 34: Check the Manual
Follow the equipment manufacturer's recommendations for usage, parts, fluids, maintenance and other procedures to ensure optimal efficiency and help machines last longer. Even if you think you know what your equipment needs, going by the manual will help in cutting costs on heavy equipment.
Tip 35: Compare Your Fleet's Performance to Others
See how your equipment and machines stack up to comparable fleets locally, regionally and nationally, since this kind of data helps you obtain valuable benchmarks that can help in future analyses and decision making.
Knowledge is power, and there are many ways for you to gather data about your heavy equipment and apply it to yield improved profitability, better safety and a more efficient business. You can start acquiring that knowledge anytime by visiting Warren CAT online, as well as calling or visiting any of the dealerships throughout Texas and Oklahoma.