A Guide to Equipment Field Service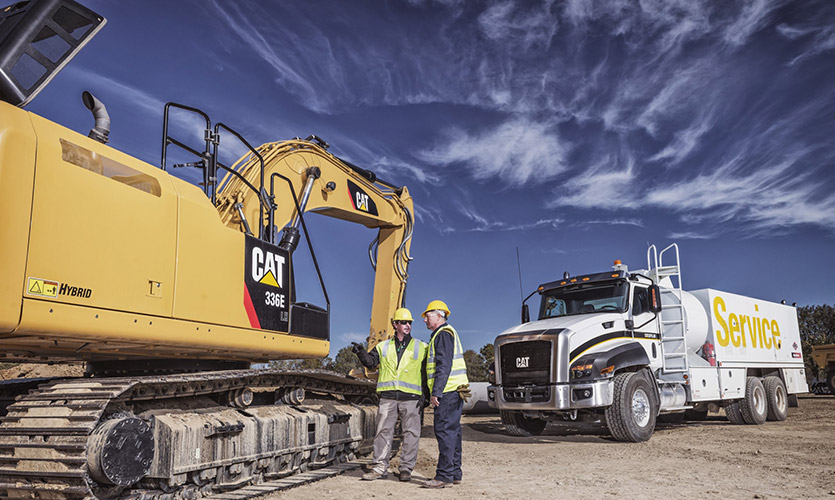 September 14, 2019
If you own heavy equipment, you may be considering field service. Many businesses have questions about field service, and whether it's right for their business.
Jump To Sections:
This guide will introduce you to the differences between on-site equipment repair and repairs made in the shop. We'll also guide you through the most common field service repairs, and provide tips on how to make field services effective for your business.
What's the Difference Between Field Service and Repairs Made in the Shop?
When equipment breaks down or requires maintenance, you have two primary options. You can have your equipment repaired on site, or you can take it to a shop for repairs.
On-site equipment repair is usually referred to as field service, but it isn't only for emergencies. It can also include routine on-site equipment maintenance and services.
Another alternative is to take your equipment to the shop for repairs. Regular maintenance and repairs can be performed in the shop. However, some major services, like rebuilds, are performed exclusively in the shop.
Key Differences Between Field Service and Shop Repairs
Field service is available on the jobsite, and it offers 24/7 service. Most services are similar or identical to those that can be performed in the shop.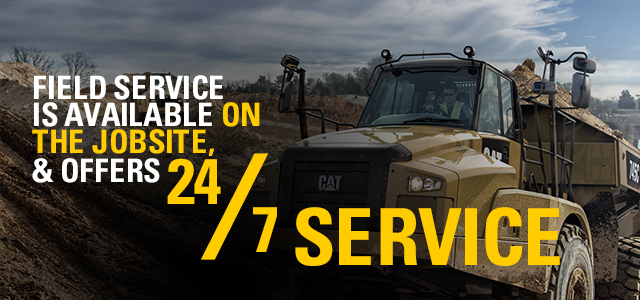 With shop repairs, equipment must be transported to the garage, and most repairs are made during normal business hours. Major services like the Cat® certified rebuild are performed in shops.
Why Do Businesses Use Field Service?
Some customers wonder why they should consider field service. Although field service isn't the right choice for all businesses, it can be essential for some. Field service can reduce downtime, cut transportation expenses and keep a jobsite on schedule.
There are three primary reasons that businesses use field service:
1) The equipment is too large to transport easily. You should consider a field service contract if your equipment is too large to transport to a shop, or if transportation will be expensive or difficult. If your equipment includes large equipment like cranes, drillers, or large excavators, consider on-site repairs instead of transporting them. Certified Cat technicians can maintain and repair this equipment in the field instead.
2) You need to get equipment working quickly. Another reason to consider field service is the busy schedule at jobsites. When you can't afford to have a machine out of service for several days — or even several hours — on-site repair can be the answer. Since field service technicians are available around the clock, they'll get your equipment back to work quickly. Many businesses also schedule on-site maintenance during equipment downtime so that they can stay on schedule.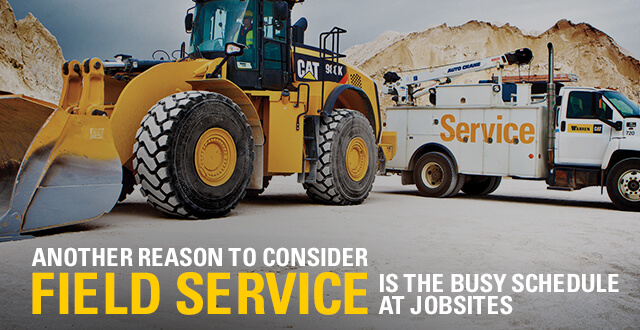 3) The equipment is immobilized. Finally, many businesses use field service to repair equipment that has broken down in a way that immobilizes them. This can include damage to the hydraulics or transmission system. It can also include engine damage. Finally, issues that affect the track or wheels on equipment can immobilize it. In these situations, you can actually do more damage if you attempt to transport this equipment to a shop. On-site repair can either resolve the issue, or get the equipment working long enough to get it to a shop to finish repairs.
What Types of Field Service Are There, and Which One Is Right for Me?
There are two main types of Cat field service: emergency services and scheduled maintenance. When you're considering field service, you may have questions about how each type of field service works, and about which type is right for you.
Emergency Field Service
Many people think of emergency service when they consider field services. When you use emergency field services, a Cat certified equipment technician will come to your jobsite to repair broken or damaged equipment. Emergency field service is often used when equipment is immobilized.
Common reasons for emergency field service include:
Damaged engines or transmissions
Issues that affect the tracks or wheels on equipment
Damaged equipment that's too large to transport to a shop
One of the biggest benefits of emergency field services is that you don't need to transport the equipment. If an engine, transmission or track system is too damaged to allow equipment to move under its own power, it's a good time to use emergency field service.
Emergency field service is also used when you need to get equipment back to work immediately. If you have specialized equipment, or finding a replacement will be difficult, consider using emergency field services. Technicians will come to your jobsite 24/7 to repair this equipment.
Scheduled Maintenance Field Service
The second type of field service offered is scheduled maintenance. Technicians will come to your jobsite on a pre-determined schedule to maintain equipment. Common types of scheduled maintenance include engine, transmission and undercarriage maintenance.
Scheduled field service is often used when equipment is too large to transport easily. Instead of paying to transport your equipment to a shop for routine maintenance, a technician will come to you.
Many people also schedule maintenance at the jobsite, because you won't lose equipment for the day. You can even schedule routine maintenance at night. With on-site scheduled maintenance, you can keep your equipment in good shape and get back to work immediately after the service.
Can I Use Field Service With All Types of Equipment?
Most businesses use field service for heavy equipment that's not practical to transport for repairs. This can include:

However, field service isn't only for heavy equipment. Some businesses use field service for both on- and off-road trucks as well. Field service for trucks works similarly to field service for heavy equipment: Let us know where you are, and we'll come to you to repair your truck. You'll cut out the time and expense of transporting your truck for repairs, and get you back on the job faster.
Field Service for Power Systems
Field service can also be used to maintain and repair generators and electrical power systems. Power service is usually used by businesses that use generators or industrial engines in the field. However, hospitals, manufacturers and factories can also utilize field service for UPS systems and backup generators that cannot be transported to a shop for repair.
What Types of Repairs Can Be Done in the Field?
Many people are surprised by the range of repairs that can be done in the field. Technicians can repair damage to the electrical system and attachments like buckets or blades as part of a field service call. We can also repair damage to the engine, transmission system and hydraulics in the field.
Our mobile service trucks are fully equipped with diagnostic equipment and repair tools. We can access data from your equipment in the field to determine how well it's performing, and make repairs right there. Service trucks have the equipment needed for on-site welding and boring, repairing electrical systems and replacing hydraulic lines.
Not all repairs are mechanical. Cat technicians can install the latest software and security updates during field service as well. They'll bring upgrades and product manuals to the jobsite with them, and upgrade your equipment as part of their routine maintenance.
What Are the Most Common Types of Field Service Repairs?
The field services we offer are as varied as the equipment in your fleet. Many of our field service visits are made to repair or optimize sophisticated hydraulics, powertrains or electronic systems. Read on to learn about some of our most popular field services.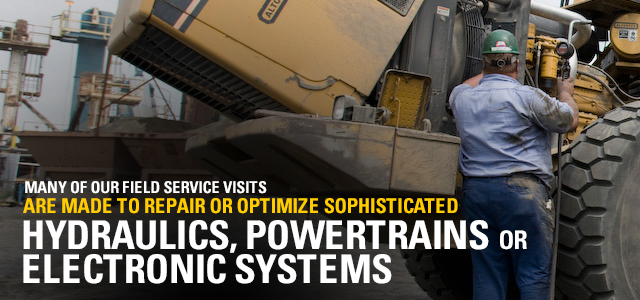 Hydraulics Repairs and Servicing
Over the years, hydraulic systems have gained complexity. These sophisticated systems offer increased equipment performance. They've also made regular service and maintenance more important than ever.
Many of our field service calls for hydraulic systems are focused on emergency repairs. Warren CAT technicians use sophisticated diagnostic equipment to diagnose problems and optimize your system.
We can also provide preventative maintenance for hydraulic systems as part of our field services. Technicians can do inspections, optimize systems and check for contamination on your jobsite.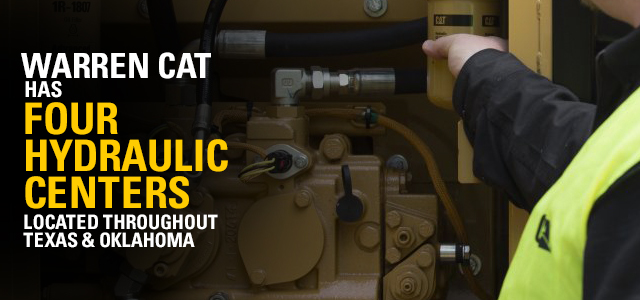 If you need more in-depth hydraulic services, Warren CAT has four hydraulic centers located throughout Texas and Oklahoma. These centers include specialty equipment for testing and complex repairs. Hydraulic technicians are trained to service and repair Sauer, Sundstrand, Danforth, and Bosch Rexroth systems, among others.
Engine Service
Engine issues are one of the top reasons that businesses need emergency field services. A damaged engine can immobilize your equipment, making it difficult to transport to a shop for repairs.
Warren CAT can do major and minor engine repairs in the field. We work with a wide variety of engine types, including:
Diesel engines
Standard fuel engines
Generators
Uninterruptable Power Supply Systems
Field services include major component repair and replacement for all major brands. We can make repairs with new parts or with used or rebuilt parts. As an authorized Caterpillar® dealer, we have exceptional access to replacement components for Caterpillar engines.
Many businesses choose to include engine or generator services as part of their scheduled maintenance. This scheduled maintenance usually includes visual inspections, testing and fluid sampling.
Undercarriage Repairs and Maintenance
The undercarriage of most heavy equipment can take a beating on the job. Field service technicians can provide both undercarriage repairs and maintenance.
We'll often do undercarriage inspections and maintenance as part of our regular field services. During these inspections, a technician will visually inspect and measure the thickness of your equipment's undercarriage. We'll look for loose nuts and bolts, uneven wear and other alignment issues. This will help us predict if and when major repairs need to be made.
Technicians can also repair undercarriages in the field. We can weld and repair cracks in the undercarriage, fix alignment issues and repair tracks to get your equipment moving again.
Oil Sampling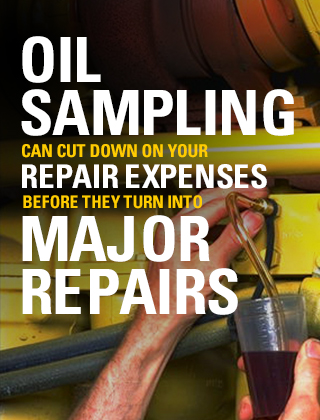 Oil sampling is often a part of maintenance field services. This is a scheduled service, in which the technician draws samples from your equipment's oil, coolant and fuel. The samples are usually analyzed in a lab. Your technician can use them to identify issues and to optimize your equipment's performance.
Once samples have been analyzed, your technician will send you a report on the results. They'll usually include recommendations for optimization based on the results.
Oil sampling can cut down on your repair expenses by identifying minor issues before they turn into major repairs. It also serves as a valuable part of your service documentation, which can increase your equipment's value if you trade it in or sell it.
Welding and Fabrication
Our repair facilities include state-of-the-art welding and fabrication equipment. Here, we'll undertake major jobs like creating customized attachments or repairing your equipment. Over the years, we've welded or fabricated almost every component of most heavy equipment.
We often do welding and fabrication as part of a field service call as well. Most welding or fabricating done in the field is used to repair or replace a broken part, so that you can get back to work. Specialty attachments are usually fabricated in the shop.
If you need parts welded or remade on site, a field service call can make it happen. All of our field service trucks carry portable welding and machining tools. You'll save time and money by fixing parts instead of ordering new components.
In addition, our skilled field service technicians are factory trained in welding and machining in the shop and in the field. That experience and skill will make a difference for your equipment: a high-quality welding repair is stronger and more durable. By contrast, a bad welding job can cost you more in downtime and repairs.
What Should I Consider Before Using Field Service?
If you're planning to utilize field service, consider your current maintenance needs. Look at the previous year's maintenance and upcoming equipment services to figure out what types of service you need.
Knowing more about the state of your fleet and current maintenance needs will help technicians optimize your equipment. Answer these questions to figure out more about what your fleet needs:
Do you currently have a service agreement? If so, how often have you used it?
What types of services have you had done in the field in the last year?
What regular maintenance has been done this year?
Do you have a regular maintenance schedule? Would you like to adjust it, or stick to the same schedule?
How old is your equipment?
What types of equipment do you own? (Consider both manufacturer and type of equipment.)
What are your typical jobsites like?
Is there a regular time of day that would be ideal for routine service? If not, how far in advance would you like to set up regular service calls?
Does any of your equipment have recurring repair issues?
Do you have optimization or performance concerns that a tech should be aware of?
Do I Need New Equipment Management Software for Field Services?
Some fleets use specialized equipment management software to track their fleet's performance. If you already have software in place, you can keep using it.
Warren CAT also offers you access to VisionLink, the next generation of equipment management for Cat machines. This is a web-based application that consolidates data about your vehicle's performance and repairs.
If you use Cat equipment, VisionLink is probably already installed on your equipment. When you activate VisionLink, your software will use GPS and cellular technology to send updates on your vehicle's performance to the equipment management software. This will help you and your technicians identify problems early.
What Happens If I Don't Use All of My Services?
You don't need to worry about meeting a pre-set product or service requirement as part of a customer service agreement. We'll work together to figure out what types of service and maintenance you need.
If you know what types of service you need and already have a maintenance schedule in place, consider a regular service agreement. We'll help you set up a monthly service contract. You can keep the same maintenance schedule, with the added convenience of our technicians coming to your jobsite.
Customers often choose a monthly flat fee to pay for these customer service agreements. You'll always know ahead of time how much you're paying for service. And that can help keep your business on budget.
Some customers prefer to set up a service agreement in which cost is based on production hours. If you have new equipment and don't yet know what service requirements look like, this type of agreement can be a good choice. You might also choose this type of agreement if you don't currently have a maintenance schedule in place.
Finally, customers whose job load and machine hours vary dramatically over the year sometimes choose this type of agreement. Customers with seasonal businesses like agriculture often find this flexibility useful.
How Do I Get Started With Field Service?
Most field service is offered as part of a Customer Service Agreement (CSA). To set up a service agreement in Oklahoma or Texas, contact our service division.
However, to utilize field service, a service contract is not needed. Our field services are available 24/7 by request and are a great option for emergency service needs.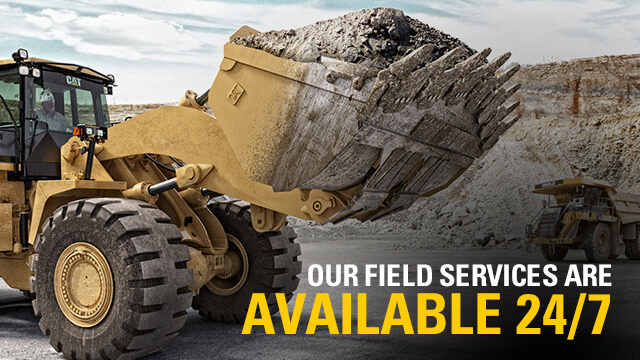 We can help you set up a service agreement for regular maintenance, emergency repairs or both. We'll work with you to customize a service agreement that meets your needs.
Field service agreements range from simple preventative CSAs to our Total Cost Performance Guarantee. The type of agreement you choose is based on your equipment, your business needs and your budget. We'll work with you to customize the frequency of service, the types of services performed in the field and your payment plan.
To schedule field service or to learn more about our service offerings call or contact us today.