Dynamic Gas Blending™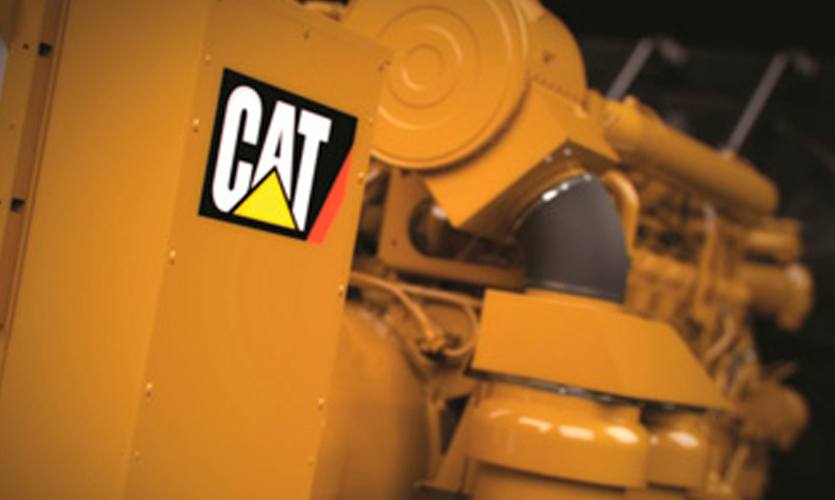 January 18, 2022
Cat® Dynamic Gas Blending™ (DGB™) is one of the most revolutionary dual fuel technologies Caterpillar is bringing to the table to improve your operations. DGB engine retrofits give you the advantages of both diesel and natural gas power systems. When you invest in DGB technology, you can lower your emissions, reduce fuel costs and expand your fuel options, making it one of the wisest decisions you can make for your company's future, especially if you're in the oil and gas industry.
Find out more about what Dynamic Gas Blending is and how it works by reading this article. You'll also learn more about the benefits DGB retrofitted engines provide to companies, why many oil and gas companies rely on DGB engines and how Warren CAT can help you implement this technology.
Jump To Sections:
Ready to learn how Cat DGB technology can help your operations? Complete the short form below and we'll contact you with more information.
What Is DGB™?
The DGB engine design borrows from both diesel and natural gas engines, implementing revolutionary technology that enables Dynamic Gas Blending engines to burn diesel fuel or natural gas or run on a combination of the two. With this flexibility and dual fuel technology, engines can better handle diverse operating conditions and varying fuel quality while maximizing fuel efficiency. DGB conversions and kits are designed for specific 3500-series Cat engine models, with the 3508, 3512 and 3516 engines being compatible.
How DGB Works
Cat Dynamic Gas Blending technology features exceptionally intuitive software that automatically regulates and modifies the engine control. This on-the-fly intelligent adjustment allows the engine to regulate the ideal blend of diesel fuel and natural gas based on the current operating conditions and power requirements.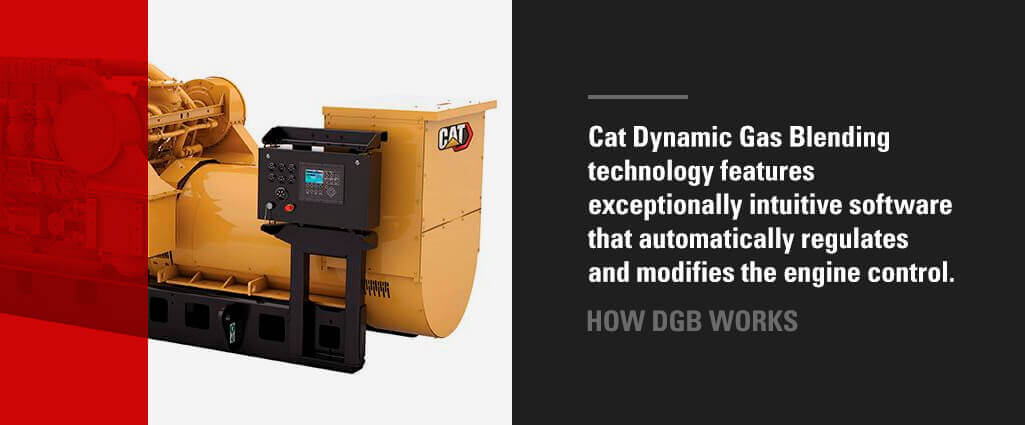 A DGB engine will start much like a pure diesel engine. As the engine's inlet air temperature increases, the DGB system will begin to inject natural gas alongside the diesel. When more natural gas is injected, the engine's diesel consumption decreases. Since the DGB automatically adjusts to fuel quality changes, these engines don't require any field calibrations.
Benefits of DGB
When you invest in DGB retrofit kits or new engines with DGB technology included, you prepare yourself for future financial success. Besides the savings you receive from utilizing DGB engines and generator sets, you'll also see benefits in emissions reduction, safety, maintenance and overall power system performance from your equipment. If you're in the gas and oil industry or another sector requiring high emission and safety standards, all these benefits can significantly improve your operations.
The many advantages of utilizing Dynamic Gas Blending include: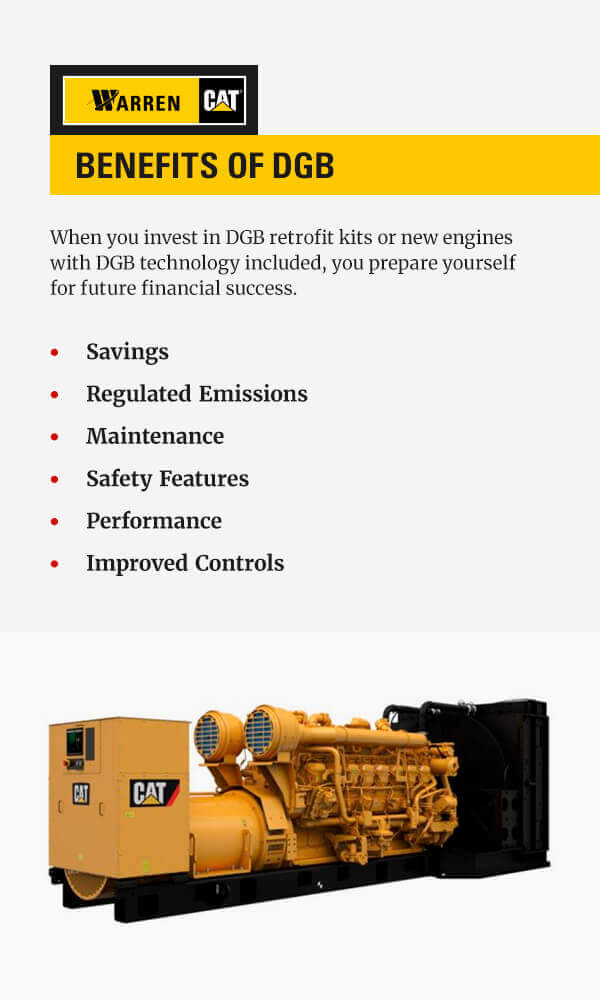 1. Savings
Dynamic Gas Blending technology allows your company to save money and free up more cash for other purposes in various ways. For instance, a DGB-equipped engine can replace 70% of the diesel fuel used with gas. Diesel is typically more expensive than natural gas, so you can gradually reduce overall costs by using less diesel. Plus, you won't need to truck as much fuel to your remote locations, meaning you'll reduce your costs even more. The installation is simple, keeping your up-front investment affordable.
Because it can run on low-quality gas, DGB enables you to save money by using flare gas that would otherwise go to waste. In addition to reducing your diesel fuel costs, DGB allows you to create your own free fuel source using your operation's byproducts.
Additionally, Dynamic Gas Blending technology doesn't require you to change any of your core diesel engine components, avoiding major costs to replace core parts or upgrade your engine. Retrofitting your existing engines with a DGB kit won't result in increased maintenance intervals, ensuring your time performing maintenance and paying for training won't significantly increase.
DGB also comes with enhanced controls that feature new capabilities. This improvement allows you to avoid implementing any additional infrastructure that's often required to operate multiple generator sets at one time. Alongside the improved controls' capabilities, you won't need to recalibrate the engine when the gas supply changes or machinery is moved. By avoiding recalibration, you get to use your machinery more quickly, helping you reach more profitable ventures with increased speed.
2. Regulated Emissions
Adding a DGB kit to your engine won't come with an increase in emissions. Our DGB conversions are designed to retain the emissions listed on your engine's emissions certifications so that you can gain performance benefits while still meeting emission compliance standards.
Alongside Dynamic Gas Blending engines' ability to meet emissions standards, they can also help you reduce emissions. Diesel fuel releases significantly more emissions than natural gas. A duel fuel power system's ability to rely primarily on natural gas instead of diesel allows your engine to run cleaner, providing a way for your company to lower overall greenhouse gas emissions.
DGB also allows you to use gas from other sources, like flare gas, which can significantly reduce your operation's emissions. Experts estimate that flaring produces 1% of the world's manmade carbon dioxide emissions. Non-efficient or broken flares pollute the air with carbon dioxide in addition to other harmful substances. By using your own byproducts to power a DGB-equipped engine, you can reduce the level of emissions your operation produces and contribute to a healthier atmosphere.
3. Maintenance
One primary feature of retrofitting your existing engines with DGB technology is improved diagnostic capabilities that significantly assist with equipment maintenance. The new descriptive diagnostic codes can help speed up a diagnosis as your maintenance staff traces the source of a problem. The addition of an analog gauge display makes it possible for operators to quickly review the key engine health parameters, allowing them to catch warning signs more quickly and take action earlier, potentially avoiding catastrophic failure.
When you add DGB, you're not required to adjust your service intervals, meaning you have the convenience of sticking to the established schedule everyone is used to. Additionally, DGB's ability to burn natural gas alongside diesel fuel improves the engine's life. Since natural gas burns cleaner than diesel, it can lower your owning and operating cost over the service life of your Cat engine.
4. Safety Features
Cat Dynamic Gas Blending technology provides exceptional safety features that come standard with integrated controls to keep your engine and machinery free from damage. For instance, the integrated controls come with an E-stop push-button built into the instrument panel to quickly shut off the machinery.
The controls also have customizable shutdown and alarm features, and offer the option to utilize valves for explosion relief and air shut-off. DGB-equipped generator sets also come with flame arrestors at every cylinder to protect operators and the engine. Additionally, DGB engine controls provide additional alarm switches that can be configured through client-supplied inputs.
Caterpillar's Dynamic Gas Blending technology also features closed-loop feedback to monitor combustion characteristics. This monitoring provides safety measures to adjust for poor fuel quality and constantly protects the engine from detonation, which could damage your machinery and possibly harm your operator. This increased ability for DGB to compensate for poor fuel quality means your engines have increased protection and performance even when high-quality fuel can't be utilized.
The construction of a DGB-equipped engine is backed by a review from Caterpillar to ensure it is designed to the highest possible safety standards. DGB engines utilize quality Cat parts and components without using any plastic piping for gas flow. For extra protection, each cylinder is outfitted with exhaust and knock monitoring. Every aspect of a DGB-enabled engine is designed with safety in mind to keep your operators protected and your equipment running for as long as possible.
5. Performance
As mentioned, a dual fuel engine improves your operational performance by combining the advantages of both natural gas and diesel engines in one unit so that you are no longer required to choose between the two. Before DGB, if you wanted a higher load capacity and a quick-start engine, you'd probably pick diesel. If you needed lower emissions, a consistent fuel supply and more affordable fuel costs, you'd likely go with a natural gas model.
Now, with a Cat DGB engine, it's no longer necessary to compromise, and you can easily realize the benefits of both. Like the diesel engine, a DGB engine gives your equipment an impressive load pickup capability and the same quick-start capabilities, which help you save time out in the field and the ability to carry out your work with more efficiency.
Much like gas engines, Cat Dynamic Gas Blending engines are less vulnerable to slowdowns, which can pop up due to an interruption of fuel supply that can arise from outside factors like weather conditions or supply chain bottlenecks. Since you can combine diesel fuel with natural gas like flare gas to power a DGB engine, you keep your fuel costs low, and a DGB engine's reliance on natural gas also reduces the amount of nitrogen oxide (NOx) emissions your equipment generates.
By investing in DGB technology, you can harness the best of both worlds and increase your operation's efficiency, performance and profitability.
6. Improved Controls
When applying DGB technology to a Cat Genset, the optional EMCP 4.4 control panel makes it easier for your operator to use their equipment and to supervise engine performance.
With the new control panel, you get a larger, 5.5-inch graphical interface. Your operators will appreciate the large, clear gauges with walk-around parameters and enhanced diagnostics and troubleshooting information. The panel can also display 16 different languages, so any operator can utilize it. Most importantly, the panel is integrated with the generator, giving the operator greater control and improved monitoring.
The panel is also forward-thinking, as it's built for future Cat Remote Monitoring and is easy to install due to its plug-and-play connections. With the panel, the operator can set various DGB parameters, such as gas blending, percentage of max substitution, gas pressure, generator power kilowatts (kW) and gas valve position status.
Why Do Companies in the Oil and Gas Industry Utilize DGB?
With all of DGB technology's benefits, many companies in the oil and gas industry are choosing Dynamic Gas Blending. Since companies in this sector face strict emissions standards and often prioritize reducing their environmental footprint, Cat DGB engines are a perfect fit.
Instead of trading performance for fewer emissions, DGB technology allows oil and gas companies to get the best of both worlds.
They receive the performance, ease of maintenance, power and reliability they're used to from Cat equipment while also lowering their greenhouse gas emissions and fuel costs. The Cat 3512E Tier 4 DGB Engine recently winning the 2020 Clean Air Excellence Award from the U.S. Environmental Protection Agency (EPA) speaks to the engine's ability to meet strict standards.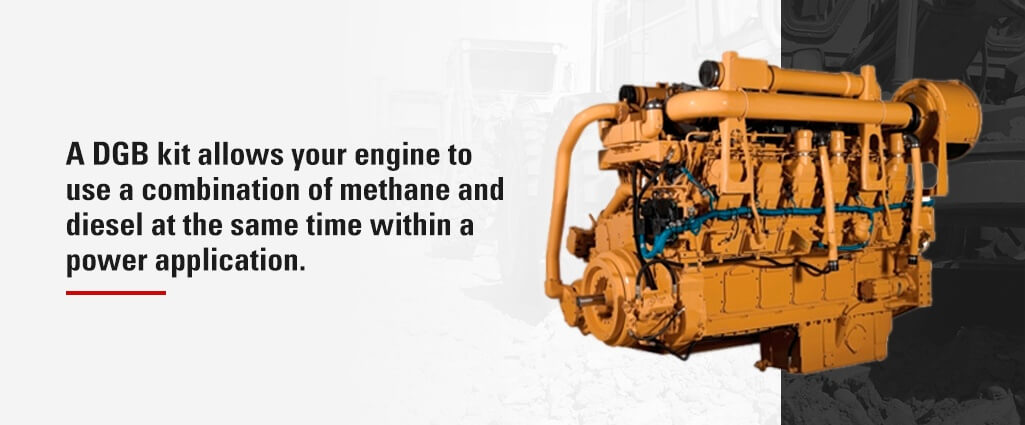 Additionally, DGB technology has been proven to reduce operating costs, as these engines can run on essentially free flare gas and other significantly less expensive fuels. Instead of burning that gas away through flaring, save money and reduce emissions by putting it to use with Cat DGB.
How Can Warren CAT Help You Implement DGB?
If DGB technology sounds right for your operations, our support team can assist you with implementing it. One of the first steps we'll take is to help you determine the feasibility of retrofitting your existing engines with DGB. Our experts can also advise you on financing options, review your payback model and conduct a cost analysis.
Once we help you determine the project's feasibility, our team can assist you in deciding which partners are ideal for your project. We can help coordinate seamless communication between your operations manager and local dealer. If you need guidance in finding a fueling partner, we can provide support for that as well.
If you are not utilizing on-site flare gas, we can help you find the right fuel supplier, so that your team can better handle the logistics that come with liquified natural gas (LNG) fuel supply and plan for an on-site fueling station. Our team can help you find an LNG fuel supplier that fits your equipment needs and set up meetings between your team and the supplier so you can be certain you have the right project partners before you proceed.
When you switch to a new fuel source for your projects, you'll have some new factors to consider. Our team can help you integrate your new equipment and fuel source into your project to ensure everyone is on the same page and prepared for new technology. For example, we can assist with routes for DGB equipment, identify tasks needed at fuel stations and provide safety training. This preparation can help you get a faster return on investment and ensure you're ready to utilize DGB to its fullest extent.
After preparation, we'll be there to support your DGB installation and equipment, ensuring implementation is efficient and pain-free. The DGB kit will also include information on maintenance schedules and best practices, so you know what kinds of routine maintenance tasks should be performed on your equipment.
With the DGB kit installed and your equipment up and running, you'll still have our team of experts ready to assist. If unexpected challenges arise, our end-to-end support means we'll be there to help you work through the obstacle and find the best solution. Additionally, as your projects change or your company looks to expand, our team can provide you with the right equipment and parts for your new goals.
Choose Warren CAT for Your Equipment and DGB Needs
With all the advantages Dynamic Gas Blending can offer, you may soon want to start utilizing DGB engines. Warren CAT is ready to set you up with the right Cat DGB equipment. We proudly serve our clients with 16 dealer locations throughout Oklahoma, West Texas and the Texas Panhandle. Our expert team can provide you with complete solutions for your projects, such as technology, parts, service, new and used equipment for purchase and rental machinery.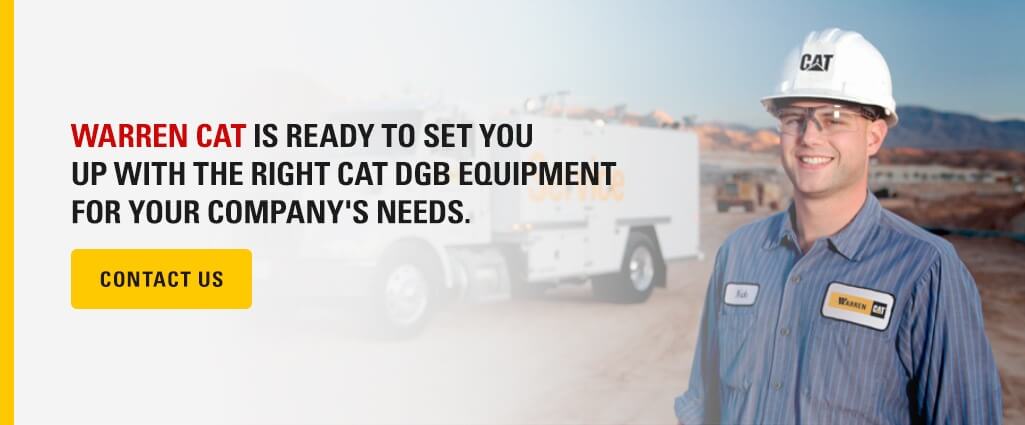 Browse our selection of DGB equipment to find the best fit for your application. If you have any questions, feel free to contact us today for more information on how we can help.