Create Flawless Yards with Cat® Landscaping Equipment & Attachments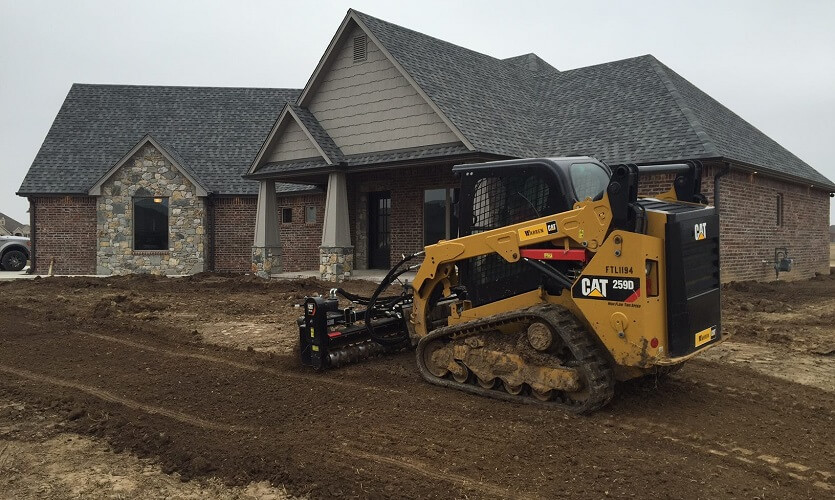 October 11, 2019
A big expanse of lush, green grass pleases the human eye and spirit, and outdoor spaces tend to provide relaxation, recreation, enjoyment and comfort. For these and other reasons, landscapers, contractors, park managers, golf course patrons, ground crews, homeowners and others invest tremendous effort and expense in creating a flawless lawn.
Jump To Sections:
Warren CAT understands the quest to create the perfect lawn for your clients, and all of the different pieces of landscaping equipment that can help get the job done right while increasing your productivity, efficiency and profitability in the process. The right equipment also creates new capabilities that may enable companies and contractors to win additional landscaping jobs.
Landscape projects of all scales involve numerous tasks that a Cat machine can make easier, including:
Excavating
Building
Grading
Laying pavers
Trimming trees
Removing stumps
Installing irrigation
Lifting large objects
Tilling/preparing the soil
Digging trenches and post holes
Hauling dirt, rocks and other materials
Achieving your client's dream landscape or lawn arrangement is difficult and time-consuming without the right equipment and tools. Landscaping equipment and tools make reaching your client's goal simpler and increase productivity and efficiency, while reducing your project's overhead costs. Maximize your project's efficiency throughout every step of the process.
How To Create A Flawless Lawn

Step 1: Remove Surface Debris Using Landscaping Work Tools
Landscaping work tools are invaluable during site preparation, and even during maintenance, for removing vegetation such as old turf, persistent weeds and junk trees, as well as stumps and big rocks. Some sites look like a jungle at the start of the project, while others may not be as problematic.
Several tools and attachments that make site preparation and maintenance easier include:
Skid Steer Loader
Skid steer loaders are compatible with a variety of attachments, but for removing vegetation, their go-to attachment is a brush cutter. Built for performance, reliability and safety, skid steer loaders provide the power you need to run your brush cutter at optimal performance to achieve faster cutting and quicker project turnaround times. Their versatility also allows you to use them for other project tasks.

Brush Cutters
Brush cutters are the ideal attachment for removing vegetation and brush when preparing a site for a new project, such as clear-cutting a recreational area, or maintaining a site, such as a highway median. With several available cutting widths, they make it easy to clear large sites fast. Attach a brush cutter to a skid steer loader for the best, most efficient results.
Small or Mini Excavators
Small and mini excavators offer the power and performance to make your project productive and efficient when removing large stumps and rocks. Smaller-sized excavators are convenient when working in narrower areas, such as residential locations. Excavators can also dig deep enough to ensure root removal, which prevents regrowth, as well as dissatisfied clients.
Small Dozers
Small dozers are built for smaller jobs such as residential work. They are a viable alternative to using excavators for stump removal, as dozers have the horsepower to remove large stumps with ease. Small dozers have multiple other uses, such as clearing and grading lots.
Preparing and maintaining lots can be a time-consuming drain on your resources. Landscape equipment, however, provides a solution for faster and more cost-effective brush and debris removal using hardware that is durable and reliable.

Step 2: Grade the Site With Compact Landscaping Equipment
Grade your debris-free site using compact landscaping equipment for fast and effective results. You will want to assess the location ahead of time for any drainage issues, hills, valleys or other imperfections, such as steep slopes.
It may be necessary to add or excavate dirt to achieve both the desired look and proper drainage. A few types of compact landscaping equipment make these processes more efficient:
Backhoes
A backhoe's main purposes are trenching, backfilling and moving materials. Improve your productivity with an advanced hydraulic system that delivers precise operating and handling features. Backhoes can also travel up to 25 mph, allowing you to move and shift soil across large construction areas quickly.
Trenchers
Attach trenchers to backhoes for better trench cutting. Trenchers cut straight and narrow trenches for electrical, telephone and cable lines, as well as piping for water and gas service. Manually digging trenches is time-consuming and decreases your team's output. Trenchers are a smart choice, and they feature several cutting widths to accommodate any job.
Small Dozers
A small dozer's primary purpose is grade work. Dozers can slope the sides of roads, as well as assist in the final grade work for driveways and landscapes. Unlike over equipment, small dozers are designed to offer unparalleled accuracy for finish grading. Our rental dozers can be equipped with AccuGrade™ Grade Control System to help you grade your site right the first time, saving your team hassle later.
Your site's finished grade should be even with patios, walkways and other landscape features, and you should leave room for additions like fine-quality topsoil, lime and fertilizer.

Step 3: Add Soil Amendments
If your landscape contract is residential or commercial, your client may ask you to treat the soil for grass seeding, or the planting of shrubs and trees. Soil amendments — which can include lime, sulfur, weed prevention and other organic materials — are developed and used when tilling the ground.
Compact track loaders and tillers are commonly used machines and attachments for filling.
Compact Track Loaders
Compact track loaders offer versatility, traction and stability for tilling soil. Their suspended undercarriage is also a bonus because it minimizes ground disturbance and provides extremely low ground pressure. Certain compact track loaders feature an electronic torque system to manage the loader's torque and maximize its performance and production.
Tillers
Tillers break up and pulverize soil, which allows soil treatments to mix-in and do their job. Spiral tillers improve cutting performance by 10 percent in comparison to tillers with standard placements. Tines with tungsten offer exceptional strength, durability and longevity. Make your soil amendment process efficient with equipment that's built to last and drive results.
Soil amending can be a quick and easy process with the right tool, such as a compact track loader with a tiller attachment. Tilling with smaller equipment is an inefficient method, and will only extend your project's completion date.

Step 4: Level the Soil Surface With Landscaping Attachments
Attachments for your landscaping equipment are invaluable when leveling the soil's surface after soil amendments. Make your team's job easier and more productive with the following attachments:
Rakes
Landscape rakes feature hardened teeth and use a scarifying action to collect rock and debris, which are then deposited into a hopper bucket. Rakes are attached to compact track loaders and will aerate, level and condition soil. They also are available in several widths, allowing you to cover large areas quickly.

Blades
There are several types of blades designed and built specifically for landscaping. Landscaping blades assist in leveling soil after raking, but also for grading soil.
 Compactors or Rollers
Rollers and compactors pack-down soil to prepare it for planting and seeding. Rollers ensure that the soil will compact at the right amount, which allows grass seed to fall into the soil and germinate.
Use landscaping attachment equipment to reduce your work time, as well as increase the accuracy and quality of your work. You'll leave clients with a positive impression, and their recommendations will benefit your company in the long-run.

Step 5: Plant Vegetation With Landscaping Equipment
Plant vegetation such as shrubs and trees with durable landscaping equipment to finish the last step of your landscaping project. We recommend a few tools for planting vegetation, especially for larger greenery, such as trees.
Forks
Handle pallets of fertilizer and sod using a fork attachment. Fork attachments are used with loaders and backhoes. Unload sod and fertilizer faster with a fork attachment. Delivering the pallets throughout your work area will save you time compared to manually unloading the materials.
Augers
Use an auger to quickly drill holes for fencing, trees, shrubs and other hardware. Augers are designed for maximum productivity through an optimum balance between speed and torque. Auger bits range in size so they can reach any landscaping project's depth.
Landscaping equipment like forks and augers can simplify your tasks and increase your team's production. A quicker project pace allows you to take on more projects throughout the year and potentially raise your company's profitability.
Rent Landscape Equipment With Ease
While landscape equipment and accessories make projects easier, many contractors raise concern over the cost-prohibitive nature of owning an extensive lineup of equipment and accessories.
Rentals are becoming the go-to option for many professionals in the landscape industry. Renting instead of buying equipment or and attachments is affordable and offers all the benefits of owning the items.

Equipment and attachment rentals offer several benefits, including:
Use of the newest hardware. Rentals let you use the latest hardware and technology in the construction industry, without the significant financial investment of an equipment purchase.
Access to maintenance and support teams. Certified and highly trained technicians repair and maintain Cat equipment throughout Texas and Oklahoma. Product support is also available 24/7, as well as emergency technical support. Save your time and money by avoiding the need to pay for maintenance, repairs or halted projects due to machine failure.
Rental of short-term use equipment. Landscape projects can require equipment you may not have in your inventory. Renting equipment, however, can let you take those jobs without buying equipment or attachments that your company does not need for daily operations.
Reduced costs compared to equipment purchases. Equipment and attachment rentals are often more cost-effective, especially if the hardware is only for one project, in comparison to purchasing or financing equipment over a set number of years.
Availability of daily, weekly and monthly rentals. Equipment and attachment rentals are available in varying durations to fit your project's estimated timeframe. At Warren CAT, we offer daily, weekly and monthly rentals, as well as longer-term rental durations.
Rent-to-own and lease options. Rent-to-own agreements allow you the opportunity to rent equipment, typically for six months, and then choose to purchase the equipment after that timeframe. You can often use your completed rental payments as a down payment. Leasing options assist in longer-term projects, extending over a year, and can include a purchase or renewal option at the end of the agreement.

Landscape equipment rentals are a convenient and cost-effective alternative to purchasing new equipment. At Warren CAT, certified technicians service and test our rental equipment regularly. We also offer easy ordering and delivery, as well as expert advice on choosing equipment that fits your individual project or contract's needs.
Manipulate Landscaping Equipment for Advantages
Cat landscaping equipment and attachments expedite the creation of perfect lawns and landscapes. These multi-capable machines save hours upon hours of manual labor.
It helps to know about the different types of equipment and their capabilities. Check out our list of go-to landscape equipment:
Explore Landscaping Attachments and Accessories to Do Endless Jobs
The deciding factor for some contractors when it comes to which type of main machine best suits their business can be what assortment of landscaping attachments and accessories it accepts.

Accessories can make a huge difference in a variety of landscaping tasks:
Depend Upon Professional Partners
Warren CAT makes it possible to create the perfect lawn or landscape with cost-effective, reliable and durable equipment that increases your project's productivity and your team's efficiency.
We maintain a generous inventory of new and used machines for sale and rent. We offer full service, parts, maintenance plans and suggestions for how to acquire a combination of machines, attachments and accessories to benefit and grow your business.

Whether you're looking for rental landscaping equipment or new Cat landscaping equipment or used machines to buy, we're committed to helping you find the best equipment for your project. Our professionals in each one of more than a dozen locations throughout Oklahoma and West Texas can provide information and resources. Contact us today to learn more.