Order Cat® Parts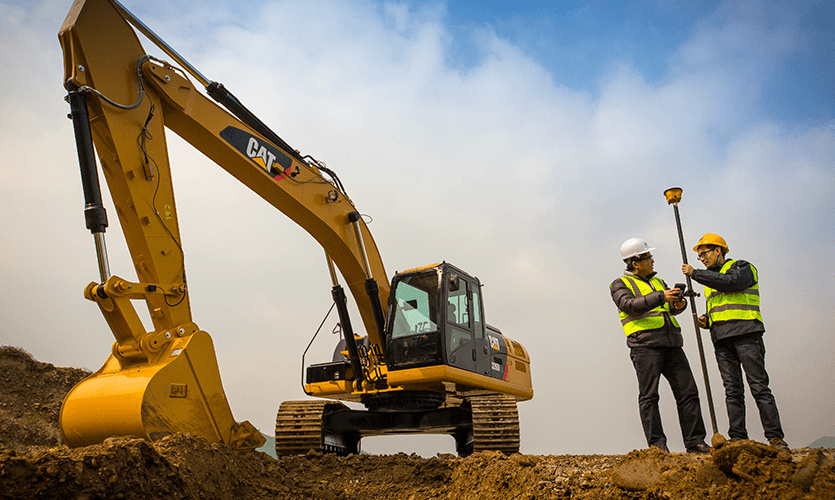 March 26, 2021
Before online sales, companies and individual buyers had to go through a long process to purchase key parts for their machinery. Buyers had to go to a store or call to find out if the supplier carried the required parts, possibly contacting multiple stores before finding the right one. To get the right part, construction professionals had to haul their damaged, dirty components to a local parts dealer or warehouse to ensure they received the right replacement parts.
Jump To Sections:
Now, more people are turning to online stores to handle their buying needs. In 2019 alone, 1.92 billion people used the internet to purchase services or goods, with retail e-commerce sales expected to rise by 22% in 2023. This increase in online sales and services means parts providers have to offer an excellent user experience to customers looking to purchase their industrial machine and heavy equipment parts online.
As a result of increased customer demand for online ordering, we continue to change and improve the Warren CAT online parts shopping experience by making the process faster and more convenient than ever. It is our mission to make it easy and convenient for our customers to get the high-quality Cat® parts they need from our online parts store.
How Parts.Cat.com (PCC) Helps You Get the Right Parts Quickly
If you're looking for Cat parts in Oklahoma or West Texas, Warren CAT is the most reliable, capable and convenient option. Our online ordering capabilities, extensive on-hand parts inventory, territory-wide drop box locations and expert parts professionals allow us to provide you with the right parts as quickly as possible. Keeping your operations productive and profitable is our priority, and the accuracy, ease of access and convenience of your parts orders are critically important to us.
Parts.Cat.com is critical in helping us get you your parts faster by making the buying process as simple as possible. Parts.Cat.com offers more than 1.4 million Cat parts for buyers to choose from so that it is easy for you to quickly find the components or parts you need.
Alongside the extensive inventory, many of our customers appreciate how Parts.Cat.com continues to add more intuitive features to make the user experience more enjoyable. You can expect more accurate and efficient parts ordering, the ability to see real-time part availability and pricing information and valuable insights to plan, schedule and budget without delay.
The online store also solves the issue of calling several stores before finding the right replacement parts. You can easily look up part numbers and find the exact component you need without picking up the phone. Instead of hauling your damaged components to various stores, you can simply find a compatible part from your job site, home or office.
Similarly, we know how time-consuming a return order can be and how inaccurate parts can cause downtime. To get you the correct part as fast as possible and increase your uptime, Parts.Cat.com includes a built-in check feature, helping to ensure that you don't order the wrong part by accident and don't have the hassle of a part return.
How Has the Site Changed?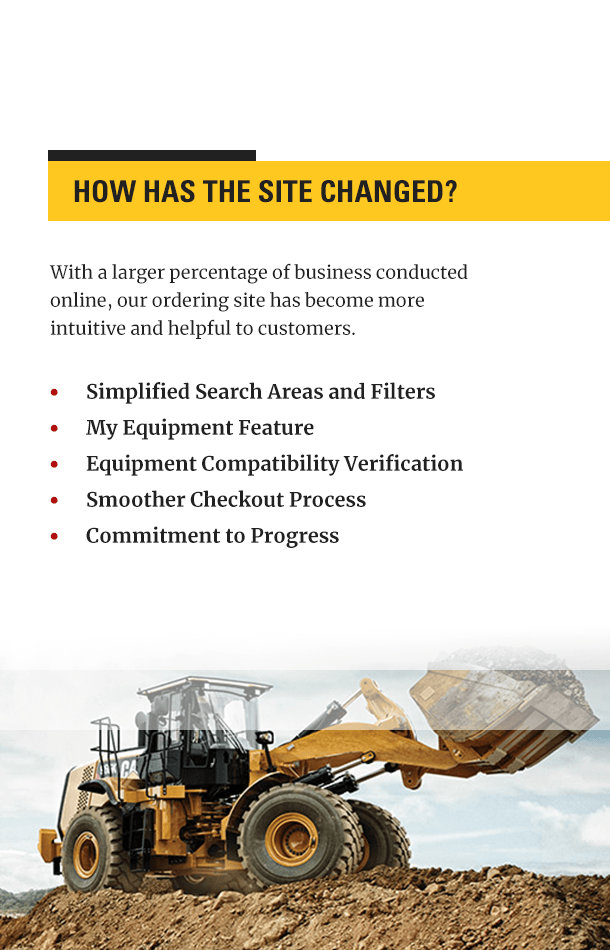 As we continually transition to increased online ordering, our site has become more intuitive and helpful. Changes were made to improve the ease and accuracy of the online parts purchasing experience.
1. Simplified Search Areas and Filters
A simplified search function with universal search rather than separate search areas makes it easier to find the correct parts for your equipment in the fastest and simplest way possible.
Utilizing the new universal search means your searches can be as wide-ranging or narrow as necessary. For example, you can search by product family, such as attachments or belts, which will give you hundreds of options relating to those products, or you can search by specific part number.
Parts.cat.com also makes it easy to filter and narrow your search with the "Add Equipment" feature located beside the search bar, which enables you to enter your equipment model and/or serial number and then apply it to your search. This feature allows you to restrict your results to only parts compatible with the specific machine or equipment model you've entered.
For example, if you have a 259D Compact Track Loader needing a new part, you won't want to sift through all the parts for every piece of equipment on the website, or even all the parts available for Compact Track Loaders. To get a more specific result, you can type "259D Compact Track Loader" into the Add Equipment bar. After adding the machinery, all of your search results will only include parts compatible with the 259D Compact Track Loader.
2. My Equipment Feature
The newly implemented "My Equipment" feature allows you to save the machines and equipment in your fleet to your online account, storing information on the equipment you regularly search for. This makes it much quicker to conduct future searches and find parts for your machines.
Additionally, you can customize your saved equipment by adding nicknames for them, making it easy to distinguish between pieces of machinery. The "My Equipment" feature also makes it simple to verify you're purchasing the right parts for your machinery, as it provides a "verification checkmark." You now have the ability to personalize your results by easily adding or removing equipment and machine details.
3. Equipment Compatibility Verification
Our new custom filters enable our users to verify that the parts they're purchasing are compatible with their equipment. When you search using a machine's serial number, you can easily filter your search to include only the parts compatible with the equipment's exact model.
To show you've found the right part, the website will display a green checkmark beside the component. We've also taken great care to include a comprehensive amount of information for each product so you can confirm you've found the best fit. When you include a serial number with your search, our parts pages display comprehensive part and component diagrams, specifications and descriptions.
With part diagrams, you can see where the part you're buying is located on your machine, as well as information regarding nearby and related components. This wealth of information provides a better understanding of your equipment and more knowledge about other parts you may consider purchasing. This not only gives you peace of mind and reassurance that you're getting the right part, it can also help you plan for parts you might need in the future.
4. Smoother Checkout Process
One of the major benefits of Warren CAT's online parts ordering system is saving you time, with that advantage extending to the checkout process. With our latest enhancements to the checkout process, we've reduced the steps needed to complete your parts order by more than half. You'll now see billing and payment information collected on the last screen instead of in the middle of the process. This change improves the flow, reduces confusion and streamlines the process of finalizing your parts order and checking out.
5. Commitment to Progress
The continuous improvements to Parts.Cat.com, including these recent major updates, demonstrates Warren CAT's ongoing commitment to providing customers with the tools and services they need to support the valuable work they do. You can expect to see new features and revised tools in future updates, with a constant focus on making the customer experience of ordering parts online as easy, accurate and efficient as possible. You now have more information on Cat parts at your fingertips than ever before.
We are committed to making parts ordering for heavy machinery and construction equipment easy to understand, convenient and fast and will continue to add features and improvements to accomplish those goals.
Why Buy Online From Warren CAT?
Purchasing parts online puts dealership-level professional information at your fingertips. This access to more information can add efficiency to your business processes, increase your uptime and improve your profitability, allowing you more insight and control over your operations, parts and equipment.
With unmatched knowledge and expertise as well as an unrivaled Cat parts inventory and delivery network, partnering with Warren CAT is a sound business decision. When you work with us, you can expect to find the best parts availability, accurate information on the parts you're buying and quick, efficient transactions.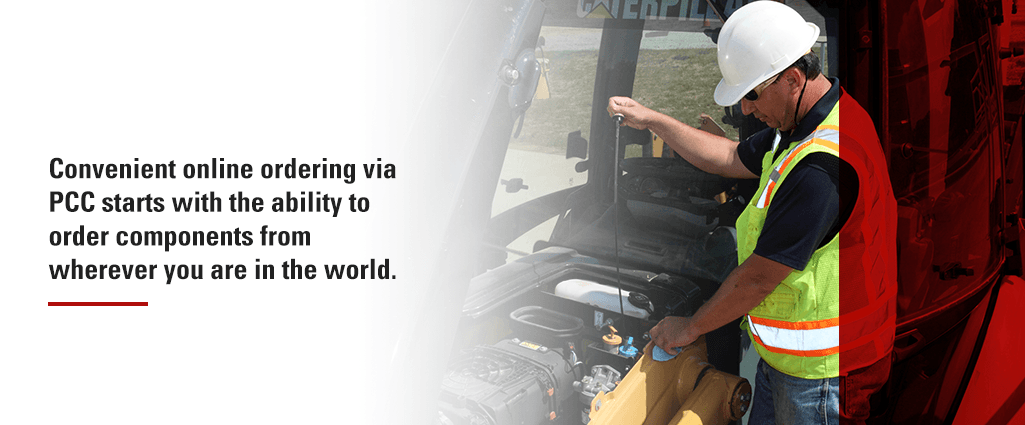 Convenience
Parts.Cat.com gives you the ability to order components from virtually anywhere in the world. Whether you're in the office, working in the field or at home for the evening, your parts are available.
You can also purchase parts directly from the Cat App using a tablet or smartphone. This easy-to-use and intuitive app allows you to purchase parts quickly from a job site without making a call or returning to the office to use your computer. Additionally, our improved transaction checkout process requires fewer clicks and offers a more intuitive display of information.
For those who'd rather pick up their parts, we have over 150 drop box locations throughout Oklahoma and West Texas. These drop boxes enable us to deliver parts to a nearby location as fast as possible. Some of our stores even offer Curbside Pickup for buyers who prefer not to go into a store but need to pick up parts on the go.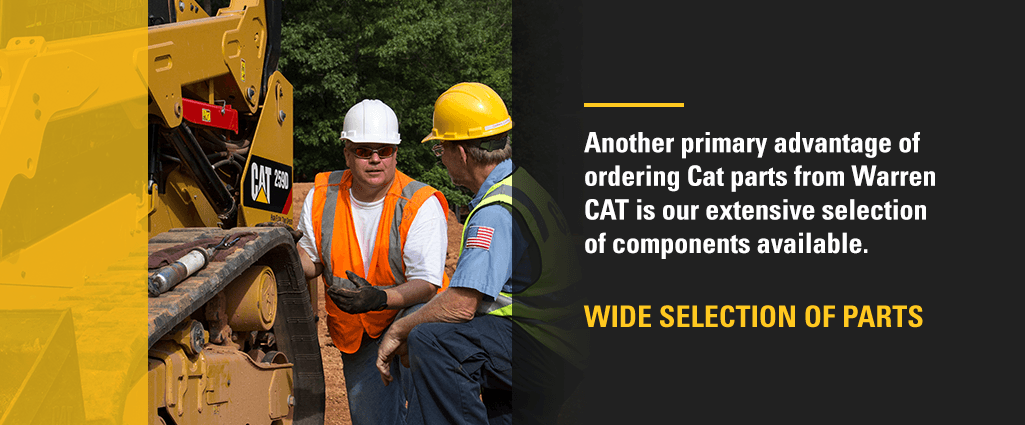 Wide Selection of Parts
Another primary advantage of ordering Cat parts from Warren CAT is our extensive selection of components available. We have over 135,000 line items in stock and a total inventory investment of over $30 million. This wide selection of parts ensures you can always find the one you need for your Cat equipment as quickly as possible.
When you purchase a part, you can also select where you want it to be delivered with several delivery options available for your convenience. You can select to have the order sent directly to you, or you can choose to pick it up at a store location or from a drop box.
Fast Service
When a part in a piece of machinery breaks down on the job, you need to replace it quickly. Waiting for parts can lead to significant downtime on your worksite. Downtime can lead to project delays, extra expenses and unsatisfied clients. Working with a company that can get you parts promptly is crucial to your business' success, and Warren CAT understands this.
Only Warren CAT offers a fleet of drivers covering over 7,000 miles per night, delivering to more than 150 drop box locations and 15 stores in Oklahoma and West Texas daily.
These prompt delivery options equate to fulfillment of 97% of parts orders within 24 hours. All of these services mean you can expect the parts you need, when you need them, limiting your downtime and supporting your business' success.
Our prompt deliveries are tied to our direct connection to the vast network of Caterpillar parts distribution centers. This connection means we can find your part and get it to you fast, even on the rare occasion that it is not in stock. No matter your Cat equipment model or year, you can trust us to provide you the parts to keep you up and running.
Ordering Alternatives
For the times when ordering online is not your preferred option, Warren CAT Parts professionals are always available by phone or in person. Our experienced staff can assist with any needs you may have.
Visit one of our locations or call 866-292-7736.
Order Cat Parts From Warren CAT
If you're looking for parts, Warren CAT is the smart choice for any individual, business or operation relying on Cat equipment. We're ready to deliver Cat parts to your chosen location across West Texas and Oklahoma. Take advantage of Parts.Cat.com for your next parts purchase. Warren CAT is also always ready to support your need for new and used machines and power systems, rental equipment, construction technology and service.
Browse our selection of Cat parts to find the perfect fit for your equipment. If you have any questions, feel free to contact us.