Rent Equipment in Odessa/Midland, TX From Warren CAT
More Warren CAT Odessa/Midland Locations
ODESSA EQUIPMENT RENTAL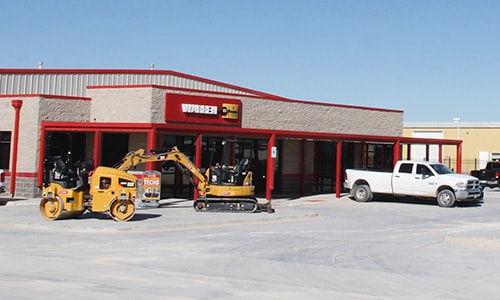 The ability to access top-quality equipment whenever you need it temporarily provides a major advantage for all different types of businesses. Warren CAT, the authorized Cat® dealer in Odessa, TX, is your reliable source for heavy equipment rentals in the Odessa region of West Texas. We are home to the most extensive rental inventory of construction and earthmoving machines, generators, attachments, parts and more manufactured by the worldwide leader, all backed by industry-leading service and support.
For more information and to speak with a knowledgeable member of our team, contact us online or give us a call at 866-292-7736.
RENTAL EQUIPMENT INVENTORY
Whether you need a single machine or an extensive fleet for a particularly challenging project, you'll find a large inventory suited to your needs at Warren CAT. In addition to our genuine Cat equipment, known throughout the industry for setting standards of reliability, productivity and durability, we also rent a variety of machines and equipment by other leading Allied equipment manufacturers. If you don't immediately find the models your project requires, we can help you find exactly what you're looking for through our extensive Cat dealer network.
As a total solutions provider, we offer a full range of Cat attachments for rent, making it possible to accomplish a variety of tasks with a single machine. From backhoes, buckets, couplers and compactors to forks, grapples, and material-handling arms, we always have what you need in stock. Our experienced representatives will assist in analyzing your project specifications to ensure you get the equipment and work tool rentals capable of getting the job done right.
BENEFITS OF WARREN CAT EQUIPMENT RENTALS
When your business requires a short-term or temporary equipment solution, renting is an effective, economical option to keep your operations running, whether you're replacing a piece of equipment that's down for maintenance, have a one-time need for a specific model or attachment, or need to expand your fleet during a busy season. Renting is also a great way to test out a machine before committing to a new purchase.
Warren CAT also makes renting in the Odessa region easy with flexible daily, weekly, monthly and longer-term rental plans to fit your budget. You only pay for the equipment you need when you need it, helping reduce your operating costs by eliminating related expenses for service, transport and storage. From in-store pickup or delivery with fast, easy setup at your work site to ongoing support and available around-the-clock emergency service, you'll see why Warren CAT is the convenient choice for equipment rentals in Odessa.
Further benefits include:
Expertly maintained rental equipment by skilled, factory-trained technicians
Rental agreements and terms that meet your project requirements and fit your budget
Assistance with project analysis and equipment recommendations suited to your project and work environment
Rental service and support focused on cost-effective solutions and dedicated to 100 percent customer satisfaction
CAT RENTAL EQUIPMENT
At the Warren CAT Rental Store in Odessa, TX, you always have access to the latest equipment models of earthmoving and construction equipment featuring cutting-edge technology developed by the Caterpillar® brand.
Our Cat equipment for rent offers improved control, productivity and safety, along with rugged components and construction to withstand the most challenging working environments. You benefit from industry-leading operator stations and intuitive controls that help drivers of all experience levels improve precision and efficiency.
Additional features and benefits of our inventory of Cat equipment include:
Powerful and fuel-efficient engines meeting most EPA regulations
Ergonomically designed cabs that reduce operator fatigue
Compatibility with a complete range of Cat work attachments
Technical support from your local Cat dealership
EQUIPMENT RENTALS FOR YOUR INDUSTRY
Warren CAT is proud to partner with hard-working businesses in Odessa and across our Oklahoma, West Texas and Texas Panhandle service area. Whether your industry is construction, landscaping, governmental, agriculture or something else, we're fully equipped to meet your requirements. Our experienced team understands your specific tasks and challenges and will work with you to develop economical solutions that improve your bottom line.
We provide equipment and tool rentals for:
Residential and commercial construction projects
Road-building, maintenance and repair jobs
Mining and aggregate sites and facilities
Private and public event production
General site support and many other applications
CHOOSE THE TRUSTED SOURCE FOR RENTAL EQUIPMENT IN ODESSA
At Warren CAT, we're proud of our reputation as a world-class heavy equipment dealer offering a complete range of products and services. Whether you visit us at our Odessa equipment rental store or any of our other locations throughout West Texas, the Texas Panhandle and Oklahoma, you'll find the quality, selection and value you need, along with unmatched customer care.
We encourage you to stop by our Odessa location — one of our knowledgeable sales staff will be happy to walk you through our rental inventory and help you find the best equipment for your needs. You can also contact us online or by phone at 866-292-7736 to get more information.
Our available inventory of rental machines and equipment includes:
Cat Machines
Allied Brand Equipment