Warren CAT Power Systems Sales & Service in Midland/Odessa, TX
More Warren CAT Midland/Odessa Locations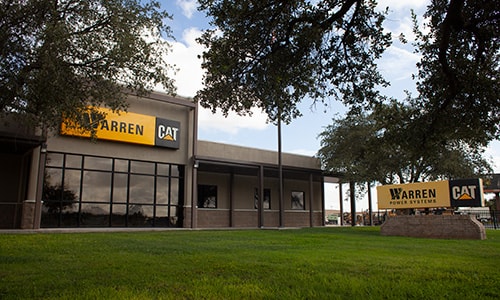 Warren CAT of Midland, TX, is the headquarters for your heavy equipment and power needs. This location serves as your one-stop location for equipment rentals, new and used construction equipment purchases, power systems, complete parts and service. Our machine services include product health, hose and couplings, major component service and much more. We represent the following divisions of our company in Midland:
Equipment Rental In Midland, TX
A machine that is out of commissions for even one day can significantly reduce your business's productivity. If you have any type of temporary heavy equipment need, our Rental Division can fill it in a hurry! We're your complete source for fast and reliable industrial, construction, power and farm equipment rentals that can save the day. With Warren CAT in the neighborhood, the right piece of equipment is never far away.
Our equipment rentals in Midland, TX, and the surrounding regions make sense for businesses of all types and sizes. It's a cost-effective way to get the machines and tools you require without the large capital expense of purchasing new or used equipment. You get the late-model, well-maintained machines necessary to increase productivity, backed by customer service and support dedicated to your complete satisfaction.
When you choose to partner with Warren CAT for a construction equipment rental or tool rental in Midland, TX, you benefit from:
One of the largest selections in the area – Our rental fleet is populated with genuine Cat® equipment and productive and reliable machines by Allied manufacturers that have been thoroughly tested and serviced by factory-trained technicians
Expert guidance choosing the right machines – Our staff is made up of industry professionals who will assist in analyzing your needs in order to recommend the most efficient and effective solutions
24/7 account access via our online system – Find the products you require, reserve units, make payments and manage your account from the convenience of a computer or smartphone
Flexible rental terms – Choose to rent construction equipment by the day, week, month or longer, or swap out models based on your changing project requirements
Machine Division
Warren CAT is the exclusive authorized dealer for Cat equipment in Texas and Oklahoma. We carry more than 300 types of new Cat equipment for your construction, mining and other industrial needs. We also offer a wide assortment of top-quality Cat-certified used machines and Allied manufactured preowned equipment that provide excellent value for your heavy equipment dollar.
We strive to make the process of purchasing new or used equipment as simple and straightforward as possible. As a single source for all your needs, we offer:
Exclusive selection of new equipment that sets the bar for durability, reliability, safety and performance in the industry
Used equipment ranging from late model machines in like-new condition to more experienced models capable of fitting your budget and your needs
Competitive prices, flexible financing, frequently deals and promotions and extended warranty options available
Ability to track down specialty items through our extended network of Cat dealers.
Power Systems Division
For decades, Caterpillar® has been synonymous with power equipment excellence. Warren CAT is pleased to offer complete power systems consisting of Cat gensets, switchgear, automatic transfer switches and flywheel-based uninterruptible power supply units, as well as a host of individual power equipment pieces. Our power equipment service in Midland, TX, includes complete system design, installation and maintenance.
We offer new and used sales as well as a large inventory of rental power systems and related equipment. Whether you need a diesel generator rental in Midland, TX, or emergency repairs in the surrounding areas, we're fully equipped to serve you.
Parts Division
When you need supplies for preventive maintenance or parts and components to complete a repair, Warren CAT offers a comprehensive selection. We carry new, used and remanufactured parts for machines manufactured by Caterpillar and other Allied brands. We can even track down difficult-to-find parts, tools and components through our position in the Cat nationwide network of dealers.
Service Division
Preventive maintenance and timely repairs are key to ensuring you get the best return on your heavy equipment investments. Warren CAT backs up our new and used machine sales and construction equipment rentals in Midland, TX, with full-service maintenance and repairs. From annual inspections and basic services to cutting-edge fleet monitoring and management, our experienced team of technicians specializes in providing solutions that help reduce downtime and increase productivity.
Your Equipment Sales and Service Partner
The experts at Warren CAT are always ready to provide superior heavy equipment sales and service to Midland businesses like yours. Call us today or stop in at one of our locations!