Cat® Machine Service In OK & TX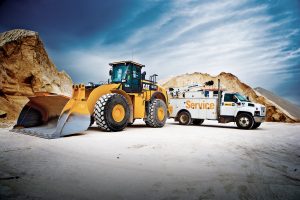 Warren CAT offers service, maintenance and repairs for all Cat equipment. With convenient locations throughout Oklahoma, West Texas and the Texas Panhandle, you can count on us for certified machine and component rebuilds, hydraulic repairs, undercarriage service, welding, fabrication and more, while our extensive parts inventory ensures that most repairs can be turned around quickly.
Contact us online now for machine service, or call 866-292-7736.
Your Partner for Service, Repairs and More
At Warren CAT, we work with you to provide total fleet solutions that keep you productive and profitable at all times. Using sophisticated diagnostic tools and the expertise of our technicians, we identify problems before they become an issue, so you can plan for repairs accordingly. We also offer on-site emergency support with our team of field technicians and fleet of mobile service trucks.
Routine service and preventative maintenance are essential to avoiding equipment failures at critical moments. And while proactive inspections and repairs are essential at any age, they become even more important as machines get older. The Warren CAT team of service experts can help develop a maintenance and service plan for your machine to fit your budget and keep your machine running at its optimal best.
Benefits of Routine Machine Service
Routine service and maintenance is the easiest, most efficient and most cost-effective way to keep your machine working at its peak performance while avoiding unanticipated downtime and lowering operating costs. If your machine is only working at 80%, that's a 20% loss in productivity over the course of the week — the equivalent of a four-day job taking five days to complete.
Backhoes and Excavators: With large buckets and heavy loads, backhoes and excavators often experience significant stress both in their undercarriage and hydraulic components. Our service department can provide hydraulic diagnostics as well as convenient preventative maintenance packages that include regular inspections and service every 10, 50, 100, 250 hours and more.
Dozers: Undercarriage repairs for wear and stress also account for a substantial portion of a dozer's ongoing service expense. Whether you have a small dozer used for landscaping and light construction or a heavy-duty dozer operating in harsh environments, regular service helps minimize wear and extends the life of your equipment's tracks, pins, bushings and other vital components.
Track Loaders: Like dozers, track loaders also benefit from routine undercarriage service and maintenance. And their easily accessible components make regular maintenance fast and easy. We can even provide training for your crew and company on daily basic maintenance, or arrange for periodic service calls by our team of mobile field technicians.
Skid Steer and Wheel Loaders: Cat skid steer loaders offer power, agility and versatility in a compact size, for a range of applications including agriculture, landscaping, general construction and more. And wheel loaders, small to large, are relied on for tasks from basic material handling to recycling and waste management applications. It's important to keep these machines in peak operating condition with regular service and inspections.
Motor Graders: Cat motor graders are advanced machines with sophisticated electronics, drawbar systems and hydraulic components requiring specialized equipment and training to keep in optimal working condition. Regular inspection and service will ensure your machine always perform at its best.
Telehandlers: These advanced machines rely on their hydraulic systems and undercarriages to be in peak operational condition so your crews can rely on them to perform safely and protect against on-the-job accidents. You can depend on Warren CAT for regular service expertise, hydraulic repair and undercarriage maintenance.
Dump Trucks: The workhorse of many construction fleets, a well-maintained articulated truck engine can be expected to last a million miles or more, while other components can be replaced or refurbished as necessary, effectively giving these machines an indefinite lifespan. Warren CAT can service all types of chassis, beds, hydraulics and other dump truck components.
__________________________________________________________________________________________
Read Our Helpful Articles