Keep your Cat® equipment operating at top performance with Yellowmark aftermarket parts from Warren CAT. Yellowmark parts are manufactured by Caterpillar® and designed by the same engineers behind the brand you know and trust. These affordable parts are compatible with the full line of Cat compact and medium-sized construction equipment, including: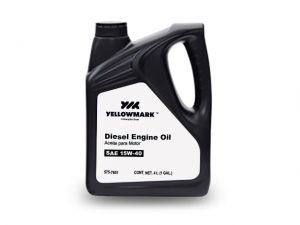 Yellowmark provides an affordable alternative to genuine Cat parts, with a growing list of more than 6,000 new parts available, including drive trains, engine components, oils, cutting edges, undercarriage parts, exhaust manifolds and mufflers, valves, water pumps, fuel system components and much more. These aftermarket parts will keep your equipment on the job, with the reliability you expect from Caterpillar at a competitive price.
AFFORDABLE AFTERMARKET CAT PARTS AT WARREN CAT
Whether you have a single piece of Cat equipment or manage a fleet of machines, Warren CAT is your local partner for service and support. With access to the entire catalog of Yellowmark parts, as well as significant inventory throughout Texas and Oklahoma,Warren CAT offers personal assistance with placing orders, multiple local parts pickup locations and delivery service to reduce your downtime and help you get the most out of your investment.
When you partner with Warren CAT, you'll gain the advantage of personal support dedicated to your success right here in your neighborhood. With more than 45 years of experience serving OK and TX, we have what it takes to meet your equipment needs with the right aftermarket Cat parts. If you're ready now, you'll find that it's easy to order Yellowmark parts online 24/7 for fast delivery to your site, any of our locations or one of our many local drop boxes.
YELLOWMARK VS. GENUINE CAT PARTS
Yellowmark offers the best in low-cost parts solutions compared to Cat genuine and reman parts, and unlike those products, Yellowmark parts are made for one-time use. Designed and manufactured by Caterpillar, they'll offer the reliable form, function and fit you expect from an OEM part.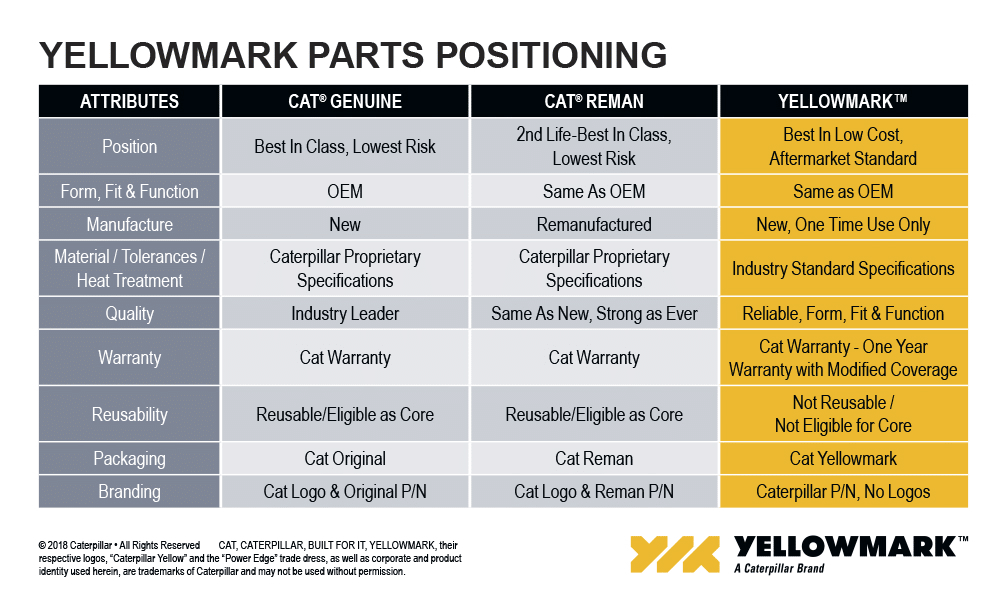 While Cat parts are made to proprietary specifications, Yellowmark parts are built to the industry standard. In the way of support, all Cat parts are backed by the standard Cat warranty, while Yellowmark parts have a modified Cat warranty that's valid for one year after purchase.
FREQUENTLY ASKED QUESTIONS
Some of the most frequently asked questions about Yellowmark parts include:
Why choose Yellowmark parts? Yellowmark parts are cost-effective solutions for getting your equipment back online and keeping it running without paying a premium price.
Who makes Yellowmark parts? Caterpillar makes Yellowmark parts for use with Cat machines.
Are Yellowmark parts used? Yellowmark aftermarket parts are packaged new and are not used or remanufactured.
How are Yellowmark parts different from aftermarket parts? Yellowmark parts offer the quality, dependability and performance of a Cat product at an aftermarket price.
ORDER YELLOWMARK AFTERMARKET CAT PARTS
Save money with reliable aftermarket parts made by Caterpillar — the global standard for heavy equipment. At Warren CAT, you'll find affordable Yellowmark parts solutions to support the drive train, undercarriage, engine or other component of your Cat machine. For more information, contact us today.