WARREN CAT POWER SYSTEMS SALES & SERVICE IN OKLAHOMA CITY, OK
More Oklahoma City Warren CAT Locations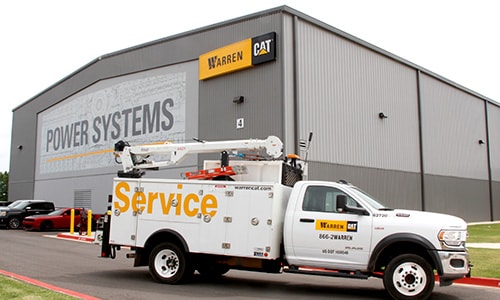 On Ann Arbor Ave. in Oklahoma City – just down and around the corner from our main Warren CAT store – you'll find Warren CAT Power Systems, your complete source for power equipment and total power systems solutions. When your business operations or mission-critical systems rely on continuous, reliable power, you want the peace of mind that comes from using power equipment manufactured by Caterpillar®, the global leader in power systems. We can help you with your purchase of new or used power systems or power equipment rentals, as well as parts and service to maintain the health and performance of your equipment.
Power Systems Equipment
From diesel generators and temperature control units to air compressors, water pumps and light towers, Warren CAT carries a wide selection of new power equipment. For budget-conscious buyers, we also have a large inventory of pre-owned power systems and equipment meticulously tested and serviced for performance and reliability. Whether new or used, you always receive the quality, selection and value you expect, backed by customer service and support dedicated to your total satisfaction.
As a full-service new and used power equipment dealer in Oklahoma City, we offer:
Expert guidance selecting power systems to fit your project or job site requirements
Competitive prices on new and used generators and engines from Caterpillar
Customized financing and lease agreements along with flexible payment plans
Extended warranty options to protect your power system investments
Access to state-of-the-art technologies that bolster and improve productivity and safety
Power Systems Services
If you need a partner capable of helping you gain the best performance from the power equipment in your fleet, Warren CAT is your one-stop source for every power system requirement you have. We offer comprehensive, dependable power services and repairs for industrial and commercial facilities ranging from basic maintenance, service and testing to repairs of engines and critical parts and components.
Whether you need diesel engine service or work on any other type of power equipment, our experienced team will provide the timely support you require to keep your Cat® engines and generators operating in peak condition. As your source for power systems and engine service in Oklahoma City, we offer:
24/7 repair and maintenance in our shop or in the field
In-house manufacturing services to meet the highest quality standards
Experienced, factory-trained engineers, electricians and service technicians
Service backed by the Caterpillar support network
Generator, Engine and Power System Parts
Warren CAT offers a complete selection of new and remanufactured parts to help you efficiently maintain and repair your mission-critical power equipment. We carry an extensive inventory of used generator parts, engine parts and other solutions at our Oklahoma City location. With daily deliveries, convenient drop box locations and a knowledgeable and attentive staff, you'll never have to wait long for the products necessary to maximize the productivity of your power equipment.
Advantage of Buying Cat Power Equipment
When you purchase a Cat engine, generator or related power system solution, you're getting a product designed and manufactured by one of the most innovative and respected brands in the industry. As the authorized Cat dealer in OKC serving clients across Oklahoma, West Texas and the Texas Panhandle, we offer world-class customer care and ongoing support to increase the value of your equipment investments.
Get In Touch With Warren CAT in OKC
Whether you need a new power generation solution, need to schedule service for your existing power equipment, or need engine parts for an emergency repair, Warren CAT Power Systems in Oklahoma City is your single destination for all power system projects, large or small. For more information, visit us in person, call 866-292-7736 to speak with a live representative or fill out our online contact form.