Put it on Your Cat Card
Parts, Service, Rentals & More
The Cat Card is the smart and easy way to pay for all that your equipment requires and helps you get what you need to get the job done. Use the Cat Card for parts, service, rentals and equipment purchases. Use it to pay for peace of mind by purchasing CVAs and protection plans. Need an engine or an attachment? Put it on your Cat Card to get special offers and earn Rewards that pay you back. The more you spend, the more you earn.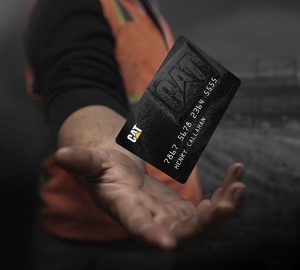 How to Earn & Spend Cat Card Rewards
Wherever your work takes you, the Cat Card is the convenient and cost-effective way to purchase Cat Equipment, Parts, Service and Rentals across North America. Use it just like a credit card at Warren CAT, the Warren CAT Rental Store and Parts.Cat.com to start earning your Cat Card Rewards. You'll receive your rewards via email, which you can then use toward your next purchase.
Other Cat Card Benefits
In addition to the convenience, special offers and Cat Card Rewards, your Cat Card also offers:
Easy management of multiple users with one account
Expense tracking per job
No annual fee and competitive rates
Apply for your Cat Card today to start receiving your benefits.

Apply Now Learn More