Diesel Engine Service and Repair
When you depend on diesel engines to power your business, regular, high-quality maintenance is essential. Diminished performance or unexpected malfunctions result in a loss of work hours, reduced productivity and costly repairs. Warren CAT has the expertise to maintain and repair all types of diesel engines for a broad range of industries.
We equip our team of Cat®-trained technicians with the innovative technology, tools and techniques necessary to perform the services you rely on to keep your diesel engines running. Our capabilities include everything from basic maintenance tasks like changing your oil, to performing advanced fluid analysis and providing field repairs on critical components in emergencies. Whether you need a specific repair or want to leverage planned maintenance to minimize downtime, Warren CAT is your source for trusted service.
Meeting Critical Equipment Repair Requirements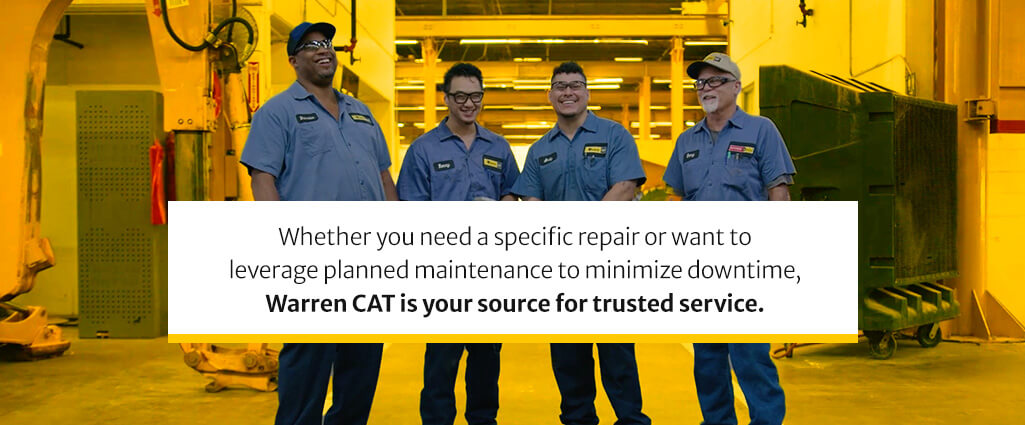 Whether you need planned service to extend your engine's longevity or you need a full engine rebuild, we have the extensive experience necessary to get your equipment running optimally and help you get back to work. Our technicians can service diesel engines for any Cat equipment, including the machines you depend on for essential tasks in industries such as agriculture, construction, landscaping, material handling and power generation.
See the Cat difference when you choose Warren CAT for diesel engine service. Even without a sudden failure or broken components, your equipment will benefit from:
Winterizing: Prepare your equipment for cold temperatures to prevent damage. Winterizing encompasses several preventive maintenance tasks including fuel treatment and battery preparation.
Repairing or replacing components: The parts you put into your Cat equipment matter. We can minimize wear and tear, limit corrosion, and keep your engine running reliably and efficiently with authentic, high-quality Cat parts.
Regular cleaning: Oil, dirt, grease and grime buildup can directly impact how long your machine will survive. A clean engine operates more efficiently, lowering operating costs and maximizing your return on investment by extending your equipment's life.
Recommended fluid and filter changes: Depending on your application, you may need to change these more frequently. Regular inspections and service ensure fluids like oil and coolant, and filters like oil, fuel and air filters perform correctly.
CAT Engine Service
Diesel engines manufactured by Caterpillar are designed to deliver impressive power, fuel efficiency and exceptionally long service life. As an authorized Cat dealer, Warren CAT provides top-quality diesel engine services backed by peerless product knowledge and customer care. With convenient locations for maintenance, service and repair throughout our service area, you'll never have to travel far or wait long for the world-class service we offer, including:
Attentive support from live representatives
Genuine Cat diesel engine parts
Fast and precise Cat engine repairs
Around-the-clock emergency repair services
State-of-the-art mobile capabilities for service in the field
The Warren CAT Difference in Diesel Engine Service
Whether you require emergency diesel engine repairs or a more effective maintenance program, we are uniquely equipped to meet your needs. We can assist in analyzing your equipment fleet to develop and prescribe solutions for lowering long-term operating costs while improving engine performance. Additionally, we can provide service for all brands of diesel engines, fast response times and 24/7 technical support. We can also reduce costs with economical used or rebuilt part solutions.
If you want to find more ways for your company to save while taking care of your equipment, consider our Customer Value Agreements (CVAs). A Warren CAT Customer Value Agreement ensures you can access the specific parts and services you require while remaining within your budget, maximizing uptime and improving productivity.
Don't leave the productivity of your business to chance. Warren CAT takes the worry and guesswork out of diesel engine maintenance and critical engine repairs, letting you focus on building success.
Schedule Engine Service
Caring for modern diesel engines is an increasingly complex and time-consuming task. Regular diesel engine service is essential, but it can be challenging for companies to take on these tasks internally. Beyond gaps in knowledge and lack of time, your crew may not have access to the tools and technology necessary to complete inspections, maintenance and repairs. Warren CAT is the authorized Cat dealer for West Texas, the Texas Panhandle and the state of Oklahoma, positioning us to provide diesel engine service for Cat equipment across the region.
Call 866-292-7736 to schedule diesel engine service, or contact our team online.