CHOOSE YOUR WAY TO CUT COSTS
The Great Payback Event means you can own your machine — and the competition. With two great options, the choice is yours. The savings will be, too.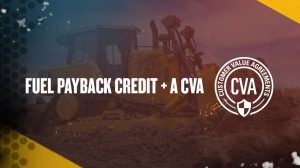 1.99% FINANCING FOR 48 MONTHS + CVA
Lower your payments and free up cash with this great financing rate.
OR
FUEL PAYBACK CREDIT + CVA
Get account credit for the first 1,500 hours or 36 months of fuel, whichever comes first.
The Great Payback Event includes a Cat Customer Value Agreement (CVA), featuring a 3-year/5,000-hour Equipment Protection Plan, 5,000 hours of Planned Maintenance with Genuine Cat® Parts, Cat fluids, connectivity with Cat.com or VisionLink®, and S•O•SSM with expert dealer support.
EASY TO OWN. READY TO WORK. THAT'S A CVA.
THE GREAT PAYBACK STARTS HERE
JUST FILL OUT THIS SHORT FORM TO TALK TO YOUR LOCAL CAT DEALER.
Offer good for qualifying customers from January 1, 2020 – September 31, 2020 on select new models at participating Cat dealers. Not all buyers will qualify. Financing is subject to credit application and approval through Cat Financial. Financing offer is available to qualifying customers in the USA and Canada only. Financing offer is based on a monthly payment frequency on an installment sale or conditional sales contract with no skips. See your participating dealer for details.
ENROLL IN THE FUEL PAYBACK PROGRAM
Congratulations on owning a new Cat machine and selecting the Fuel Payback Credit bundle! In order to receive your fuel payback credit, you must complete the enrollment forms located on my.cat.com. It's fast and easy:
LOG IN TO YOUR MY.CAT.COM ACCOUNT (PartsStore, parts.cat.com, Cat Rewards, SIS are all valid logins) If you have not enrolled in a my.cat.com account:
— Go to my.cat.com
— Select SIGN UP
— Complete the information
— Get notification that your Cat dealer has activated your account
TO ENROLL YOUR MACHINE, IN THE NAVIGATION BAR AT THE TOP OF THE MY.CAT.COM SCREEN UNDER MY ACTIVITIES, SELECT "Fuel Program."
COMPLETE THE FORMS and SUBMIT.
CALCULATE YOUR MONTHLY PAYMENTS
Our online calculator makes it easy to determine your monthly payment and total investment. Just plug in the price of your new Cat machine, the 2.99% interest rate and the 48-month term to get a quick estimate.