Rent Machines and Equipment in West Tulsa, OK From Warren CAT
More Warren CAT Tulsa Locations
Tulsa Machine and Equipment Rentals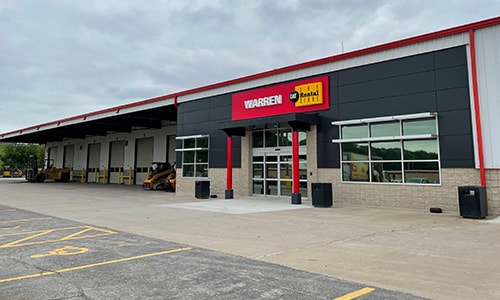 Whether you're a growing business looking to expand your capabilities while managing your budget or you have a short-term — or even one-time — application that calls for a specific machine, having a reliable source for temporary equipment is an operational advantage. Now businesses in and near Tulsa, OK have the advantage of our Tulsa West Warren CAT Rental Store when needing to rent heavy equipment and related machinery.
As one of the largest and most experienced dealerships in the region, we offer the quality equipment and tool rentals you're looking for at competitive rates. Our highly trained team can analyze your needs and identify solutions that make the most sense for your business.
Contact us online or give us a call at 866-292-7736 to speak with a knowledgeable representative.
Browse Our Rental Equipment Inventory
As the Authorized Cat® Dealer in Eastern Oklahoma and the surrounding areas, Warren CAT is the go-to source for the rugged durability and performance of industry-leading machines. In addition to a full line of Cat earth-moving and construction machines and attachments, we offer Allied brand equipment capable of standing up to the most rigorous applications. Whether your business is in construction, mining, waste management or another industry, we have the equipment and inventory to support your needs.
Benefits of Warren CAT Equipment Rentals
It is not uncommon for businesses to have the need for specific equipment, attachments or machines on a short-term basis. Warren CAT Rental Services make it possible for a wide variety of companies to temporarily increase their capabilities while keeping costs down. Our Tulsa equipment rentals help avoid having to purchase new machines while lowering long-term owning and operating expenses. Renting means you only pay for the equipment you require when you have a use for it and gain the flexibility to swap models based on changing projects specifications.
Whether you need to boost your fleet capacity for a busy time or unexpected project, need to replace the lost productivity of a machine that's out for service, or you need an emergency tool or attachment delivered to your work site, Warren CAT has the inventory and broad capabilities to meet your needs. And if you don't see exactly what you're looking for, our knowledgeable Rental Service experts can help you find it quickly through our Cat dealer network.
Additional advantages of renting heavy equipment at Warren CAT includes:
A large inventory of late-model, low-hour rental equipment that is routinely serviced and inspected to ensure optimal performance
A complete selection of machine attachments and tool rentals to maximize the versatility of your fleet
Flexible daily, weekly, monthly or longer-term rental agreements, so you only pay for the equipment you need when you need it
Quick, easy pick-up or delivery to and from your work site
Service and support dedicated to 100% customer satisfaction
Renting Caterpillar Equipment in Tulsa
The Caterpillar® brand calls on over 85 years of engineering and manufacturing excellence to deliver the most innovative and advanced construction machines on the market. Within our rental inventory, you'll find genuine Cat equipment that represents the highest levels of reliability, productivity and performance. From industry-leading power and efficiency to the latest productivity and safety technologies, there are many advantages of renting a Cat.
Other features and benefits of our well-maintained Cat equipment for rent include:
Comfortable cabs for reduced fatigue and improved operator performance
Robust construction and components capable of withstanding the toughest conditions
Compatibility with Cat work tools and attachments for increased versatility
Comprehensive Rental Equipment Support
From peerless product knowledge and expert advice to live technical assistance and 24/7-emergency support, there's a reason why we're a leading source for heavy equipment rentals in the Tulsa region. At Warren CAT, we back every rental with the world-class support and service you want and expect from the Caterpillar brand. We want to be your reliable partner for rental machines, parts, maintenance and repair service and your dealer of choice.
Rental Equipment for All Industries
We provide machine and tool rentals for virtually any type of heavy equipment job or application. From general construction and contracting to landscaping, material handling and aggregates, you can rest assured our rental team understands the challenges of your local industry. We'll make sure you have the information to choose the rental products that fit your needs efficiently.
Get in Touch About Tulsa Equipment Rentals
Trust Warren CAT for reliable rentals in Tulsa, OK and across our service territory. Take the first step in finding your equipment rentals today by calling us at 866-292-7736, filling out our online contact form or visiting our Tulsa location to talk one-on-one with our team.
Our available inventory of rental machines and equipment includes:
Cat Machines
Allied Brand Equipment
Contact Warren CAT