Rent Power System Equipment in Tulsa, OK From Warren CAT
More Warren CAT Tulsa Locations
TULSA RENTAL POWER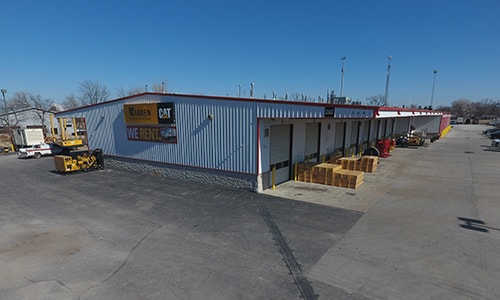 Blackouts, equipment failures and attempting applications beyond the capabilities of your power systems can result in a loss of productivity and potentially dangerous work conditions. When your need for power equipment and generators is only temporary, it pays to have a reliable local partner that you can depend on for quality power equipment rentals. As your partner for your power systems support, we offer broad experience as an Authorized Cat® Dealership to deliver the solutions you need to decrease downtime and operating expenses, helping improve your bottom line.
Contact us online or give us a call at 866-292-7736 to speak with a knowledgeable representative.
WARREN CAT RENTAL POWER EQUIPMENT
Warren CAT Power Systems in Tulsa has a huge inventory of power equipment for all your rental needs. Our selection of Cat and Allied power equipment rentals includes industrial engines, portable generators, temperature control units, light towers, air compressors, water and trash pumps, and more. No matter the size of the application or the complexity of the challenges, we'll help tailor a rental power systems solution uniquely suited to your requirements.
Additional benefits include:
A large fleet of low-hour power equipment featuring the latest technology
A broad range of model sizes to meet your power needs efficiently
Complete selection of air compressor tools and attachments
Ongoing service and support from your local Cat dealership
BENEFITS OF CHOOSING WARREN CAT FOR TULSA RENTAL POWER SYSTEMS
For short-term purposes, power equipment and generator rentals are a cost-effective solution for businesses looking to manage expenses while maximizing capabilities. And with our flexible daily, weekly, monthly and longer-term rentals, you will always have the power equipment you need only as long as you need it, with the ability to change and update equipment as your project needs change. Our rentals eliminate the significant expense of buying new while lowering costs relating to maintenance and repairs.
More reasons to partner with us for air compressor rentals and other temporary power system solutions include:
Advice and assistance from experienced rental power experts to select rental solutions that meet your need and fit your budget
Extensive inventory of equipment that is serviced and maintained by skilled technicians
The option of in-store pickup or delivery and set up at your work site location
Around-the-clock support and emergency availability
24/7 online access to rental power equipment product inventory and information
CAT POWER EQUIPMENT RENTAL IN TULSA
As the exclusive dealer in the region of power equipment and related products manufactured by Caterpillar®, we are the go-to source for generator rental units that set the stands for performance and durability.
When you rent Cat equipment, you get an advanced asset capable of delivering the power you need with lower emissions and increased fuel efficiency. Our line of Cat rental power systems includes portable diesel generators, natural gas generators and biogas generators configurable to your applications and regulatory requirements.
POWER RENTAL SOLUTIONS FOR ALL APPLICATIONS
The team at Warren CAT has the product knowledge and expertise to deliver cost-effective rental power systems for a broad range of industries. From backup and primary power generation to temperature control and air compressor rentals, we have you covered. Our Tulsa rental power division provides equipment for:
Powering tools and operations at a job site lacking a primary power source
Providing emergency power in the event of a natural disaster or blackout
Hosting a live event, concert, fair, festival and other outdoor gatherings
Keeping offices and facilities working in case of a planned or unplanned outage
GET IN TOUCH ABOUT RENTING POWER EQUIPMENT IN TULSA
Tulsa-area businesses never have to travel far or wait long to access the quality power rentals they need, on demand. Give us a call at 866-292-7736 or contact us online for additional details. Our experienced, live representatives can provide a free quote and assist you in placing your rental.
Our available inventory of rental power equipment includes: