Warren Cat Equipment Sales & Service in San Angelo, TX
1170 TX-306 Loop
San Angelo, TX 76905
325-482-1200
Location Hours:
Mon-Fri 7:30am-5:30pm
Parts Counter Weekend Hours:
Sat 7:30am-12:00pm
Contact Us Online
Services at this location:
More Warren CAT San Angelo Locations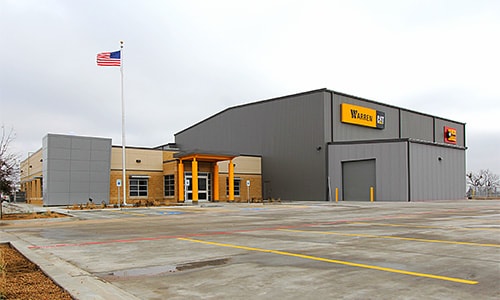 When your daily work depends on the reliability and productivity of your heavy equipment, you want and need a local source for cost-effective, quality support and solutions. Warren CAT provides the full range of Cat® machines and equipment that businesses in San Angelo, TX rely on most. A one-stop source for all your needs, we offer a massive inventory of new and used equipment, including top allied equipment brands, and we have rental services as well.
Machine, Parts and Power Systems
Warren CAT carries a full line Caterpillar® equipment and used equipment ranging from construction and mining machines to farm implements, and we also carry new and used Allied equipment from brands you know and trust. Whatever your need, you'll find the equipment capable of doing your heavy lifting.
Almost as important as the equipment itself are the parts you need to maintain peak performance. With our vast dealership network of parts inventory, we have a huge selection of parts available and can fill most parts orders within 24 hours if your part is not immediately available. And you now also have the convenience of ordering parts online anytime at Parts.Cat.com, with delivery directly to your location or to our San Angelo store for easy in-store pickup.
Warren CAT also offers state-of-the-art Power Systems solutions with a comprehensive selection of Cat and Allied brand power equipment that includes gas and diesel generator sets, light towers, compressors, engines and more. When you need a source of reliable, capable power in San Angelo, TX and the surrounding areas, we are fully equipped to meet your needs.
Industry-Leading Service and Support
In addition to supplying world-class machines and equipment, Warren CAT also provides equipment owners in San Angelo, TX with the highest levels of service and comprehensive support to keep you and your operations running at peak performance. Our team of highly-skilled, factory-trained technicians have the ability to work on all makes and models of equipment and is focused on delivering the best and most cost-effective solutions for your business.
We can assist you with the ongoing care and service of your equipment, including:
Basic maintenance such as fluid and filter changes
Brakes and battery service
Complex rebuilds and repairs of engines and critical components
Complete hydraulics services on cylinders and pumps, motors, valves, work tools and more
Certified rebuild programs capable of restoring old machines to "like-new" condition