Rent Equipment in Lubbock, TX From Warren CAT
More Warren CAT Lubbock Locations
LUBBOCK EQUIPMENT RENTAL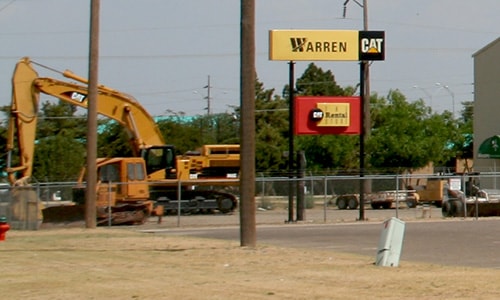 Whether you work in construction, agriculture, mining or any other industry that utilizes heavy equipment and machinery, there are times when you have applications that are beyond the capabilities of your existing fleet. If you're searching for a reliable source for equipment rentals in Lubbock, Texas, you'll find a complete range of cost-effective solutions at Warren CAT. From earth-moving and construction machines to material handlers and site support equipment, our rental team will help you find everything you need.
Get in touch by calling 866-292-7736 or contact us online today.
BROWSE OUR RENTAL EQUIPMENT INVENTORY
As the authorized Cat® dealer in the Lubbock, TX, region, Warren CAT is your go-to source for equipment rentals that sets the standard in the industry. Our large rental inventory of late-model, low-hour machines is expertly maintained to ensure maximum reliability and productivity on your job site. We offer an impressive selection of Cat rental equipment as well as top-quality aerial lifts, light towers, water trucks, rock crushers, screening plants and tool rentals from leading brands.
A heavy equipment rental is a perfect short-term solution to bolster your fleet capabilities or versatility when a major project comes along or when one of your machines is in for service and repairs. It's also a great way to try out specific equipment you may be considering buying. Whether you have a one-time application or are responding to emergency conditions, we'll work fast to help minimize downtime and improve your bottom line.
Our rental inventory features:
Reliable machines tested and maintained by factory-trained technicians
A wide variety of models and sizes in stock to ensure an efficient fit
Complete range of work tool attachments to configure equipment to your specifications
THE WARREN CAT RENTAL ADVANTAGE
Warren CAT is among the largest and fastest growing Cat dealerships in North America. We're proud to deliver superior-quality products and services to clients in hard-working industries in Lubbock and throughout Oklahoma, West Texas and the Texas Panhandle. When you rent Cat equipment, you know you're getting a machine that will deliver reliable and superior performance, regardless of the complexity of the task at hand.
From innovative safety and productivity technology and fuel-efficient ACERTTM engines to best-in-class operator stations and legendary power and performance, the advantages are many when renting a genuine Cat machine.
Additionally, when you partner with Warren CAT for your machine, tool and equipment rentals, you benefit from:
Flexible day, week, month or longer rental terms based on your evolving project requirements
Expert assistance in analyzing and selecting cost-effective, efficient rental solutions for your application and work environment
Our ability to locate hard-to-find models through our extensive network of dealers
Convenient rental equipment pickup in Lubbock, TX, or delivery to your job site
Complete maintenance services by highly skilled technicians with around-the-clock emergency support available
If you're in the market for new and used equipment sales, parts and services, check out our other Warren CAT location in Lubbock.
RENTAL EQUIPMENT FOR DIFFERENT INDUSTRIES
As an experienced heavy equipment company, Warren CAT understands your local industries and the challenges you face. We partner with businesses in general and heavy construction, contracting, material handling, mining, aggregates and many others. Whether you have a short-term need for an aerial work platform for bridge and road maintenance or compact machines for an extended landscaping project, we offer the models you're looking for, configured to your applications.
YOUR PARTNERS FOR LUBBOCK EQUIPMENT RENTALS
With a wide range of rentals at affordable prices, there's no better way to expand your fleet than with Warren CAT.
When you choose us as your tool rental provider, you benefit from a partner dedicated to your success. We offer a variety of flexible temporary solutions that eliminate the need to purchase new machines while reducing costs relating to storing and maintaining a larger fleet. From our easy-to-navigate website and fast turnaround to our commitment to superior customer service and technical support, we're the one-stop shop for everything you require.
Start expanding your fleet today by contacting us online, stopping by our Lubbock location or calling us by phone at 866-292-7736.
Our available inventory of rental machines and equipment includes:
Cat Machines
Allied Brand Equipment