Warren Cat Equipment Sales & Service in Enid, OK
More Warren CAT Enid Locations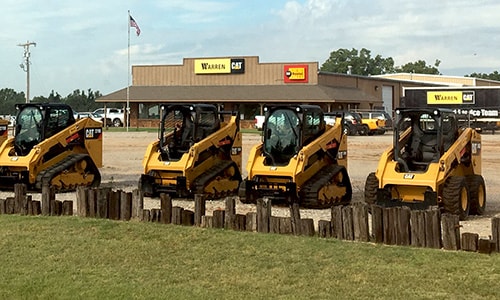 At Warren CAT in Enid, OK, we carry the full line of new Cat® machines and attachments, along with leading Allied manufacturer equipment and a full range of used equipment, including Cat-certified preowned machines. Throughout our dealership network, we maintain an inventory of more than 135,000 individual parts, and we provide customers with the full spectrum of world-class machine and equipment service, from basic and preventative maintenance to hydraulic service to complete engine and component rebuilds.
Heavy Equipment Sales and Parts
Whether your business is general construction, contracting, landscaping, mining, agriculture or any other industry that depends on the productivity of heavy machinery, you need equipment you can count on to do the job quickly and efficiently. Warren CAT specializes in Cat heavy equipment – backhoe loaders, articulated trucks, wheel loaders, track loaders and more – that offer the rugged reliability and superior performance that has made Caterpillar® the undisputed worldwide heavy equipment leader.
We also carry an inventory of top-quality used machines that meet the need for business owners who need to make every penny count. Whether you require a machine in like-new condition or a well-maintained, more experienced piece of equipment, we'll help you find the solution that fits your needs and budget.
The performance and productivity of your heavy equipment is directly linked to the quality of the parts you use to service and maintain it. As a one-stop shop for all your needs, we carry an extensive inventory of new and remanufactured Cat and Allied brand parts. If your part is not immediately available, we can typically have your part ready for pick up within 24 hours at our Enid parts counter or one of our 150 parts drop boxes. You can also order parts online at Parts.Cat.com with in-store pickup or delivery to your location.
Our sales and parts experts can help you track down difficult-to-find, specialty products or machines through our expansive dealer network. Whatever you need, it's our goal to make the process as quick and easy as possible.
Warren CAT Service and Support
As a comprehensive heavy equipment dealer, we provide a complete range of machine services that ensure your equipment investments continue to operate at peak performance. From basic preventive maintenance – oil changes, batteries, tires, belts, and brakes – to undercarriage work, fluid analysis, engine repairs and rebuilds, our skilled technicians are capable of servicing all makes and models of equipment. Whether you need single machine service or are wanting a custom-tailored fleet management solution, we're fully equipped to meet your needs.
At Warren CAT in Enid, OK, we are your local partner for heavy equipment sales, parts and service, with world-class state-of-the-art capabilities. Let our sales and service experts show you why we're the dealership of choice for businesses in Enid and across Oklahoma.