Rent Equipment in Dalhart, TX from Warren CAT
12006 US-87
Dalhart, TX 79022
806-244-8781
Location Hours:
Mon-Fri 7:30am-5:30pm
Services at this location:
More Warren CAT Dalhart Locations
Browse Our Rental Equipment Inventory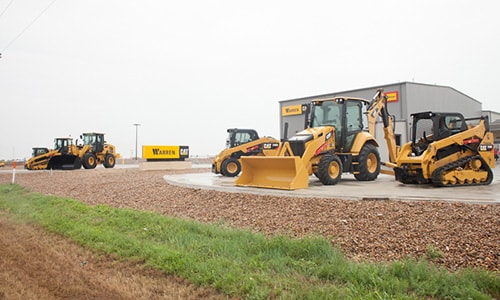 When businesses and projects in Dalhart, TX and the surrounding region need access to heavy machinery and equipment for temporary use, they trust Warren CAT Rental Services to help them increase their capabilities while controlling costs. We are the reliable and convenient choice for machine and equipment rentals, with a broad selection of low-hour Cat® equipment ranging from skid loaders and bulldozers to emergency standby generators and air compressors.
We offer flexible daily, weekly and monthly equipment rentals – a cost-effective and easy way to temporarily replace a machine undergoing service or repairs, to bolster your fleet for the busy season, or to even try out a piece of equipment before buying. Heavy equipment rentals in Dalhart help you maximize productivity while ensuring you only pay for the equipment you need when you have a need for it, saving you money by eliminating related expenses such as equipment storage, maintenance, and transportation.
Benefits of Warren CAT Rentals in Dalhart
Warren CAT Rental Service experts can also offer guidance on choosing the best equipment and attachments for your specific project or application. Plus, with a massive inventory of rental equipment in Dalhart, you never have to travel far or wait long for the service and support you expect. Additional rental equipment benefits include:
One of the largest construction equipment rental fleets in the Dalhart, Texas region
Exceptional quality machines carefully maintained by highly-trained technicians
Total maintenance and technical support with around-the-clock emergency availability
Competitive prices and convenient in-store pickup or fast delivery
Our available inventory of rental machines and equipment includes:
Cat Machines
Allied Brand Equipment