Miles Sims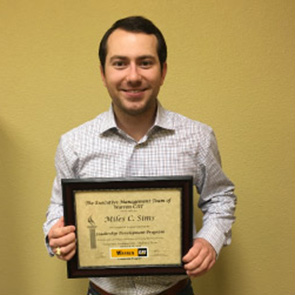 Name: Miles Sims
Current Title: Rental Operations Support Analyst
University: Texas Tech University
Major: Energy Commerce
Why did you choose to participate in the LDP Program?
I wanted to get on board with a good company but was unsure of exactly what I wanted to do. The program allowed me to see a whole score of jobs and responsibilities within the company, giving me opportunity to experience many different roles firsthand.
What types of networking opportunities have been made available to you?
On top of an existing alumni group who have been through the program, you get the chance to work with people in all areas of the company, giving you connections across divisions, which is incredibly helpful in whatever role you end up in.
What is the most important thing you look for when choosing a company?
I wanted a company with a friendly culture, opportunity for advancement and a stable career. At Warren CAT, I found all three. The people here are top-notch and down-to-earth. There is great room to grow within the company, and they take good care of their people.
What was your favorite part of the program?
Hands down, getting to work on the engines and equipment, and drive machines. Not only is it just plain cool, but you get a much better understanding of the products we sell and service by getting that hands-on experience. Who would turn down an opportunity to drive a D6T bulldozer?
What was your biggest take away from the program?
You get the chance to work with a lot of different people. You learn a lot about Cat parts and products, and even more about how to work alongside people from all walks of life. That is something that simply can't be taught.