Kevin Yeatman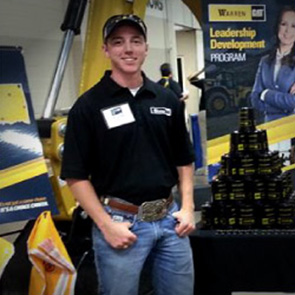 Name: Kevin Yeatman
Current Title: Inventory Logistics Manager
University: Oklahoma State University
Major: Agriculture Business/Minor in Marketing
Why did you choose to participate in the LDP Program?
I felt it would give me the best opportunity to start a career with Warren CAT.
How would you describe the Warren CAT culture?
In one word? Family. Warren CAT is really one great big family that is there for you.
What types of networking opportunities have been made available to you?
The networking possibilities through the LDP are endless. It's all about getting out of your comfort zone and getting to know al those you come into contact with.
What was your favorite project?
I got to tear down one of our old 398 Cat engines for overhaul. It started from a complete engine and I got to take it apart, piece by rusty piece.
What is the most important thing you look for when choosing a company?
A company that sees me as more than just another employee number.