Mark Baxter Testimonial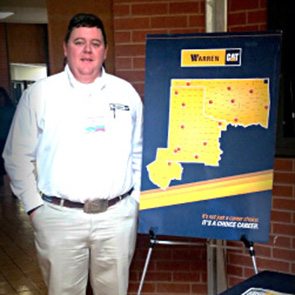 Name: Mark Baxter
Current Title: Rental Inventory Coordinator
University: M.S. & B.S. Angelo State, B.S. Texas A&M University
Major: Animal Science, Agricultural Science
Why did you choose to participate in the FLDP Program?
I'll be the 4th generation to work at Warren CAT and Caterpillar, Inc. After seeing the success my family had working here, and understanding the family values represented in the company, it was an easy decision.
What do you want people to know about the program?
The program not only gives insight into each and every department, it also makes, and your name, visible to all the top people within the company. Moreover, people are commonly promoted due to the well spent word of their peers. Through this program, you work hand-in-hand with people who can see your work ethic and can help in your promotion.
What types of networking opportunities have been made available to you?
I've had the opportunity to talk face to face with every Executive Management Team member, making myself known to each of them.
What is a typical day like?
Every day you are presented with a new challenge to observe and learn, so every day is not a typical day.
What is the most important thing you look for when choosing a company?
I look at the company culture and the ability to move vertically within the company.