Hydraulic Service and Repair in Texas and Oklahoma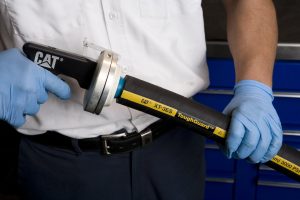 Warren CAT has been proudly serving equipment owners in Oklahoma, West Texas and the Texas Panhandle for decades. In recent years, hydraulic systems have become standard components in many types of heavy machines, providing substantial performance increases. Along with the sophistication of advanced hydraulic systems comes the need for specialized hydraulic repair service in the event of a mechanical malfunction or breakdown.
For hydraulic service and repair, contact us online or call 866-292-7736.
Our Comprehensive Hydraulics Services
Warren CAT offers turnkey hydraulics services to address your fleet's needs, from diagnostics and repairs to testing and inspections.
Hydraulics Maintenance
Being proactive saves money in the long term by preserving your equipment's performance and integrity. Our well-qualified technician team has the skills and resources to help you maximize your asset's value with preventative maintenance. As part of our hydraulics upkeep plans, our technicians follow your equipment's schedule to maintain your system's hydraulic cylinders, valves, motors and pumps.
More of a do-it-yourselfer? Our prepackaged planned maintenance kits contain everything you need to carry out the necessary upkeep on your schedule. We customize them for your specific equipment and its scheduled maintenance requirements.
Hydraulic Diagnostics and Troubleshooting
Identifying and resolving issues before they worsen is crucial to preventing downtime or unnecessary repairs and parts replacement. When your hydraulic systems don't perform up to your standards, Warren CAT can help with complex diagnostics and troubleshooting. Our technicians have advanced equipment and the know-how to evaluate operational issues and fix them right the first time, boosting your productivity and saving you money.
HYDRAULIC REPAIRS PERFORMED BY EXPERT TECHNICIANS
As our service business has grown, our hydraulic repair service capabilities have expanded to offer service on any make or model. Our service technicians receive professional training and have experience in all types of hydraulic repairs — from cylinders and pumps to motors, valves, hoses and work tools. Their expertise can help prevent costly oil leaks while maximizing your equipment's performance.
Additionally, we offer a full line of replacement hydraulic parts. When your system's components are beyond repair, we'll replace them with new genuine Cat hydraulic parts or help you keep costs in check with economical remanufactured solutions.
In addition to Cat® machines, we are capable of servicing a variety of equipment from other leading brands, including Sauer, Sundstrand, Danfoss and Bosch Rexroth. This includes assembly/disassembly benches, plus pre- and post-repair high flow and pressure test fixtures that meet the high load requirements of today's equipment, including excavators. No matter how complex the hydraulic repair task may be, we can get the job done quickly, efficiently and affordably.
State-of-the-Art Hydraulic Testing Facilities
Hydraulic testing helps ensure your machine's performance and delivers confidence in equipment reliability. Our hydraulic service shops offer a controlled indoor environment to help prevent contamination and maintain system integrity. Staffed with expert technicians and outfitted with state-of-the-art technology and equipment for repair and testing, Warren CAT hydraulic service facilities also have complete machining capabilities for cylinder rods, pistons, glands and entire cylinder groups.
As part of our testing services, Warren CAT technicians check:
Hydraulic motor and pump performance
Hydraulic valve and seal integrity
Hydraulic system pressure
Cylinder drift
With four contamination-controlled hydraulic centers strategically located in our operating territory — Odessa, Tulsa, Oklahoma City and Lubbock — we are proud to offer our customers superior hydraulic repair service, technical expertise and enhanced capabilities that our competitors cannot match.
Field service is also available by appointment or on an emergency basis in many locations. Please contact a Warren CAT team member for more information about on-site service and repair.
Hydraulic System Inspections and Contamination Control
Modern hydraulic systems perform with tighter tolerances and higher pressure, meaning close attention to preventing contamination is a must. Contaminated fluid is a leading cause of component failure and can contribute to premature wear and performance loss.
Warren CAT is equipped with the latest diagnostic equipment to quickly analyze and evaluate hydraulic system performance. Results from the various inspections and S·O·S fluid analysis are compared against new machine specs, and customers receive a complete report, including detailed recommendations for corrective action or adjusted maintenance schedules.
Contaminated hydraulics can cost you valuable productivity and profit every day on the job. In addition to losing valuable time, compromised hydraulic components can have a shorter life cycle, adding unnecessary expense. If hydraulic fluid is leaking out, it means harmful dirt particles that can cause significant damage are getting in. Cat filters, oils and seals are specifically designed for jobs required by your machine's hydraulic systems.
Hydraulic systems play an integral role in the efficient operation of today's Cat equipment. Our custom hydraulic repair services can optimize the performance of your equipment and reduce the need for costly repairs. Plus, you get peace of mind knowing your equipment is functioning optimally and is safe to operate.
Partner With Warren CAT for Your Hydraulic Service Needs
Maintaining your fleet's hydraulics is crucial to support your investment and extend its longevity. Warren CAT provides unmatched expertise, service and support to help you keep your equipment in the field to complete your projects on schedule.
Request hydraulic maintenance, repair or service by calling 866-292-7736 or by submitting our online form.